AI or Artificial Intelligence needs no introduction. Thousands of research articles, blogs, and papers have been published on the productivity gains, cost savings, and efficiencies that AI technologies could bring to the table. CRM or customer relationship management is no alien to the disruption by AI driven technologies. The concept of CRM evolved in 1990s to tackle issues in sales, marketing, and support functions of an organization which worked in siloes with no significant collaboration gains. Salesforce, Siebel (now, a part of Oracle), SAP and other early movers transitioned to change the pre-existing mindset and demonstrated the gains of a unified system. CRM was projected as a system of records for companies to manage interactions with customers/prospects and derive further intelligence about customers. The next big technological advancement came in mid 2000s when the CRM industry witnessed an increasing prominence of SaaS (Software-as-a-Service) delivery model led by Salesforce. This proved to be a boon for small and medium-sized enterprises who otherwise could not think of such colossal investments into CRM systems. Even larger enterprises followed suit albeit opting for hybrid delivery models. SaaS based CRM systems continue to disrupt the landscape so much that the growth in SaaS CRM revenue worldwide is double the CRM market while the revenue from on-premises deployments revenue declined by 1% as per Gartner. Hundreds of companies offering SaaS-based CRM systems mushroomed democratizing the access to the software, thus wiping out any competitive differentiation for both consumers and CRM providers. This led to development of a new breed of companies offering point solutions which identified and solved a single pain point in the selling cycle, marketing campaign management, or customer service and at the same time integrated their offerings with the existing CRM systems thus allowing companies extract more value from their existing investments.
Point solutions were otherwise normal features of CRM systems automating an offline process. Advanced lead scoring, predictive sales analytics, predictive customer engagement, virtual customer assistants, intelligent training solutions for sales and customer service reps, social media monitoring, sentiment analysis, and chatbots are some of the applications of AI in CRM space. AI-based CRM start-ups have been on a rise and so has been the funding, with companies offering AI-based marketing automation solutions alone raising more than $500M in funding till date. The industry stalwarts- Salesforce, Microsoft, SAP, Oracle, and Adobe, who have a combined market share of about 50%, are investing in AI based technologies and talent. As per CB Insights, more than 30 companies working in the AI space have been acquired; Salesforce has acquired at least nine of them and is also investing significantly in talent development and hiring. All the acquisitions by Salesforce have culminated into a AI based CRM platform, Einstein which it launched in May 2016. Microsoft and Oracle are also not behind with Microsoft announcing Dynamics 365 with AI ingrained features in October 2016 and Oracle announcing Adaptive Intelligence platform around the same time. Microsoft has also set up a fund to support AI based start-ups.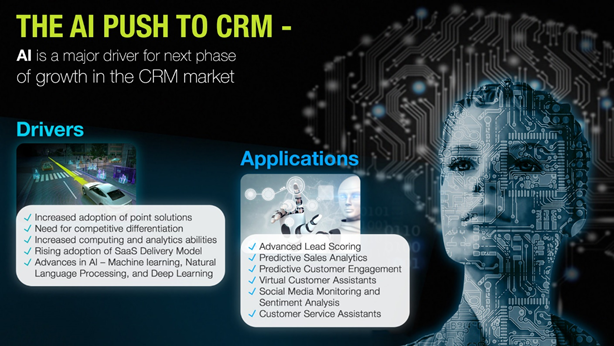 The AI Push to CRM
Use cases for AI technology are present within each of the segments of CRM namely sales, marketing, and customer service. Some good companies include 6Sense, Conversica, Amelia, Uniphore, Tact, Assist.ai, Digital Genius, Automated Insights, Clari, InsideSales, TopOpps, Revegy, Bottlenose, Persado, and the like. Products offering predictive intelligence for sales and sales assistants along with applications in customer service are some of the hottest areas witnessing AI penetration.
By industry estimates, there are about 20+ mature virtual customer assistants based on AI technologies and tens of them are vying to enter the space. Some are trying to replace a part of agent-customer interaction with others assisting/empowering agents. Amelia, by IPSoft and Akeira by Uniphore are virtual customer assistants who talk to customers through voice/video/chat to understand the customer query and provide answer based on prior experience and knowledge base. It passes on to a human agent when it can't find an answer or when it senses a hostile customer using sentiment analysis. It is estimated that Amelia solves more than 55% of all the incidents itself which translates to almost the same amount of recurring cost savings. This is just one side of the story. On the other side, there are increasing number of incidents of customer dissatisfaction when they interact with machines due to a static set rules and procedures. A recent study by Boston University found out that people hated talking to machines during customer service encounters. This is where companies like Assist.ai and Digital Genius have found ground. These companies help customer service agents but do not replace them entirely. Assist.ai uses AI to help customer service agents locate the information to answer a query thus increase the efficiency and reduce response time.
Enterprises need to decide the role of AI powered solutions: To act as advisors or autonomously or both.
Applications in sales and marketing are also aplenty. Conversica, 6Sense, and TopOpps are some companies with great applications in sales and marketing. Conversica, which recently raised $34M in a Series B round, is a sales assistant which contacts all the leads who have shown interest in the product through emails and qualifies them which frees up sales reps for actual sales conversions. TopOpps offers predictive analytics for pipeline management enabling sales reps identify most qualified leads and helps other sales reps by training them to emulate the winning behaviour of most successful reps. 6Sense is a B2B predictive intelligence platform which identifies prospects at every stage of the sales funnel and determines which of the existing prospects are considering a buy through mining real-time intent interactions. Products like Tact automates data entry into CRM systems, the task which sales reps dislike the most.
AI applications in CRM is just a tip of the iceberg. As AI technology strengthens, CRM which is ripe for disruption is going to be the biggest beneficiary moving from being a system of records to a really helpful tool helping organizations become more efficient and productive.
To know more about the latest trends in AI, Attend Zinnov Confluence on AI https://confluence.zinnov.com/bay-area
If you would like more information about the space, feel free to drop us a note at disruptor@zinnov.com.
About the author: Vasudev Neehar is a Management Consultant at Zinnov who works with the Engineering Excellence team specializing on disruptions in the CRM space.
---
Have a query?
Reach out / Schedule a meeting with Zinnov's Engineering Practice Head directly here :
https://zinnov.com/offerings/globalization-excellence/global-capability-centers-setup/