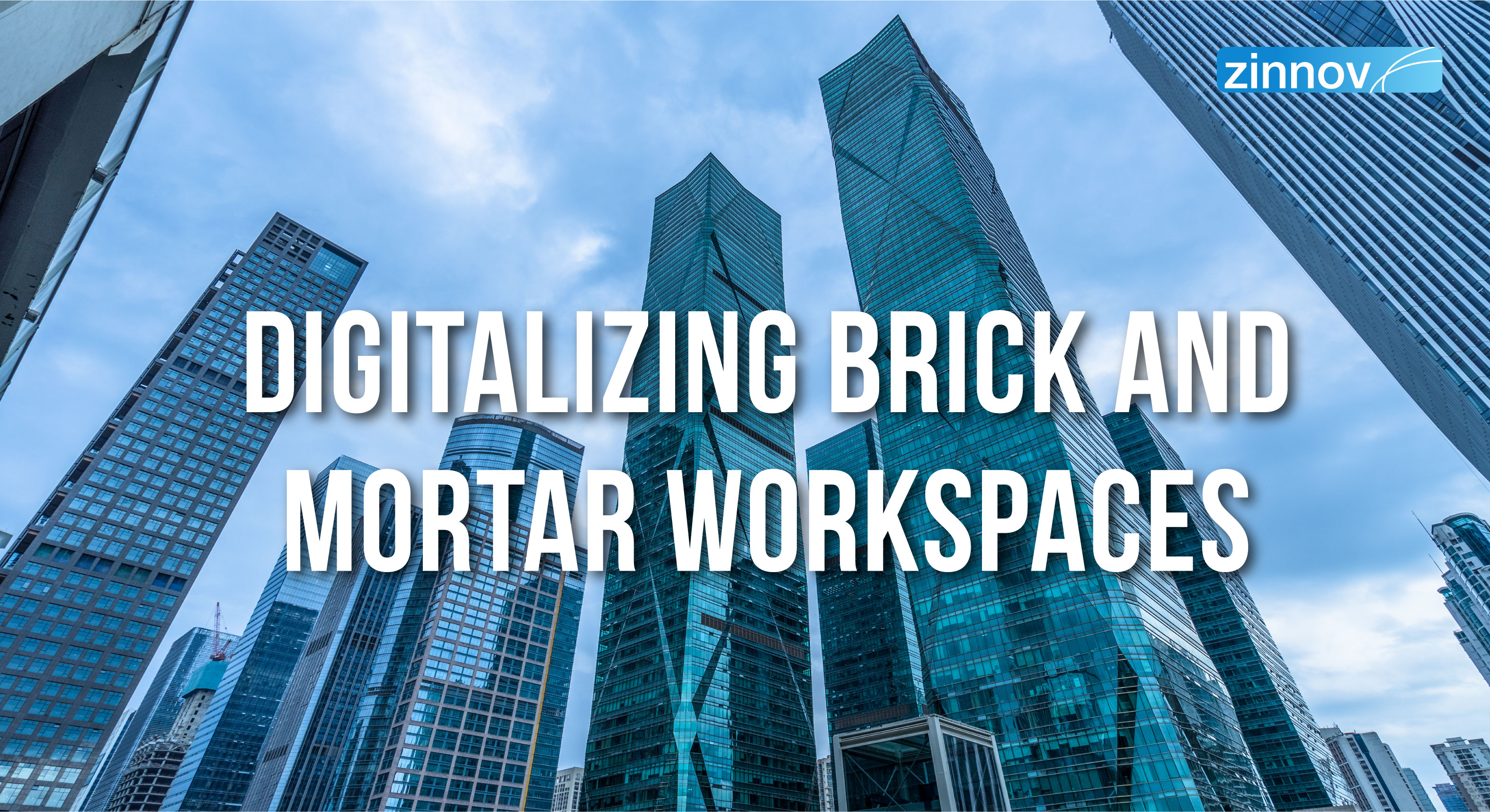 "I'm freezing!"
"Why are the lights so dim?"
"I'm sorry, there seems to be some issue with the projector."
"All the meeting rooms are occupied!"
How often do we face such issues at our workplaces? And more importantly, how often are these ignored by the employer and termed as petty issues? More often than you could imagine. Did you know that these infrastructure-related inadequacies in the office space have a direct impact on an employee's productivity and overall motivation to work, and can affect a business' bottom line?
Even though employers today strive to provide their employees with top-notch workplace experience, they often overlook the profound impact that workplace infrastructure has on employees. This has the potential to lead to a dissatisfied and unenthusiastic workforce. So, what can companies do to create a congenial and smart workplace? Implement digital workplaces.
As the lines between a physical workspace and the place where work actually gets done continue to blur and BYOD (Bring Your Own Device) becomes passé, workspaces need a digital makeover to augment productivity, security, and flexibility. While 95% of organizations agree that a digital workplace is important, only 38% of organizations are currently implementing digital workplace technologies (1). Several companies are actively looking to set up smart offices with smart infrastructure to accommodate new technologies like AI/ML, IoT, Blockchain, etc. From smart lights to smart writing boards, here's a comprehensive list of the digital infrastructure use cases that companies are currently adopting to provide their employees with best-in-class facilities.
Digital workplaces not only enhance employee experience but enable business excellence and cost arbitrage. Research has shown that 87% of CIOs believe that digitally empowering employees can drive at least 5% additional revenue growth over 3 years (2). Here's a deeper look into some of these digital workplace infrastructure use cases that have already found a way into offices and are making an impact:
1. User Preference based Lighting and Temperature Control
Two of the most basic office necessities are lighting and air-conditioning/temperature control. An 'ideal temperature' is a myth. Employees have varied temperature requirements, which often lead to office temperature debates. This never-ending temperature tussle could be solved with the help of technology. Some companies have employed applications that allow employees to provide feedback on the current temperature – 'I'm cold,' 'It's too hot!', or 'It's perfect.' Based on such inputs, the building facility management team can adjust the temperature. Such tools place the control in the employee's hand, which further boosts productivity and employee satisfaction. A step further is a technology that helps employees set preferred temperatures for their own bays/work desks.
Similarly, for lighting, companies are exploring ways to install connected lighting systems that allow for remote light controlling, offering energy savings in the process. For instance, Cisco partnered with Philips to jointly implement smart lighting and HVAC systems. Philips' connected lighting system collected data from 600 PoE (Power over Ethernet) enabled luminaires equipped with sensors to capture temperature, light level, and activity for optimizing user comfort. Philips' lighting management software, running in the building's IT environment, allowed system managers to monitor and manage each light point via a dashboard application. The system also stored data over time, allowing managers to assess occupancy patterns and optimize lighting operations based on historical trends and findings. Cisco thus reduced energy consumption in its office spaces and had better control of the lighting system.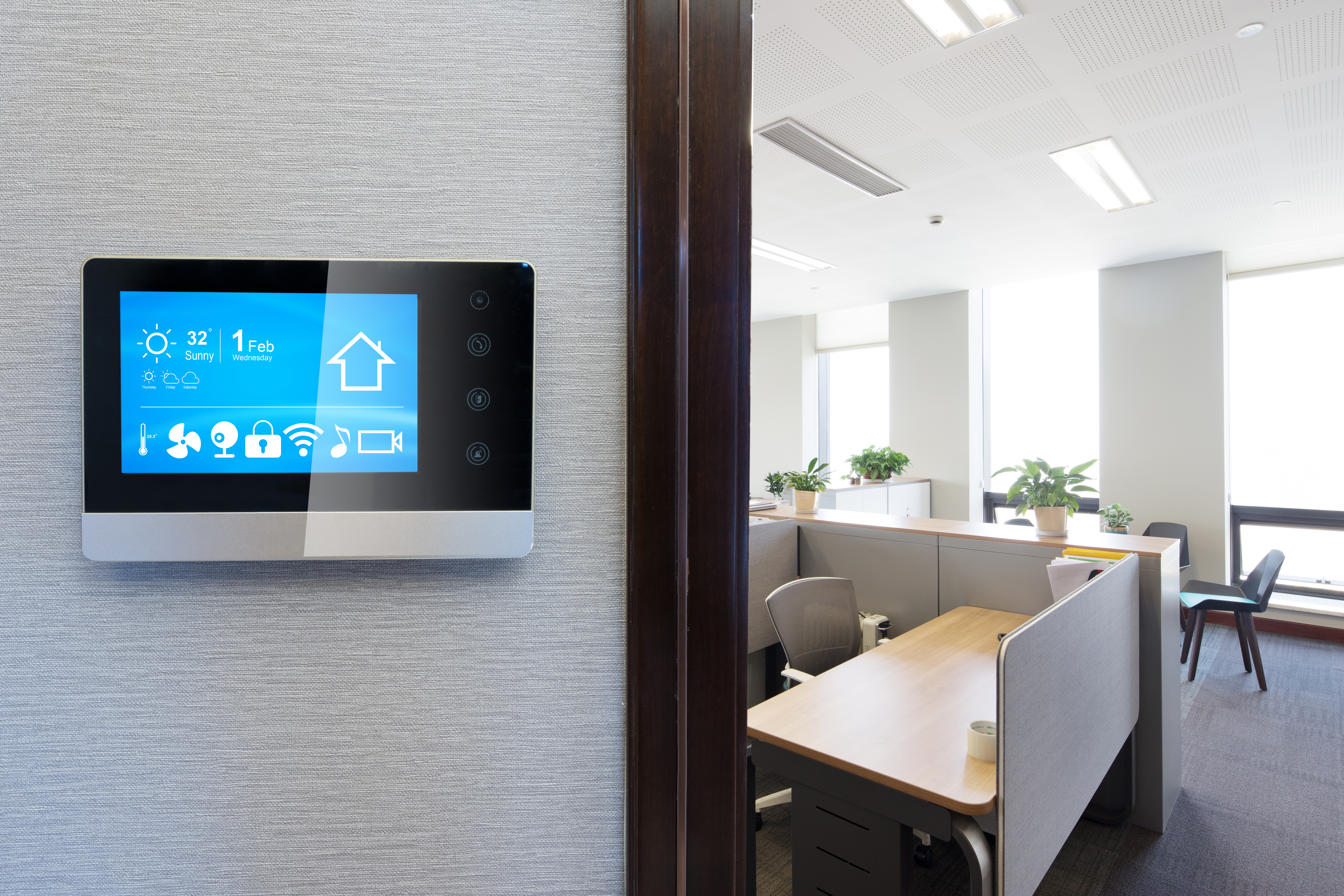 2. Digital Building Management System
A digital building management system will help enable facilities managers to run their buildings with high service levels and deliver cost savings and environmental benefits through reduced power consumption. For instance, a bank implemented technologies that help converge isolated building systems such as sensors, lighting, HVAC, security, and audio-video into a single system. It brought together different building systems on a single IP in order to be monitored and managed more effectively.
3. Intelligent Workspace Allocation
Several companies today have implemented intelligent workspace allocation systems, which allow employees to choose and block their workstation based on their requirement for the day. Employees can also block workstations for longer durations, per their needs. This gives employees the freedom to select the seats they prefer, based on convenience, amenities required, and the type of work they are engaged in. It also allows employers to track workspace utilization and use the gathered data to plan for future expansion if needed.
Companies are also installing desks with a height adjustment option that enables employees to work either standing or sitting, according to their comfort. Another variant of this is the treadmill desk, where a low torque treadmill is placed below a standing desk, where the employees can walk while working. This improves the overall health of the employees and helps attract the millennial workforce who prefer an ergonomic workplace.
4. 3D Holographic Telepresence
As companies continue to globalize and expand across diverse geographical locations, connecting digitally for meetings and townhalls will be key to saving valuable time and traveling cost for leaders as well as organizations. High-definition 3D holograms are one of the most promising technology use cases that can enable these digital meetings. Accenture's tech team has already created a 3D holographic telecast technology to enable the digital presence of leadership teams in key meetings without actually needing them to be physically present. Accenture has built seven studios with the capacity to capture holograms across the globe and plans to expand its use. 3D holograms will not just help increase an organization's efficiency but will also help build a digital-ready culture in the organization.
5. Smart Writing Boards
Traditional whiteboards are being replaced by smart boards in several MNCs. These smart boards can replicate the content onto a laptop or tablet in real-time, enabling better collaboration and saving the time spent on replicating the content. Smart writing boards can be used to edit existing files (e.g. Excel/PPTs) and can be saved for further use as well. Multiple files can be accessed simultaneously at the tap of a finger. Smartboards also have in-built webcams that relay the content being written on the board to a remote location of choice, in real-time. It helps extend the scope of discussions with ease of swapping data through files and making discussions more effective. It also ensures that the points discussed during meetings are captured without any loss of data due to human interventions.
6. Intelligent Amenities
Companies are conscientiously taking initiatives and investing heavily in providing intelligent amenities to the employees through facilities like smart elevators, IoT-enabled parking availability tracking, biometric access and security, interactive platforms, etc. A case in point is RMZ Corp., a commercial real estate company that has adopted technology to transform its tenants' experience by providing them with a highly interactive platform enabled by AI and IoT. The platform acts as a comprehensive productivity and efficiency enabler that allows employees within the campus to enjoy certain features. Employees can make workplace decisions such as the right time and mode to get to and from work, in-campus services, security, concierge services, community socializing, etc.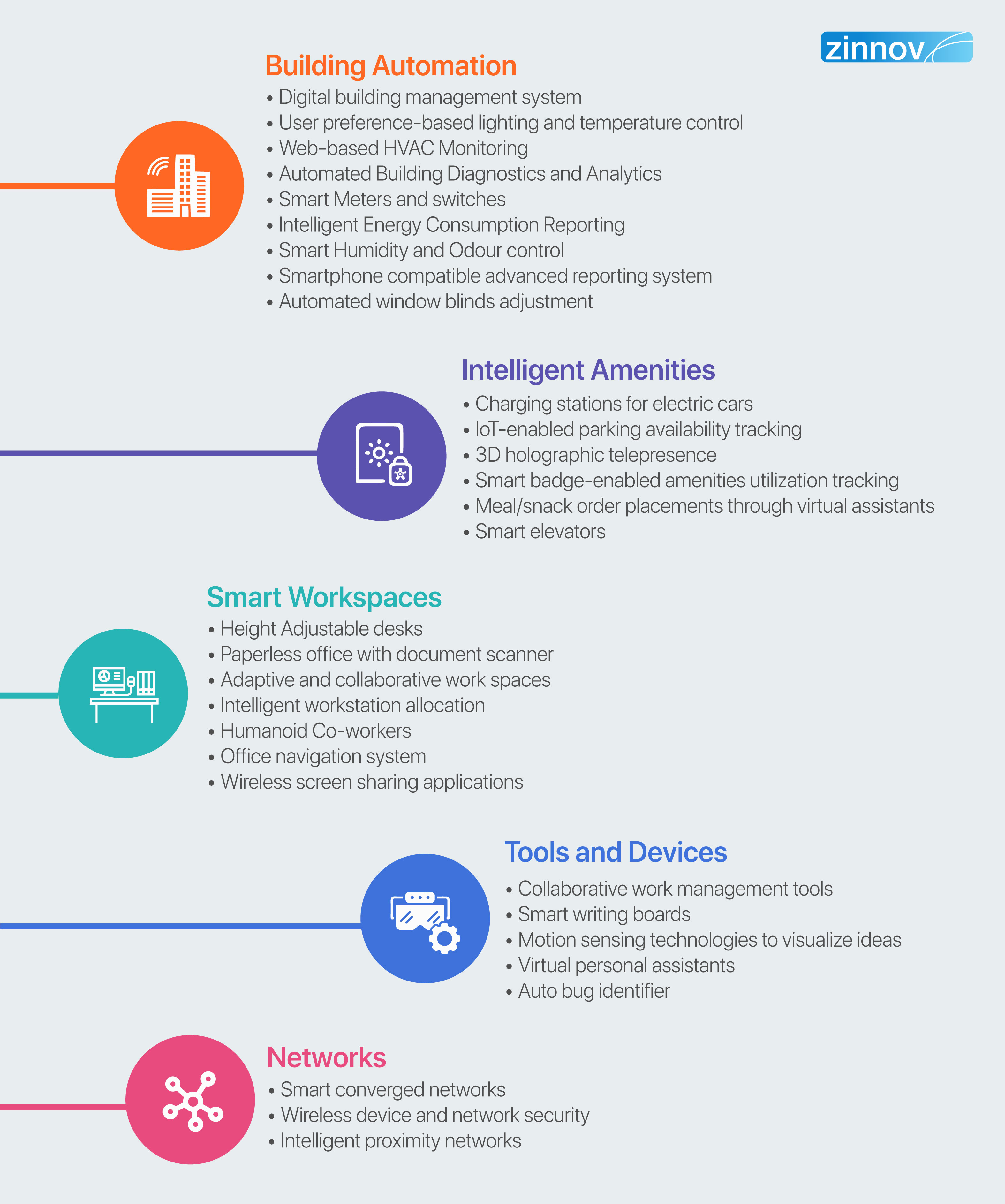 A Digital Workplace spurs Productivity, Efficiency, and Innovation
From heaps of paperwork to cloud storage, mailrooms to emails, suggestion boxes to pulse surveys, telephones to seamless video calls – our workplaces have come a long way in terms of infrastructural evolution. As technologies such as AI, IoT, ML, automation, etc., continue to steer the future of work, implementing digital workplaces will become all the more important. The effect of digital workplaces on efficiency, productivity, innovation, and creativity of employees will be palpable and as the new 'tech-savvy' generation enters the workforce, it has become even more necessary for regular workspaces to up their digital game and integrate new-age technologies and facilities in the physical workspace. However, it is also important that companies think through the use cases, define the business outcomes that they want to achieve, and build out a charter to implement digital workplaces.
Are you struggling to build out a roadmap for implementing a digital workplace? Drop us a note at
info@zinnov.com
and know how you can give your workspace a digital makeover and which use cases to prioritize.
Source: SMG/CMSWire and Digital Workplace Group Insight
Source: "The Impact of a Digitally Empowered Workforce" report