Cloud Marketplaces are becoming increasingly ubiquitous-and as an IP owner or ISV, you need to be able to sell across every channel to maximize your recurring revenue. Adopting Cloud Marketplaces in Cloud commerce environments is no longer an option- but a NEED, on both the demand and supply sides.
Evolving Buyer Preference on the Demand Side
We are witnessing more and more enterprises gravitating towards a self-serve buyer mentality, whereby they prefer to conduct their own research, gather pricing information, watch online demos, try free versions, and visit communities and forum. And they do all of this, way before they reach out to either channels or sales representatives. This trend seems to be here to stay, as around 73% of B2B buyers say they prefer the ease of buying through e-Commerce, web direct, or marketplaces. This shift has gained momentum due to the global pandemic and it will continue to grow for a long time to come.
Better Access to Customers and Visibility on the Supply Side
With the ever-increasing popularity of SaaS (Software-as-a-Service) solutions and the subsequent growth of ISVs, the need for aggregator host platforms has become more critical than ever; given the fact that most SaaS vendors and ISVs lack the budgets and manpower to access customers directly. Moreover, when we throw in the current global recessionary environments, the impediments become even stronger as customer acquisition costs tend to go up. In such a scenario, it is no wonder that the ISVs are frolicking to the marketplaces.
Cloud Marketplaces meet the buyers and sellers midway, as they provide linear selling platforms that simplify and digitize the procurement process for both software and Cloud solutions. Today, we are witnessing that the adoption of Cloud Marketplaces to be steadily rising among companies due to these major benefits:
– Ease Of Purchase: Cloud Marketplaces simplify the sourcing and purchasing process by eliminating the need for traditional retainer-based billing cycles. They are flexible in nature and allow the buyers to customize their purchasing periods without any legal or procurement hassles.
– Low Overheads: In an era of rapidly changing technologies, businesses need to adopt technology solutions at a very quick pace. Marketplaces enable expeditious digital transformations by providing a plethora of options to choose from, which saves customers' time and efforts in contacting and involving several vendors.
– Leveraging the Hyperscalers' Customer Base: In addition to the above reasons, buyers are showing more confidence in purchasing from a Cloud-based market, and this is due to the trust they have in the brand value of the hyperscalers like Azure, AWS and Google Cloud. Their dominance in the market not only gives buyers a sense of security, but also provides the ISVs with access to their respective large customer bases.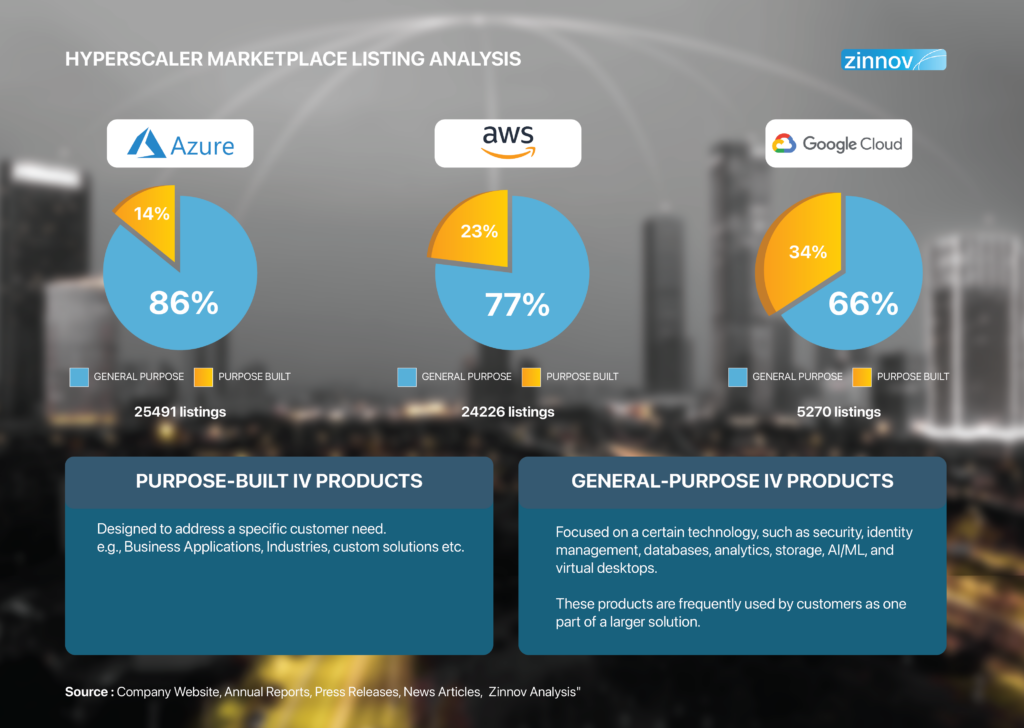 Hyperscalers, Sellers, and the Supply Side Strategies
Currently, the Cloud Marketplace space is dominated by the three major Cloud providers: Microsoft's Azure, Google Cloud Platform and Amazon's AWS. Each of these platforms provides a variety of ISV products for buyers to choose from, and they are classified as either:
• General purpose offerings: Those that are focused on either a certain technology or used by customers as part of a larger solution, or
• Purpose built offerings: Those that are designed to address a specific/niche or customer requirement.
According to Zinnov's recent analysis of marketplaces and ISVs, we found that the Azure Marketplace has the highest listings among the hyperscalers, followed by the AWS and Google Cloud's Marketplaces.
Among these, Google Cloud has the most focus on customized marketplace listings, when compared to its competitors – showing that Google Cloud is focusing more on customer centricity and industry. On the other hand, Azure has the most comprehensive list of offerings in its marketplace with around 91 sub segments and 21 segments.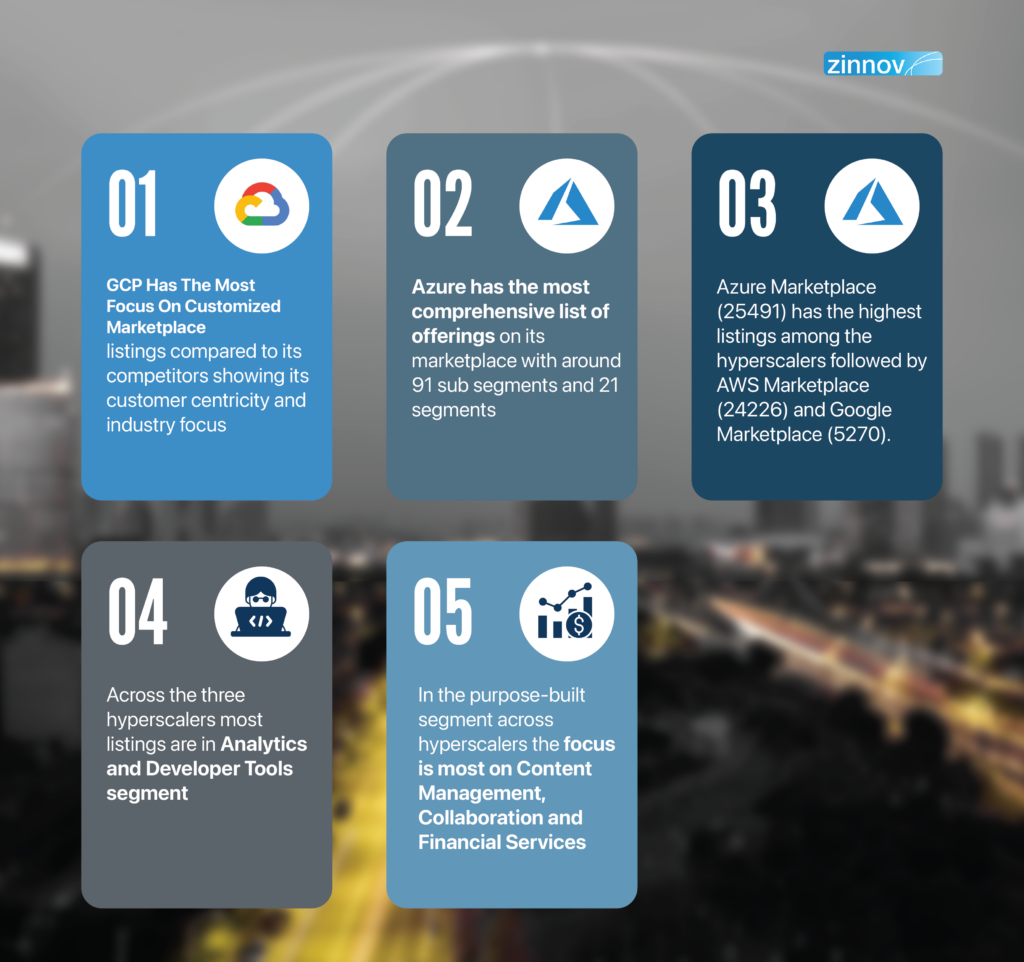 However, these numbers do not tell the real story. From the periphery, it might look like that each of the three big hyperscalers have their own unique Cloud Marketplace strategy but, what they offer to buyers and sellers is pretty much similar. Their margins are almost the same (~3-4%) and their listing portfolios have the same set of vendors with very little distinction. So, in order for them to achieve a competitive edge, they will have to carve out a differentiation strategy for their respective Cloud Marketplaces and to accomplish that, the following three strategies could prove effective.
Building Exclusivity
In order to be customer centric, it is imperative for hyperscalers to build a catalogue of industry-specific and build customized solutions alongside the top ISVs. There is a three-pronged benefit to adopting this approach:
– Hyperscalers get to expand and curate their listings
– ISVs will be encouraged to launch more industry-driven solutions and more innovative offerings
– Customers will be exposed to an unmatched choice of products that are relevant to their specific business requirements.
Being transparent with pricing
To carve out a niche for themselves, hyperscalers must introduce a transparent and differentiated pricing strategy.
Current models tend to focus on either limited free or subscription-based plans, however, going forward, the hyperscalers need to up the ante by:
• Including freemium models
• Cataloguing their listings based on different price brackets
• Creating a combined pricing model for businesses at their different stages of maturity.
Each of the above strategies should contain a fair breakup of how every product purchase is priced and should also include disclaimers on any additional charges that may be incurred at later stages.
Providing a Seamless and Delightful Customer Experience
Today, every Cloud Marketplace is trying to attract customers' attention, but unfortunately for them they cannot just do it by stacking up listings or piggybacking on the innovations of ISVs. The key to attracting customers to your Cloud platform is going to completely depend on how delightful and seamless the marketplace experience is. Going forward, it is going to matter how your user interface interacts with your customer base. The use of visual design thinking, ease of navigation, bifurcation of categories and their listings, demos, variety in trial versions and a lot more, will define the customer delight quotient, and the more the customer feels at home on a platform, the more they will buy from it.
Over the last five years, there has been tremendous growth and several innovations in the Marketplace space, from the investments it has seen by the Cloud providers, sellers, and buyers to the increased efficiencies, revenue, and profits that's been generated.
We are witnessing huge disruptions in the way software is bought and sold, and the hyperscalers are at the forefront of it. However, there are more points of parity than differentiation when we compare their marketplace offerings. In the end, the buying decision comes down to how good their relationship is with the existing customers and what brand preference their potential customers have.
To win, hyperscalers need to clearly carve out their value proposition and back it up by unique differentiators. They could stand out based on pricing, transparency, ease of transactions, customer support, product comparisons, user-generated reviews, customer testimonials, user friendly web designs, smoother sales channels' integrations, and most importantly unique portfolio offerings. Only time will tell which hyperscaler is going to best execute the above strategies and those who do may well emerge as winners against their competitors. But when it comes to buyers and sellers, it will undoubtedly be a win-win situation for both parties involved.
To build your Cloud strategy, get in touch with our experts at
info@zinnov.com