COVID-19 brought unprecedented disruptions in the operational models of businesses. In fact, the need for integrating Artificial Intelligence (AI) into daily operations became more and more evident during the pandemic. This is corroborated by the fact that over 75% of global enterprises have augmented their AI investments by 18% since 2020. This trend continues unabated as business leaders now realize AI is the green card to market leadership. Today more than ever, companies across industries are leveraging this advanced technology to execute tasks at accelerated speeds and capture lasting value at scale, while also providing a superior customer experience.
In recent times, there has been a plethora of rapid developments in AI maturity – starting with multiple acquisitions and IPOs, global governments forming improved policies around AI, and start-ups raising massive growth phase funding. Zinnov's latest analysis on AI provides a comprehensive view of the current market valuation and analyzes AI growth from an enterprise adoption and technology lens. And as of 2021, the global AI market stood at USD 60 Bn, which is poised to touch a massive USD 127 Bn by 2024, growing at a CAGR of 28%.
What does this mean for enterprises? Which are the industries that have doubled down on AI? What does the future of AI look like?
Why Artificial Intelligence?
Technologies such as Vision, Speech, and Natural Language Processing (NLP) that replicate human abilities such as listening, speaking, motion, and sight are collectively called AI. These technologies are responsible for enabling understanding, comprehension, and decision-making for businesses and leaders alike.
AI is taking giant leaps today, where it is evolving from basic rule-based reasoning to Artificial General Intelligence. Technologies are comprehending relationships between objects in the way that humans do. With advancements in AI reaching sky-high, we believe that it will unlock enormous business value for enterprises, by rightly accessing the data's existing hidden potential.
AI witnessed the most traction in the post-pandemic era. With enterprises heavily focused on personalizing customer journeys and building a secure and intelligent business, horizontal operations such as Customer Service, Cognitive Security, Sales & Marketing, Process Automation, and Research & Development emerged as the top 5 revenue-generating use cases.
With the pandemic shining a light on the state of the global supply chains, enterprises are heavily investing in AI capabilities to gain real-time, 360-degree visibility over their entire supply chains. In fact, in the next 2-3 years, we will see an integrated supply chain drawing maximum revenue.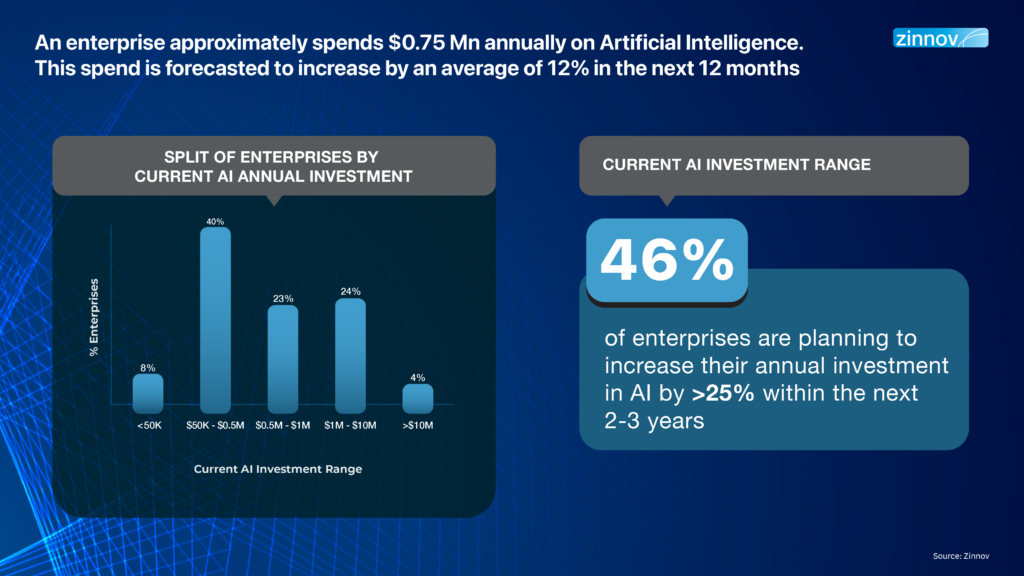 Enterprise focus on AI is undeniable – on average, an enterprise invests USD 0.75 Mn annually in AI. The two industries that are leading the AI investments charter since 2020 are BFSI and Healthcare. We see this trend continuing for BFSI, as 66% of these enterprises will increase their AI spending by more than 11% in the next 12 months. We expect Healthcare and Retail to be the next business opportunities, as these industries will pick up at a similar pace in the next two years. We strongly believe that AI will be a linchpin for all global enterprises to modernize and optimize business processes at lightning-fast speeds.
An overwhelming 71% of global leaders say that their organization has incorporated AI into at least one process, but the implementation of maturity varies.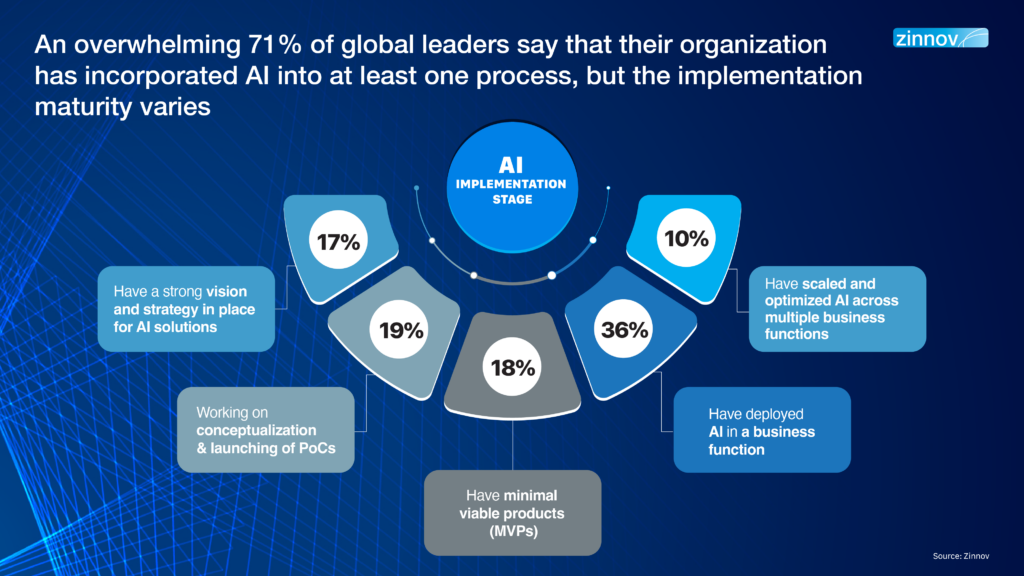 AI Enterprise Adoption Maturity: Is it Fast Enough?
Enterprises today are going all out to integrate AI into their business functions and processes. However, there is a definite variance in the maturity of AI implementation within enterprises. Our analysis reveals that 35% of enterprises have either launched a Proof of Concept (POC) or a Minimal Viable Product (MVP) in place, with a staggering 46% having integrated AI into at least one business function.
ARTIFICIAL INTELLIGENCE – TRENDS AND FORECASTS 2022
At present, Emotional AI and Vision-based technologies are gaining considerable traction, with over 90% of enterprises having derived significant business value from these technologies. An example is the integration of sentiment analysis in Customer Service.
In essence, the past 2 years have seen enterprises shifting their AI strategy from POCs to production with several enterprises scaling their initiatives. This is because enterprises have tasted success with AI while the world was grappling with the pandemic and its repercussions. This technology has not only generated significant ROI (return on investment) for enterprises, but also improved operations – in terms of process efficiency, customer, and employee experience.
As enterprises move up the AI maturity curve, Supply Chain and R&D will be the areas for maximum value realization.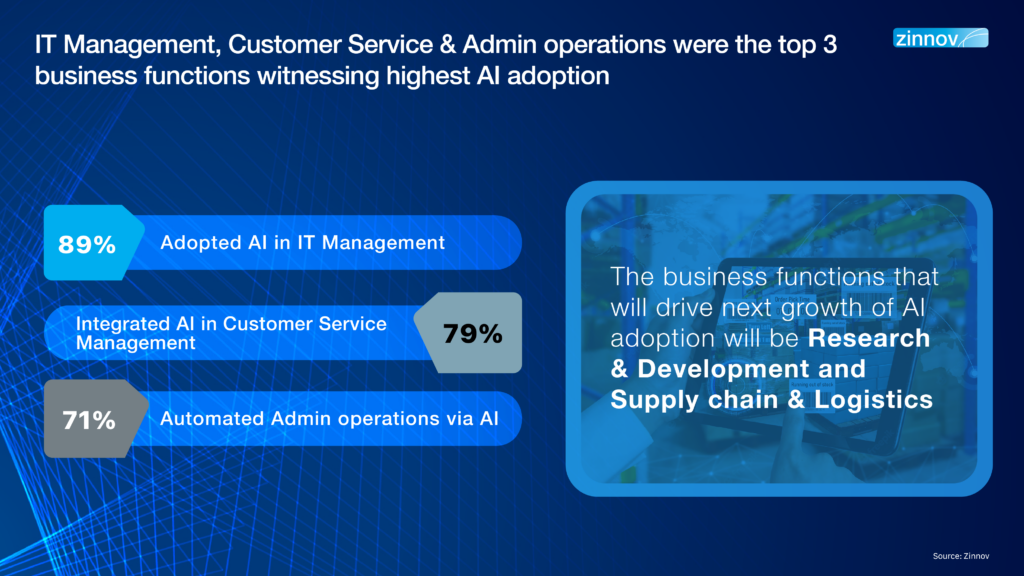 Currently, IT Management and Customer Experience are generating the maximum ROI for enterprises. Close to 80% of enterprises have adopted AI in Customer Service, and out of them, 40%+ of them are realizing significant value by implementing AI. However, the nature of applications is changing.
AI in Customer Service is not limited to chatbots but now involves the usage of language models and sentiment analysis to dynamically route calls and assist employees with the 'next-best-actions.' Similarly, enterprises are deploying AI in IT operations to automate IT service desks to get real-time insights on log analytics and incident management. While these verticals have significant AI adoption, enterprises are now changing direction to more complex workloads such as Supply Chain and R&D, which hold the maximum growth potential in the years to come. This is substantiated in our latest analysis, where we found that 58% of enterprises are running AI POC experiments in their R&D functions.
AI in supply chain will not just be limited to forecasting demand but will be used to predict future supply chain risks. For instance, a US Pharmaceutical company is leveraging AI to mitigate 'failure-to-supply' situations in the drug supply chain. Overall, enterprises are heavily trying to gain real-time, 360-degree visibility over their entire supply chains.
Which are the Top AI Enterprise Technology Trends with High Potential?
Our analysis has filtered out top AI enterprise technology trends that are bound to disrupt the market, in the near future.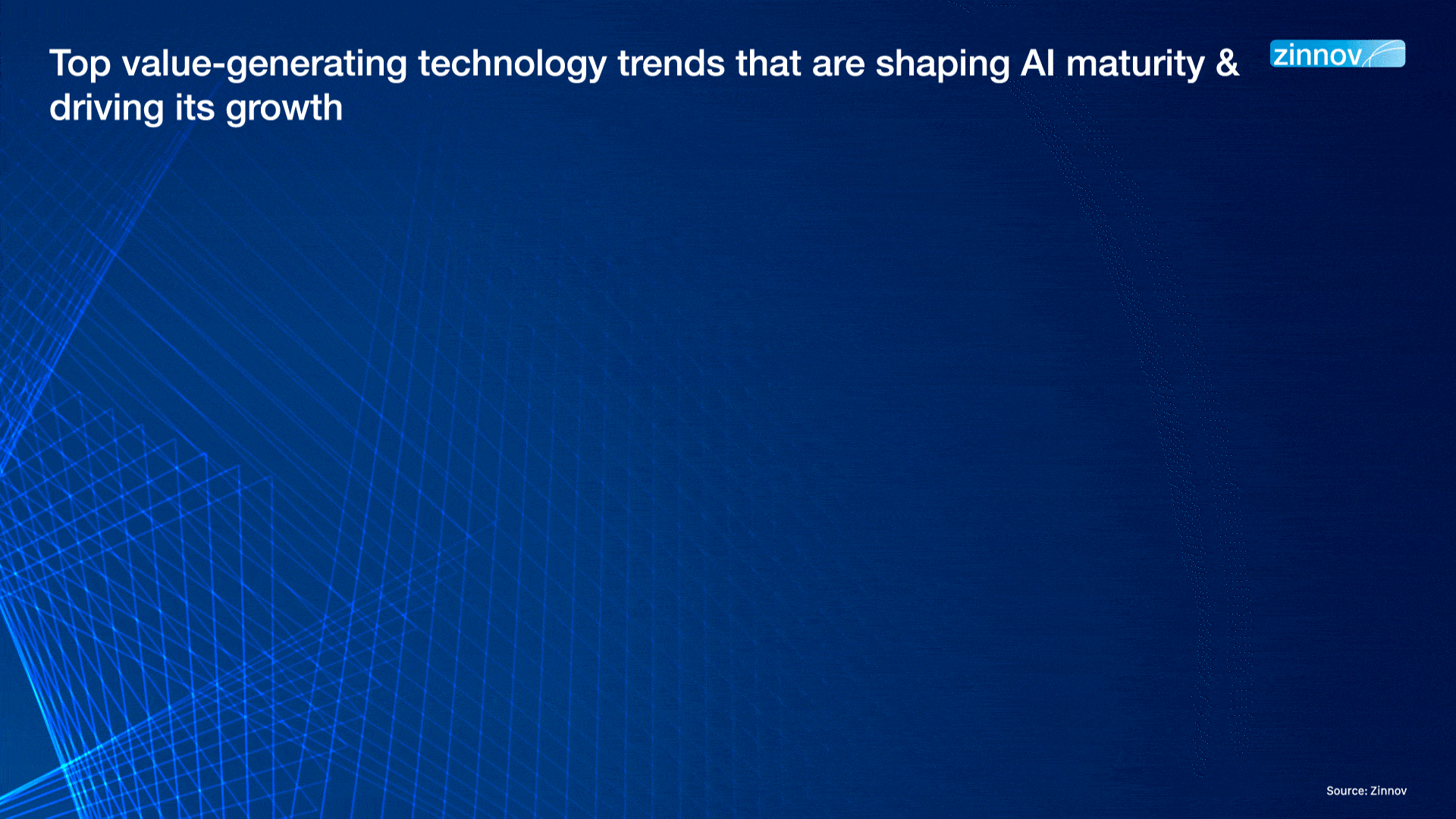 In terms of short-term opportunities, Process Automation emerges as the most mature area as enterprises are significantly investing in Intelligent Automation capabilities. The next big bet that will witness an upsurge in AI investments will be Cognitive Security. Currently, 22% of enterprises have already adopted AI in their security systems, and over 50% are launching POCs in this area. This is further reinforced with zero trust security architecture gaining paramount importance across Multi-Cloud environments — AI is paving the way for automating SIEM (security information and event management) and SOAR (security orchestration, automation, and response) systems, enabling real-time threat intelligence and quantifying cyber risks for CISOs (Chief Information Security Officers) to assess financial losses.
The next trend to gain traction is improving the accuracy of transformer language models. Previously, these models were being trained for large-scale translations; however, surpassing the initial expectations, they can do just about any NLP task. All major technology companies are running multiple experiments with these transformer models, which is also said to be a metamorphic move toward Artificial General Intelligence.
Recently, Google developed a multilingual machine translation model that involves over 200 native languages. The model can be trained on limited data sets without compromising the accuracy of the outcome. Additionally, the more AI is involved in our daily lives, there is an emerging need for explainability in AI decision-making. Adding explainability ensures that ML models are credible enough to make decisions, especially when they are at the expense of human health and safety. Explainability will be a must-have for industries, particularly in the BFSI, Healthcare, Automotive Defense, and Military domains.
The other long-term opportunities for businesses lie in Explainable AI, Edge AI, and AIOps which will gain immense traction in the next 2 years. The integration of AI into Edge Computing will culminate in faster real-time data processing. Critical decisions are now being made with low latency. AI in IT operations will further automate IT service desk management with real-time insights. AIOps is being integrated with an 'observability' element to gain visibility on Metrics, Dependencies, Logs, and unified Data across multiple Cloud environments. In the next 3-4 years, we will see AI transcending Industrial Robotics and venture into collaborative Robotics and Autonomous systems.
Which industries are dominating this space?
We gauged AI industry maturity from both the demand side (enterprises) as well as the supply side (start-up ecosystem and hyperscalers). Interestingly, the top innovators dominating the AI space from both the supply and demand lens were BFSI, Healthcare, Retail & e-Commerce, and Automotive.
The next emerging business opportunity where major disruptions are occurring on the demand side are Manufacturing, Media & Entertainment, and the Public Sector.
Who are the AI Technology Enablers?
Every industry, large or small, B2B or B2C has adopted AI or is planning to, in the coming years. This rising demand for AI is compelling the suppliers and the enablers of this technology for continuous innovation.
There are 3 primary enablers contributing to AI maturity — the booming AI start-ups, the technology giants, and the governments of various global countries that are developing policies around adopting and deploying this technology. As enterprises are moving up the AI maturity curve, so are the technology providers.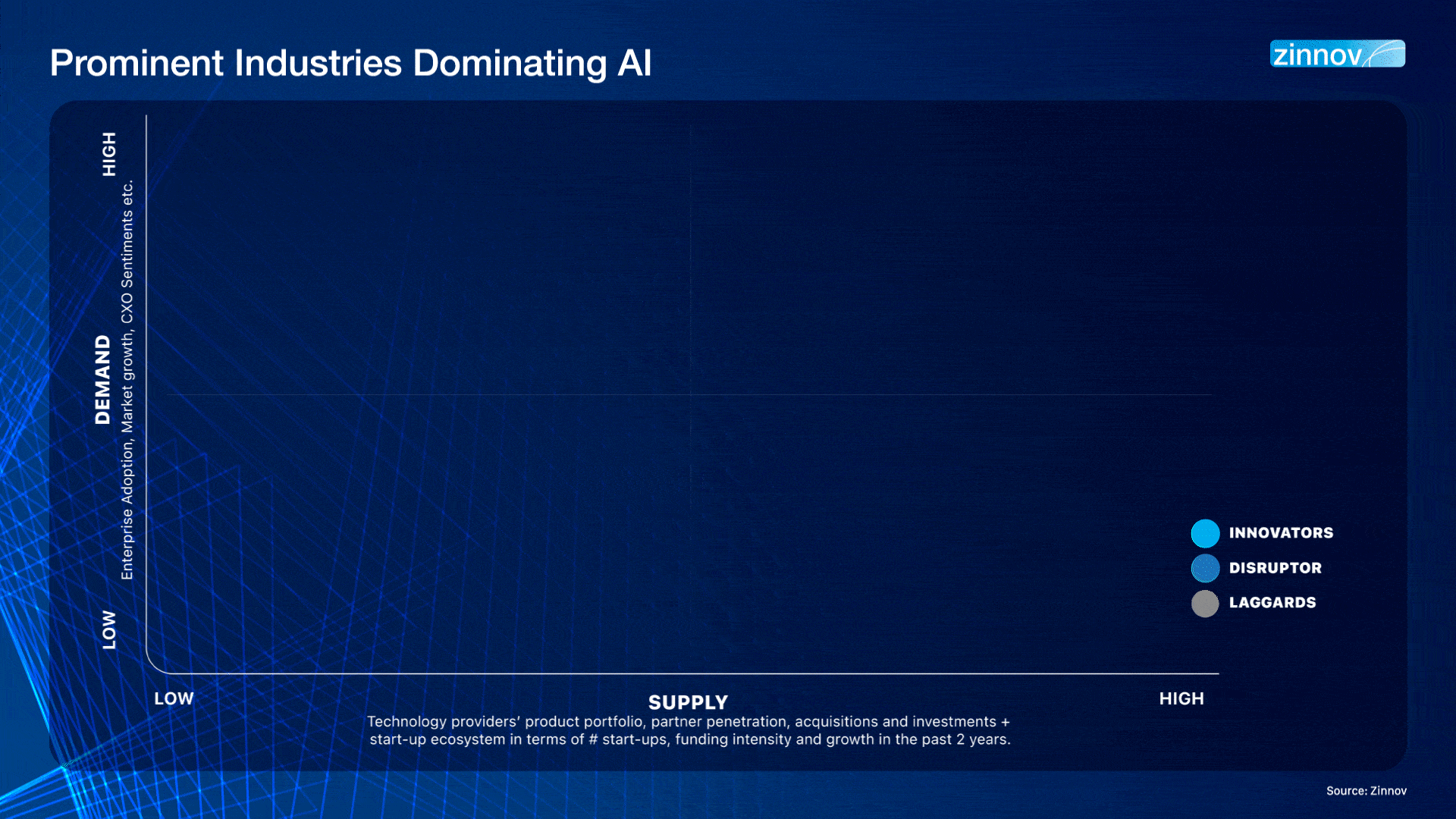 a. AI Start-ups
Overall, we see that there are more than 10K AI start-ups globally that are driving the innovation charter. There are 3500+ AI B2B start-ups with over USD 5 Mn in funding, where the collective funding adds up to USD 165 Mn+. The presence of 80+ unicorns, 20+ start-ups that have launched IPOs in 2021, and over USD 75 Bn being poured into the growth and expansion stage of these start-ups in the last two years alone, is a testament to public acceptance and increased trust and maturity in AI. Additionally, the time to become a unicorn has reduced to 1-2 years in the last two years, indicating that AI start-ups are bringing innovation to the forefront and their solutions are increasingly being accepted by the market.
b. Tech Giants
While the start-up ecosystem is ripe, more and more tech giants are focusing on making AI models hassle-free, autonomous, and inclusive. They are making breakthrough advancements in AI technology, with a bird's eye focus to improve AI adoption amongst enterprises. Further, these tech giants are solving overarching problems faced by enterprises that are preventing them from scaling their AI initiatives, such as providing the ability to run ML models on multi-modal data sets, ensuring data security, and providing pre-trained ML models to fast-track AI implementation. Holistically, tech giants are enabling AI democratization and surpassing the accuracy benchmarks while also ensuring secure and responsible deployments.
c. Governments
Lastly, global governments have also been influencers in AI's growth story. Globally, there are 1000+ policy initiatives by 60+ nations around Governance, Regulations, Infrastructure, and Financial Support across AI. While beginners are taking cautious steps into AI implementation, advanced countries such as the UK and the US are bringing in data privacy regulations to govern AI implementation. In addition to being facilitators, global governments are also major consumers of this technology. In fact, initial AI adoption was championed by specific domains such as Public Services, Education, Digital Healthcare, etc. However, areas such as Sustainability, Military, and Defense are comparatively new in their AI journey.
Together with the enterprises, and the suppliers of the technology, the AI market is growing leaps and bounds and is rapidly moving up the maturity curve. While we have already seen the early adoption and benefits, the future of AI is going to be more integrated and inclusive, with the technology penetrating complex workloads, niche industries, and newer markets.
What does the future of AI look like?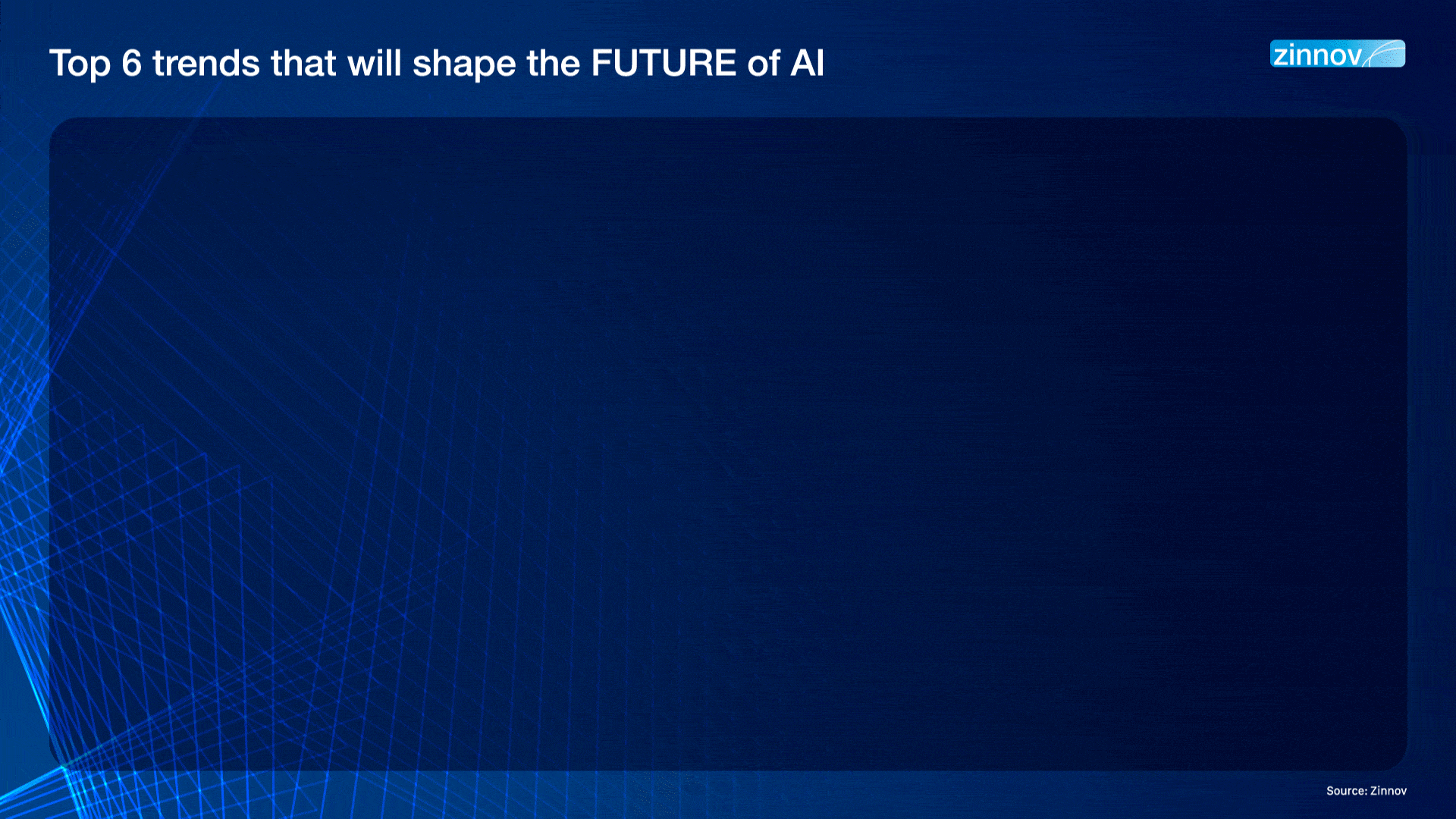 The growing use of Artificial Intelligence is sure to remold industries and businesses. What is going to change? What shifts are going to take place? We believe that the following 6 trends will transcend all industries and shape the future of AI.
Shift in Funding Intensity: The APAC region will be the next center for AI innovation. In recent times, it has experienced a 173% YoY growth in AI funding, surpassing North America in investments.
Emergence of Talent Hubs: AI talent is growing at a rapid rate. We predict 10K+ job openings across the globe, with China being the next AI hub in the upcoming years.
Enhancing User Experience: AI is going to integrate with new-age technologies such as Blockchain, Metaverse, etc., to enable a unified and cohesive user experience. Currently, over 20% of total enterprises are incorporating AI in the Metaverse to facilitate an engaging customer experience.
Proliferating Unicorns: 100+ AI unicorns are expected to emerge in the next 2-3 years.
Pre-built Use Case-specific Applications: The demand for use case-specific pre-built AI applications will proliferate, with 70% of enterprises planning for a faster time-to-market.
Enabling Sustainability: AI is already taking center stage in achieving net-zero goals. In the near future, more enterprises will leverage AI tools to track carbon footprint and opt for sustainable operations.
Artificial Intelligence is providing myriad benefits to businesses and enabling enterprises to innovate on different use cases. Enterprises are expediting AI execution and aim to be AI-first, now more than ever. With the market potential reaching USD 127 Bn by 2024, Artificial Intelligence will be key to unlocking business potential, even if there is a definitive variation in the enterprise execution and maturity levels. Leaders who plan to integrate this advanced technology into their everyday workflows, will experience a definitive edge over their peers and drive long-term success for their enterprise.
If your organization is looking to form a go-to-market strategy involving AI, drop a note at
info@zinnov.com
and speak to our experts.