Patience is a virtue, they say; but our current accelerated digital life thrives on real-time inputs and outcomes. Be it humans or machines, latency has become unacceptable. Storing and analyzing data in the cloud is still exciting and powerful; but when it comes to applications of Artificial Intelligence (AI) and Internet of Things (IOT) where a delayed result is equivalent to risking a person's life, cloud computation is woefully incompetent. That's where Edge Computing comes in.
Imagine yourself in a self-driving car. You're reading a work email on your phone, but the car beeps, having encountered an object on its path. Now, the car must decide whether to keep moving ahead or stop. It would be "too late" to send the data on a round trip to the cloud and back to the self-driving AI system for such precision, real-time decision-making, which should happen "right at the moment." The combination of Edge and AI gives machines the spontaneity of a human brain, making the applications – autonomous cars, robotic surgery, et al. – executable, which might otherwise have been part of a fantastical sci-fi novel.
Edge AI and the Future of Computing
The storage and transmission of data has seen a gradual shift from mainframe computers to physical data centers, then to the cloud, and now moving closer to the point of generation, i.e., to the "edge." Edge Computing, which means processing the data at or closer to the point where it is being generated, and Artificial Intelligence, which involves the creation of intelligent machines to take intelligent decisions, naturally complement each other. As both Artificial Intelligence and Edge Computing mature, the "perfect" combination of the two, termed "Edge AI," will be table stakes for enterprises. But Edge AI is not a new concept. It has surreptitiously made a place for itself in our lives already. Cases in point are facial recognition to unlock our devices, or Google Maps alerting us about the traffic conditions in real-time.
With an average person expected to generate as much as 175 Zettabytes of data per second1 by the end of 2025, Security and Privacy concerns are paramount, now more than ever. COVID-19-induced remote working models and video-intensive communication have made enterprises vulnerable to data leakages and security attacks. But Edge Computing has been a savior, with a processing time of less than a few milliseconds. Additionally, it has reduced the risk of data being tampered during transit, thus mitigating the security and privacy risks for enterprises as well as consumers. With so much data being generated, real-time computing and the push for Edge Computing is skyrocketing, with the market expected to reach a staggering USD 15 Bn by 2025, at a massive 33.5% CAGR.
5G – The Catalyst for Edge AI
While Edge Computing happens in real-time, the network it currently runs on – 4G – still suffers from latency issues. But the imminent 5G rollout should help mitigate these issues, because the fastest 5G networks are 10 times faster2 than 4G networks. Together, 5G and Edge Computing open up an ocean of opportunities across multiple industries – Manufacturing, Transport, Gaming, Healthcare to name a few. Although 5G can be deployed independently without AI and Edge Computing, the combination of these 3 technologies will be a game-changer for enterprises and consumers alike. They will power a broad spectrum of use cases including wearables, smart homes, smart cities, autonomous cars, robotics-powered industrial automation, etc. This will also help in lowering cost and improving network efficiency and speed, unlocking the promises that 5G comes with.
Here are a few leading Cloud and Telecom deals that underscore the promising future of 5G and Edge AI:
Microsoft partnered with AT&T to deliver innovation with cloud, AI, and 5G to improve how people live and work.
Telstra inked a strategic partnership with AWS to develop multi-access Edge Computing solutions.
Microsoft has partnered with Verizon to offer private 5G mobile Edge Computing, enabling businesses to create extremely low lag experiences.
Orange Telecom and Google Cloud have partnered to create a data platform to build Edge Computing offerings for enterprises.
Transforming Edge Computing into "Edge Training" of AI
We believe that future Machine Learning will take place at the edge, instead of on cloud or a data center, ensuring continuous training of the ML solution. Not only will this reduce time-to-market for AI/ML solutions, but it will also power decision-making based on real-time data. An innovative UK-based start-up, Edgify, builds AI for Edge Computing and allows devices to interpret vast amounts of data, train an AI model locally, and share the learning across a network of similar devices to train them across anything from computer vision, NLP, voice recognition or any other form of AI. The company recently raised USD 6.5 Mn in funding, underscoring the rising interest in this area.
Edge AI Conquering the Enterprise Market with Cutting-edge Applications
As Edge AI makes headway into the enterprise segment, wider applications and use cases are being explored across industries. Here are some of the leading use cases where Edge AI shows promising results:
1. Edge AI Transforming Healthcare & Manufacturing
With COVID-19 disrupting the entire Healthcare value chain, the industry is at the cusp of a revolution, and Edge AI is at the forefront of empowering it. "Internet of Medical Things" or IOMT is a reality and is powering use cases such as remote patient monitoring and evaluation, where wearable devices can help patients in collecting data locally for instant health evaluation with Machine Learning, which can then be shared with doctors for detailed analysis.
Manufacturing is another vertical which is reaping the benefits of Edge AI. In fact, increased and powerful Edge Computing has become vital to implementing AI locally for wider applications across Manufacturing. Predictive Maintenance is one of the most talked-about applications of Edge AI in Manufacturing. The impressive combination of Edge Computing with AI is delivering notable value across enterprises. AI start-up Asquared IOT has developed ML models to detect anomalies that predict machine failures. Its Edge Computing device Equilips, has embedded algorithms that can analyze sounds on-site without requiring connectivity to cloud-based processing.
2. The Era of Autonomous Systems: Drones, Vehicles, and Robots
Autonomous systems, be they self-driving cars, drones, or robots, are one of the most complex and powerful applications of Edge AI, because the systems require instant decision-making and cannot afford to wait till the data travels back and forth from the cloud. While tests are being conducted for self-driving cars, COVID-19 gave autonomous drones their eureka moment. From facilitating last-mile grocery deliveries to delivering test results, companies are experimenting with multitudes of applications of these autonomous aerial vehicles.
Another prominent application which is expected to revolutionize countries is the use of autonomous drones in defense. The Indian Army recently showcased an offensive capability with a swarm of 75 autonomous drones with distributed intelligence and Edge Computing, destroying various simulated targets with kamikaze attacks, during India's Army Day parade in New Delhi in January 2021.
3. Edge AI for Smart Cities
Together with AI, ML, and 5G, Edge Computing is making cities smarter. Traffic management, video analytics to ensure public safety and crime control, waste analytics, smart buildings and parking, Edge AI has unlimited applications for smart cities. Olea Edge Analytics is using Edge Computing and IOT sensors to help the city of Atlanta modernize its crumbling water infrastructure, spot needed repairs, and rectify inaccurate water bills.
Addressing climate issues with Edge AI is another interesting scenario for smart cities, with predictive maintenance and real-time anomaly detection bringing in exponential savings in terms of energy consumption and cost.
4. Redefining Entertainment with AI at the Edge
Physical entertainment was one of the hardest hit due to COVID-19. However, enterprises are leaving no stone unturned to deliver exceptional customer experiences remotely. Leveraging 5G, ML, and Edge Computing, AT&T and Ericsson recently created a live, 3D augmented reality music performance that fans could view and interact with on their smartphones.
Edge AI is also transforming the physical events and sports space. The powerful combination of AI, Mixed Reality, and Edge Computing is enabling enterprises to create a completely new experience for fans and attendees. Telstra, in partnership with the Australian Football League, is transforming one of their stadiums into a 5G testbed. Right from booking a seat to parking and viewing the game in high-rise videos with real-time transmission of data, attendees will have a completely new experience.
Edge AI is growing rapidly, and enterprises are investing heavily in the technology. Edge AI start-up Kneron, specializing in "on-device" edge inferencing applications, recently raised USD 40 Mn in funding, reaching a total funding of USD 73 Mn. Leading technology companies are also betting big on this technology. One of the most common applications of Edge AI is smart assistants like Alexa, Siri, Bixby, etc., and their makers have made strategic investments in this area to ensure great customer experience. In 2020, Apple acquired a Seattle-based start-up Xnor.ai for USD 200 Mn, which processes data on the user's smartphone with edge processing. Hololens and Microsoft Mesh, the industry's first mixed-reality platform, are powering Edge Computing use cases that enable remote collaboration, productivity, product innovation, and immersive customer experiences – across industries.
Edge AI Revolutionizing Human-Device Interaction
Consumers are spending more time on their devices than ever before, and enterprises are deploying remote solutions to ensure business continuity in the wake of COVID 19. This has led to accelerated adoption of Edge AI solutions to provide real-time results. Come 2024, there will be upwards of 5 Bn devices connected to the edge.
Zinnov believes that the following trends will be dominant across the Edge AI market in 2021: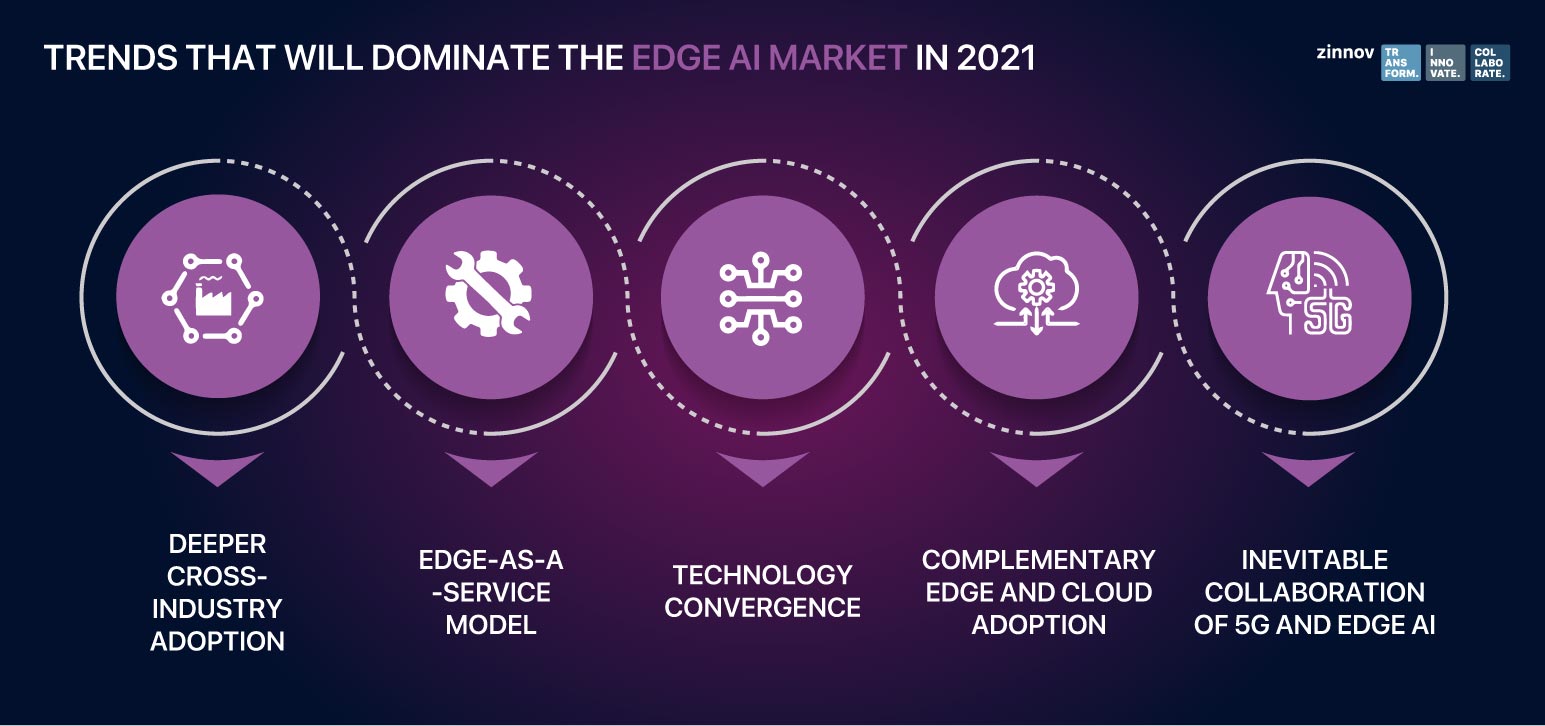 Manufacturing, Healthcare, Retail, and Entertainment sectors will see progressive adoption.
As the Edge AI market expands, technology leaders will launch offerings around Edge-as-a-Service model.
Further technology convergence will be inevitable as Edge Computing, AI, and 5G mature.
"Edge and Cloud" will gain prominence rather than the commonly misconstrued "Edge vs Cloud."
5G, together with Edge AI, will improve speed and reduce cost of data transmission, thus boosting the Edge AI market.
With these trends only becoming stronger and gaining more traction in the coming months and years, organizations that do not take strategic measures to capitalize on the opportunities and make timely investments will be laggards.
1. How much data is generated every day? on Medium
2. What is 5G? Your questions answered on CNN
How will Edge AI affect your enterprise? How can your enterprise capitalize on the opportunities that the Edge AI market offers? Speak to our consultants to know more by writing to us at info@zinnov.com.
About the authors
Dr. Rohini Srivathsa: Dr. Rohini is the National Technology Officer at Microsoft India. In her role, she is responsible for driving innovation and growth through 'tech-intensity' – across customers and partners, in industry and the government. Rohini began her career in R&D at AT&T Bell Laboratories and has 25+ technical and business publications in ACM/IEEE and other journals. She engaged with CxOs across emerging markets during her strategy consulting career at the Boston Consulting Group and IBM Global Business Services.
Rohini is a thought-leader, and a business and technology advisor to multiple entities: Wiley Innovation Advisory Council, ECE department at Carnegie Mellon University, MIT Technology Review Insights, NM-ICPS – Dept of Science and Technology of the Government of India, SRITNE at the Indian School of Business. She holds an MBA from the Wharton School of the University of Pennsylvania and earned her PhD in Computer Engineering from the University of Texas at Austin.
Praveen Bhadada: Praveen is a Managing Partner at Zinnov, driving the digital transformation vision for the world's leading Software Platform companies, Technology Service Providers, and end-user organizations. Praveen is also leading company-wide efforts on pre-deal prospecting, due diligence, and post-deal growth strategy for Private Equity clients focused on technology investments. In his 13 years of professional experience, Praveen has spearheaded various market expansion and advisory projects for Fortune 500 technology companies across the world. He is also focused on expanding Zinnov's business in key technology areas of Internet of Things (IOT), Intelligent Automation/Robotic Process Automation (RPA), Cognitive Computing/AI, and Cloud.
Rajat Kohli: Rajat is a Partner in the Digital practice at Zinnov. He is driving the end-to-end aspects of strategic business consulting engagements, assisting Fortune technology enterprises in formulating and implementing their Market Expansion, Sales Enablement, and Product Strategy.
With a career spanning over 13 years, Rajat has a deep understanding of Digital Transformation, Artificial Intelligence, Cloud Computing, Industry Use Cases, Start-up/ISVs, and Partner Ecosystem.
Priya Bhalla: Priya is an experienced strategy consultant, driving end-to-end digital transformation and advisory engagements, with deep proficiency in Artificial Intelligence and hi-tech space. In her current role, she is responsible for unlocking value for Fortune 500 enterprises by devising product, market and digital strategies, market assessment, and competitive intelligence.