Global leaders understand that they cannot limit themselves to a single location – expansion is critical to success in all aspects. As talent wars become more aggressive, and boundaries between industries continue to blur, with several black swan events causing disruptions in the ecosystem like never before, reassessment of business strategy and expansion to other locations become crucial to ensuring long-term success. Vietnam with its large availability of tech talent, thriving infrastructure, affordable costing, and smooth government regulations is attracting global ER&D (Engineering Research & Development) spenders to increase capabilities. This is also garnering a greater wallet share from customers.
Vietnam's Innovation Spectrum: An Overview of The Top 5 Findings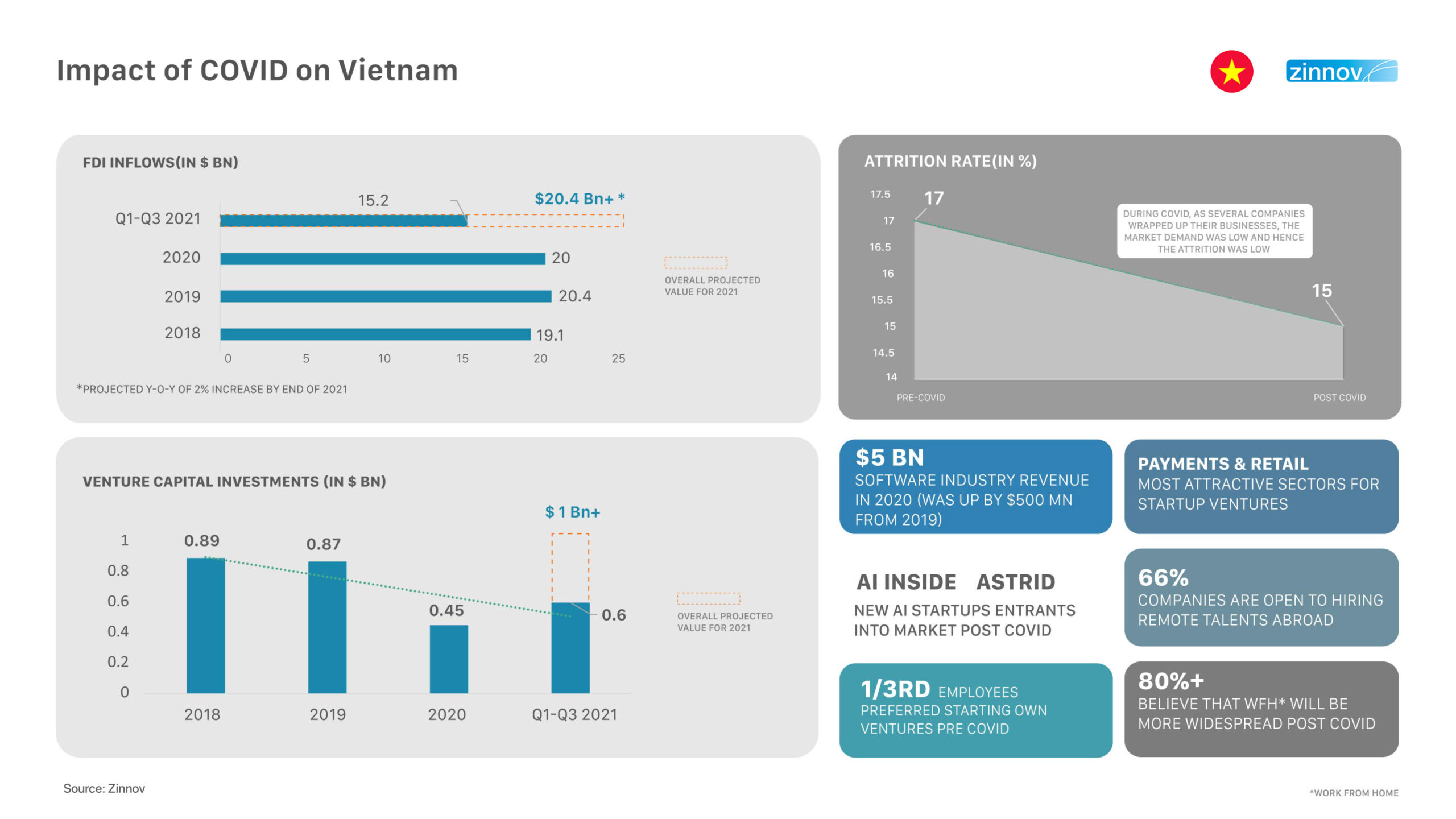 Vietnam, being an emerging ecosystem, was ranked 7th in the U.S. News & World Report's 'Best Countries To Start A Business in 2020.' In addition, the country was ranked 67th in the World Economic Forum (WEF) Competitiveness Report 2019. What exactly is it about the country that makes it so favorable to businesses? Here are a few key observations:
1. A digitally-skilled talent pool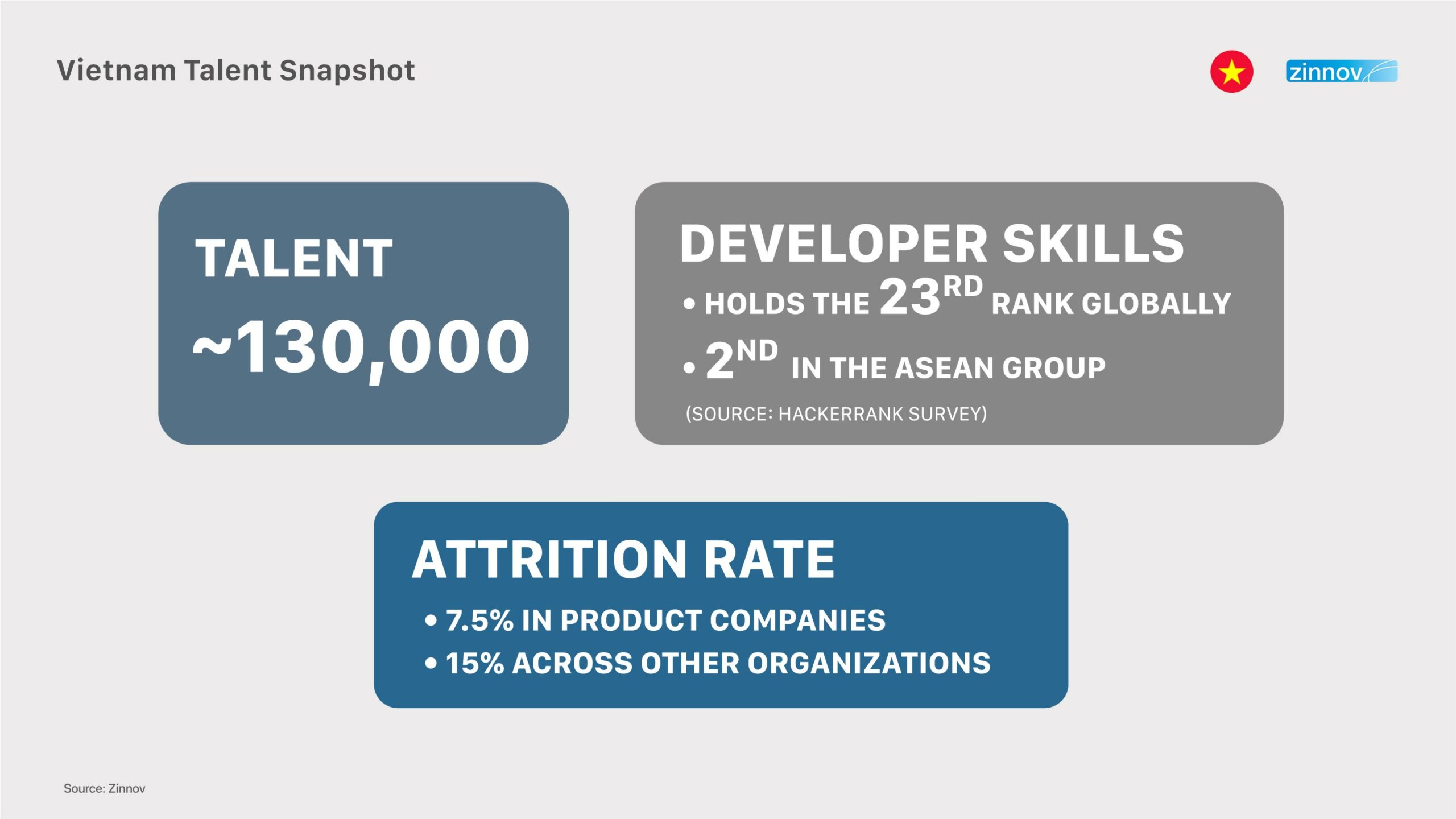 With a growing and evolving software industry, Vietnam's engineering maturity is scaling up. Teams can easily build modules of a product or part of a workload. However, they are yet to reach a stage where end-to-end ownership can be achieved, from design to implementation. This is due to a relative shortage of senior talent availability in the country, which makes it challenging to build full product engineering teams that can take complete ownership. However, in developer skills, Vietnam ranks 23rd worldwide according to the HackerRank survey, and 2nd in the ASEAN. Furthermore, the average tech talent pool is adding up to 130k with a high demand for web/mobile developers, data engineers/scientists (ML & AI), Cloud engineers/architects, and IT security engineers, to name a few. Coming to the longevity quotient, the average tenure of a software engineer is 20 months in a company. Product companies have an average attrition rate of 7.5% which is a very low percentage in comparison to other global locations. The country's overall average attrition rate stands at 15%. Pre-COVID Vietnam's attrition was at 17% but during the pandemic, a lot of companies shut shop, leading to a lower market demand which also eventually led to a lower attrition rate.
2. A Thriving Start-up Ecosystem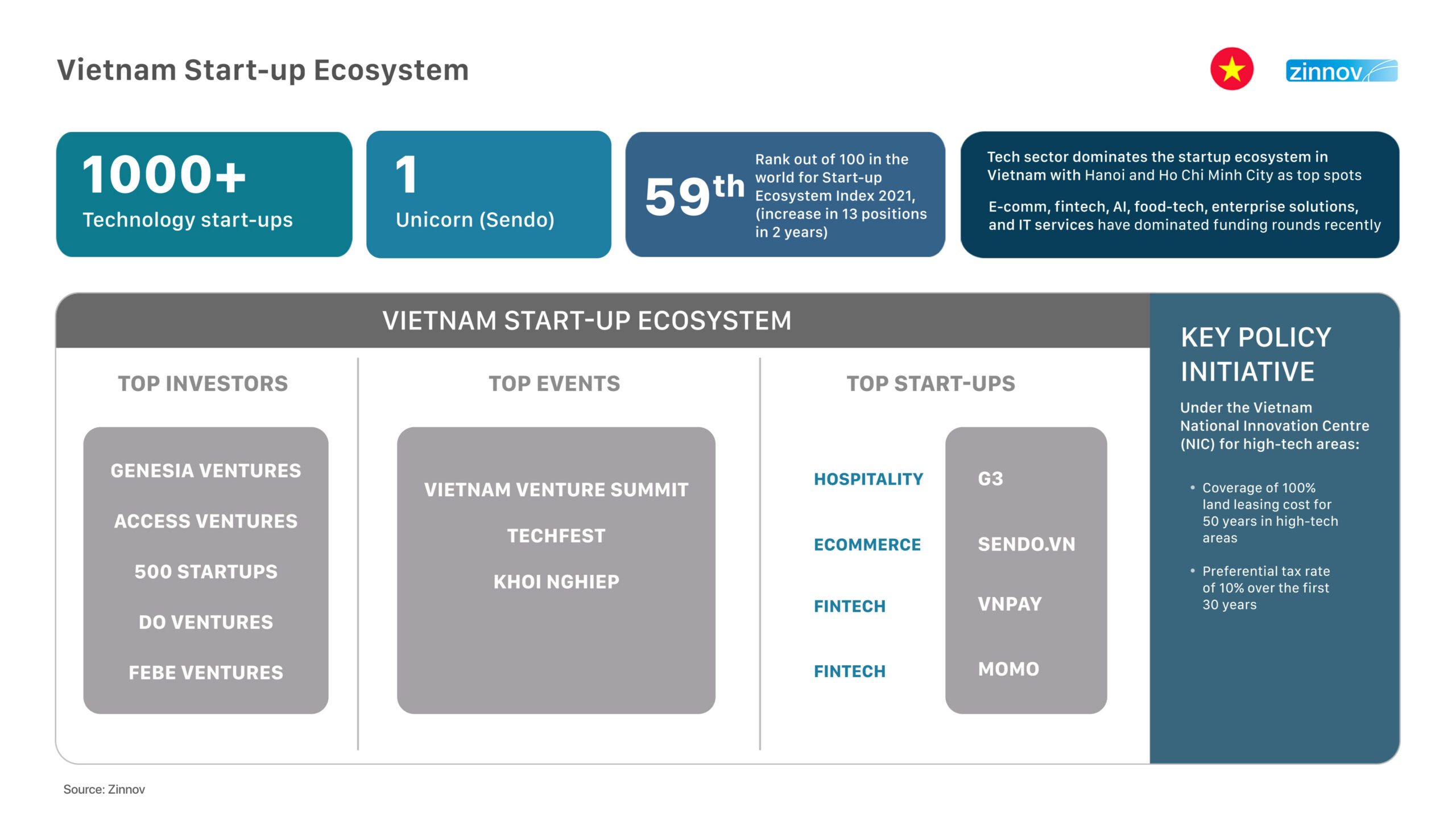 There are 1000+ technology start-ups, with 1 Unicorn (Sendo) in Vietnam so far. Further, on a scale of 100, the country ranks 59th in the world according to the Start-Up Ecosystem Index 2021, which is a leap of 13 places since 2019. Vietnam's top tech hubs are Hanoi and Ho Chi Minh City. From an investment perspective, e-Commerce, Fintech, AI, Food-Tech, Enterprise Solutions, and IT services have dominated the funding rounds recently.
3. Cost
Vietnamese software talent has affordable compensation expectations, with the gross pay accounting for close to USD 19,000. Retirals plus benefits account for another 20% of the gross salary. Companies also need to bear an additional cost of 20-25% of the staffing fee when they hire through agencies.
The salary growth rate on average is at 15%, but it can vary up to 27.5% for junior engineers. In terms of setting up small teams for piecemeal module work, Vietnam is much more affordable on the cost index, in comparison to the US.
4. Presence of Global Companies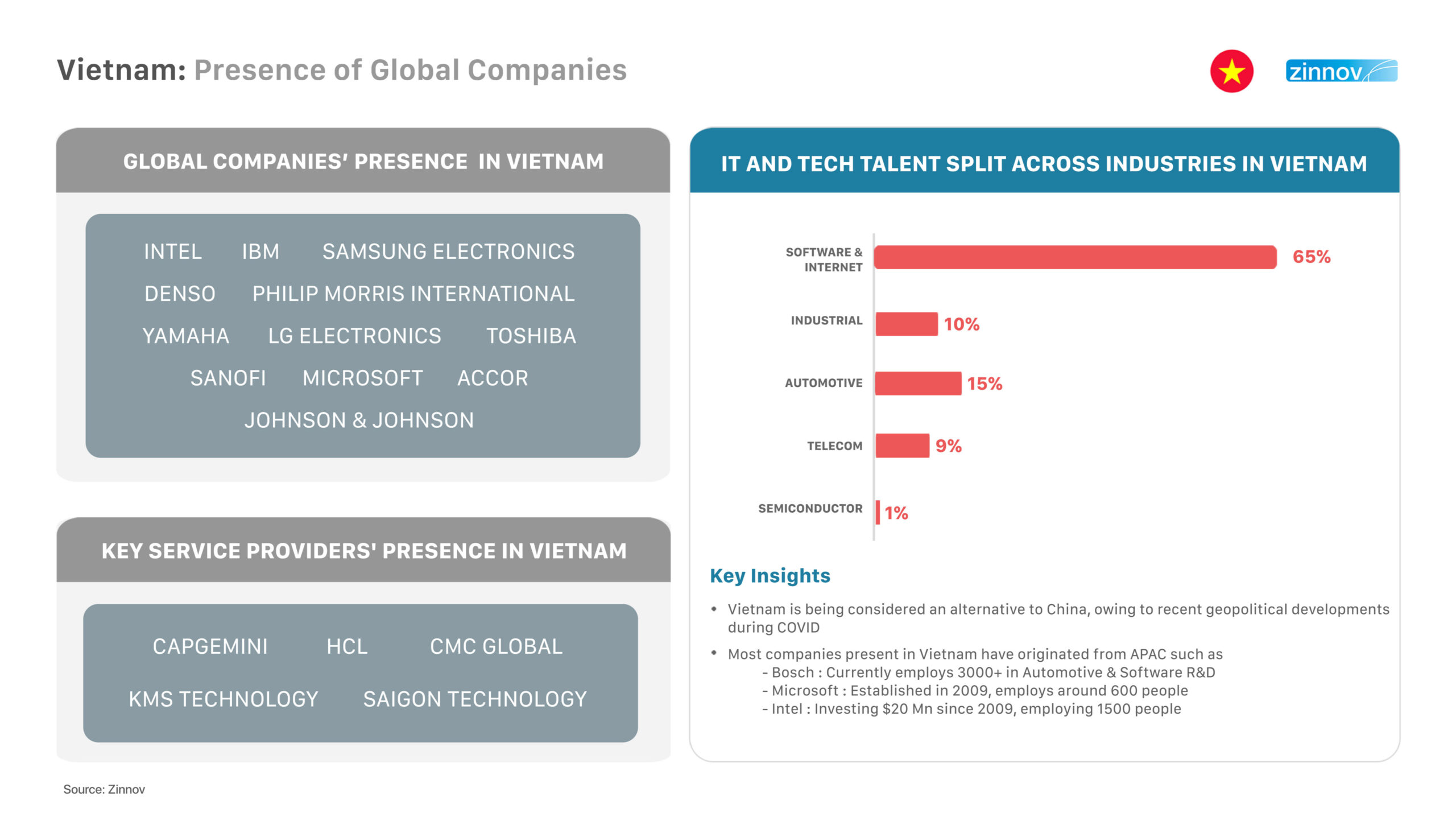 Vietnam has evolved as an emerging location option in recent years due to several geopolitical events. Several companies have shown interest in expanding their businesses in this country. For example, Bosch currently employs more than 3k people in Automotive & Software in R&D talent. Microsoft employs close to 600 people in Vietnam, establishing centers in 2009. Intel employs 1500 people and has already invested USD 20 Mn in Vietnam. Capgemini, HCL, and Saigon Technology are a few of the key Service Providers which are already present in the country.
5. Ease of doing business
To set up a COE, a country must have pro-business assets such as language, connectivity, and a supportive jurisdiction.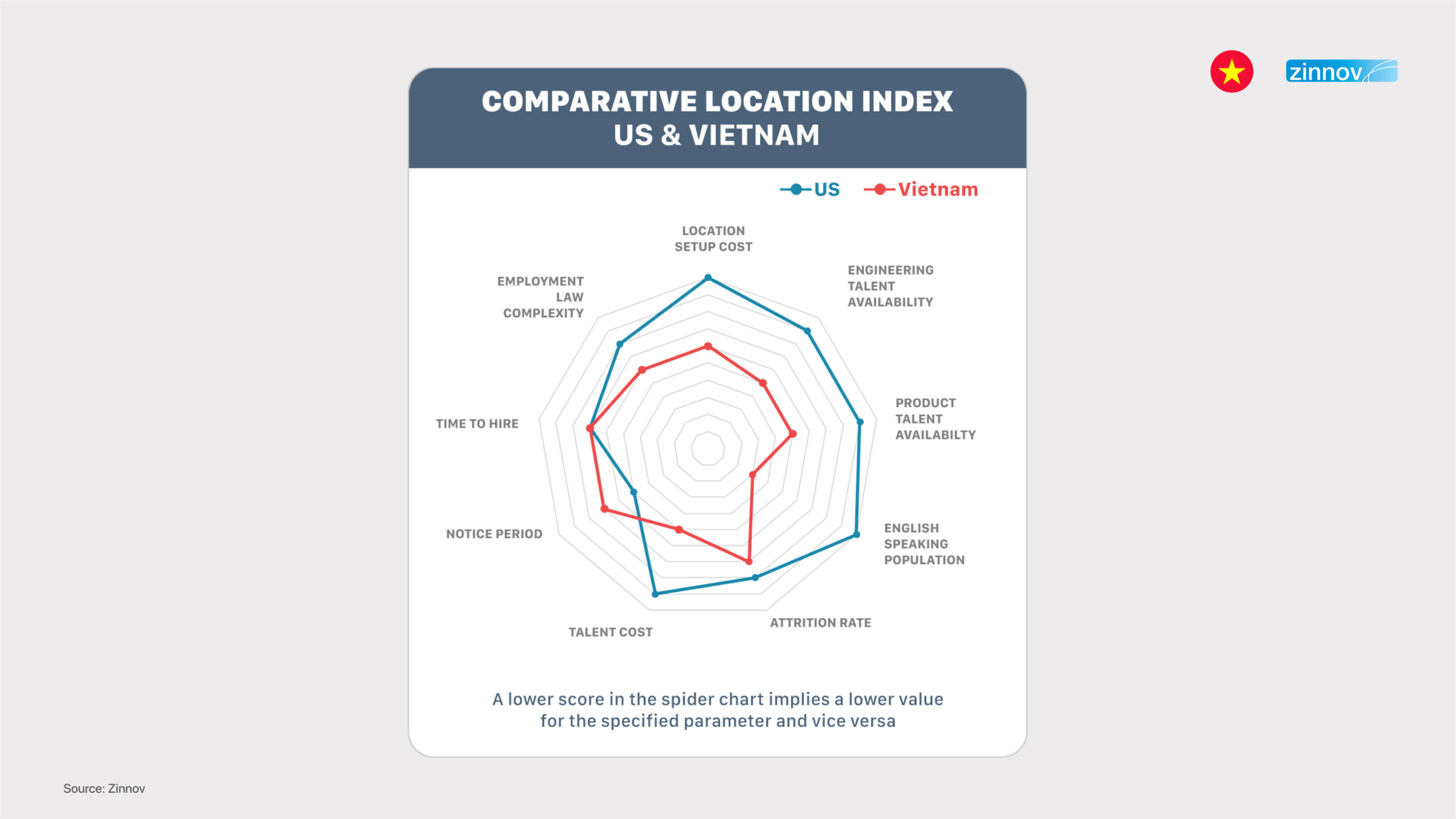 • Language
English is the first international language taught to Vietnamese talent across domains – Tech and Non-Tech, both. Japanese is another language that is being taught by quite a few universities.
• Academia
Two universities in Vietnam feature in the QS Top 1000 World University ranking for Computer Science. Overall, there are 130 higher education institutions with a critical focus on Data Science, AI/ML, among other advanced technologies.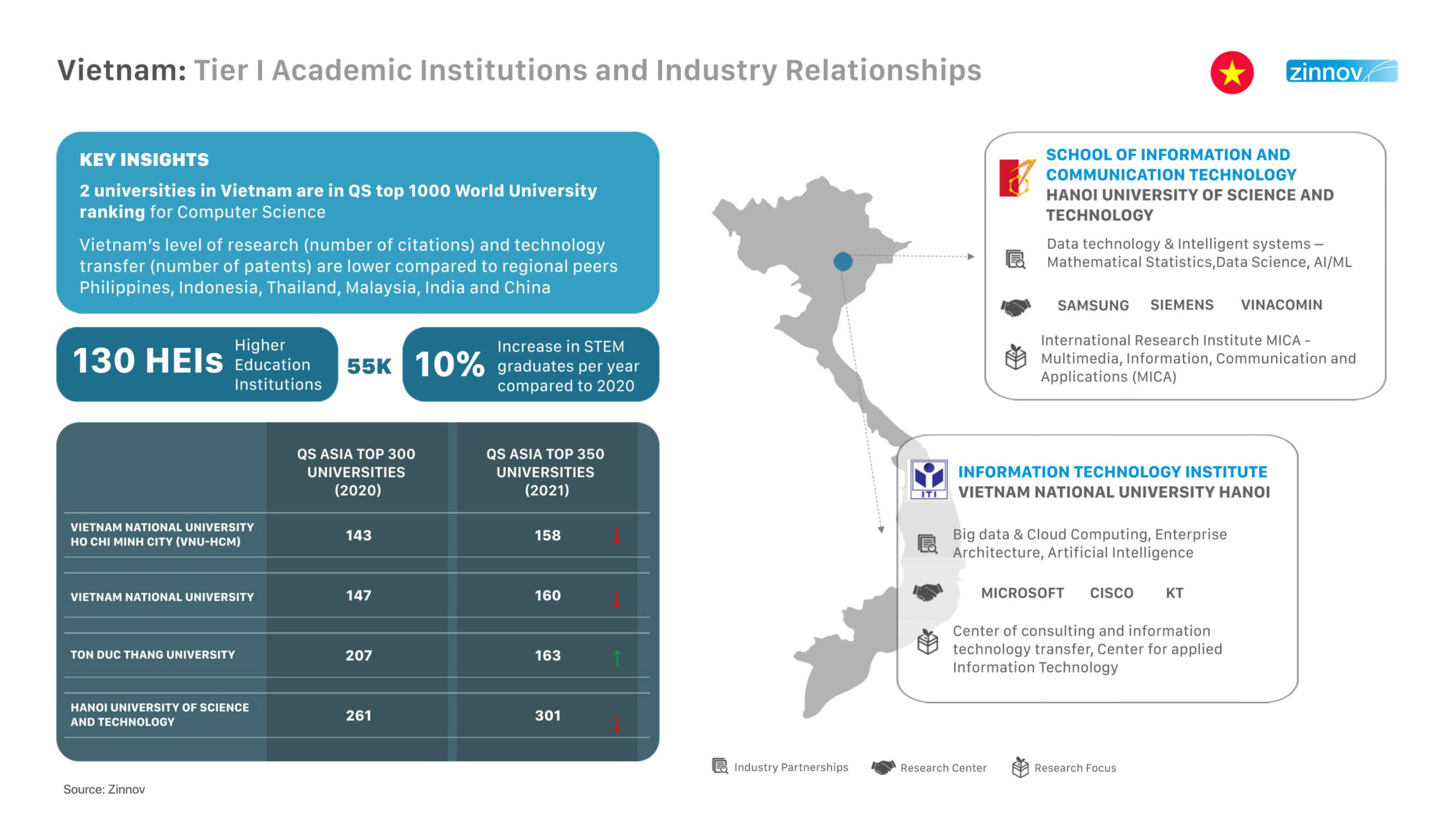 • Tax Laws
IT companies are eligible for a corporate income tax exemption for up to 4 years, followed by a 50% tax reduction for up to 9 years. Further, exports of software products and related services are subject to 0% value-added tax (VAT) and are not subject to export duty.
• Employee laws
Employees can terminate their employment over a written advance notice, where the notice period is of 30 days within 2 years of tenure, and 45 days for 2+ years tenured employees.
Severance depends on the tenure as well, with half a month's salary per year of service.
Employers are allowed to sign a contract for 1 year, extendable by another year. Post 2 years, a permanent lifetime contract is to be signed and termination gets difficult in this phase (except in the case of a mutual agreement).
Job loss allowance is provided if termination of the employee is due to organization restructuring/technology/economic reasons.
Unilateral termination by the employer is restricted, except in the case of the expiry of the labor contract or if the employee reaches retirement age and applies for a pension.
• Infrastructure
There are 3 major Tech parks for software companies – Hoa Lac Hi-tech Park, Danang Hi-tech Park, and Saigon Hi-tech Park, which can prove to be ideal for establishing co-working offices or if setting up a new entity is in mind.
So, why Vietnam?
The aforementioned factors stand as a testament to Vietnam's innovation dominance. Its robust tech talent availability, mature infrastructure, start-up atmosphere, and pro-business laws are transforming the country into a prime innovation hub. We believe leaders who tap into the country's resources and align their growth plan can bag the lucrative benefits Vietnam has to offer.
Want to expand in Vietnam, or receive deeper insights into other globalization hotspots? Write to us at
info@zinnov.com
to know more.