by Rishika Surya – Associate Consultant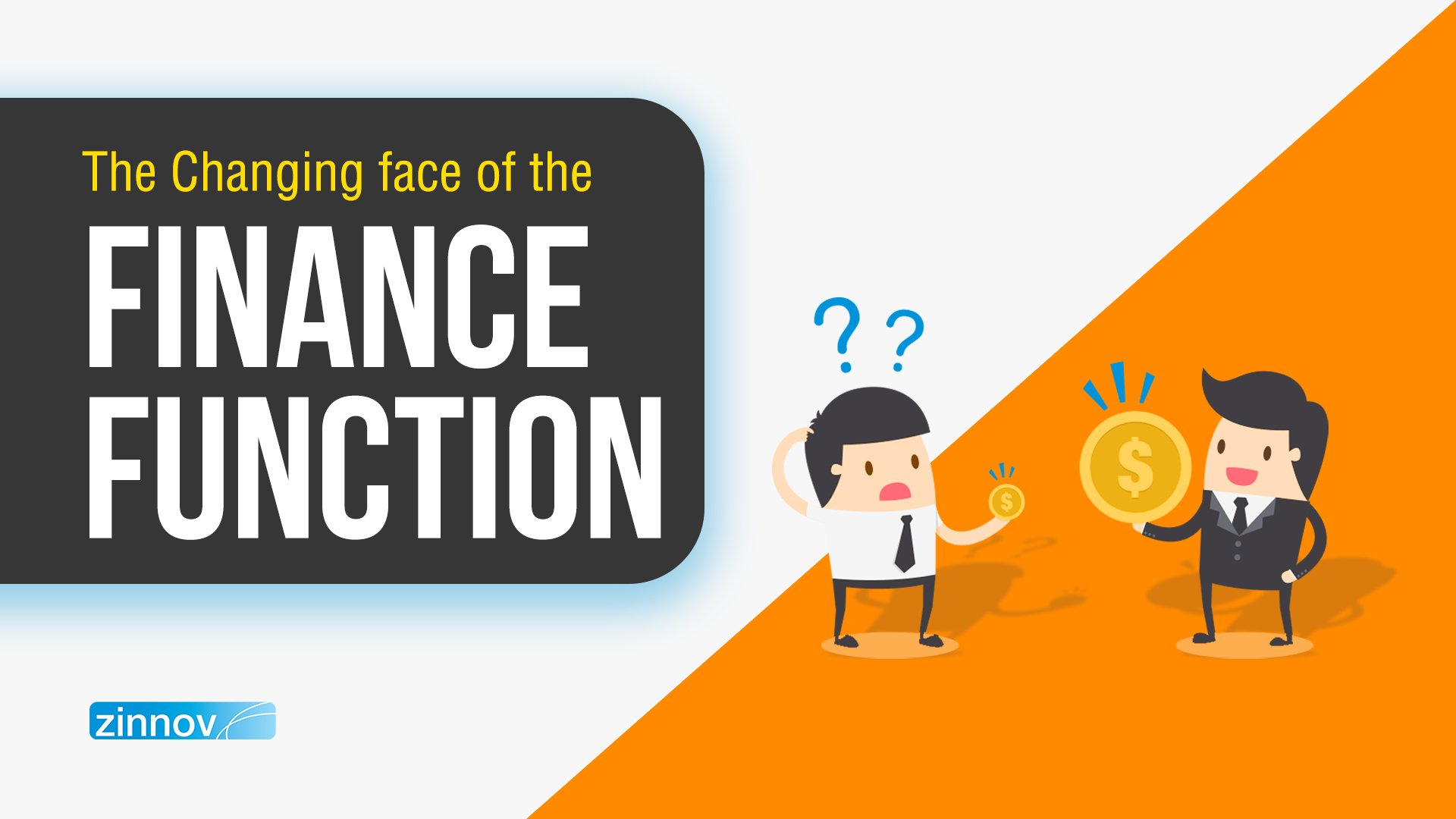 Global in-house centres (GICs) in India have undergone a radical transformation in the last few years, breaking away from the traditional shackles of being low-cost centres to becoming strategic partners to the global organization. GICs are looking at driving disruptive charters by leveraging India's key competitive advantages including talent, skill diversity, leadership capability, and a thriving innovation ecosystem.
Finance functions of GICs in India are fast becoming a key enabler of this disruption. The function is going through a transformative journey led by the imperative to realign with the growing engineering functions as well as to build its own strategic capability. Moving away from the conventional role of controllership and scorekeeping, Finance teams are becoming an integral part of the management to support value creation for the business.
Evolution of the CFO's Role
As the Finance function moves towards providing critical information and analysis to make strategic decisions, the role of a CFO is being aligned to this shifting focus. While traditional activities such as compliance and reporting retain criticality, a modern CFO's portfolio has expanded to encompass M&A strategy, business partnerships, and enablement of innovation budgets. There has been a decided shift in the core of the expectations from fin-ops as well, as they are expected to align business and finance strategy, and define the roadmap for digital transformation of the function. In such a scenario, the role of today's CFOs is no longer limited to providing financial expertise from data, but also increasingly expected to provide support and direction to other business leaders and become key contributors to the strategy team.
How Increasing Centralization and Expanding Work Portfolio is Being Managed
While Finance functions in India are becoming efficient partners to the engineering function, they are also building their own capability and expanding their portfolio to perform strategic work for their local and global counterparts.
Finance teams in India GICs are using diverse operating models to deliver business objectives. Zinnov recently concluded a study of the India GIC Finance function, in which four major operating models for GIC Finance were observed. While a small number of participating organizations have set up a dedicated finance team to look at local India operations, the maximum number of participating organizations are following a hybrid model, wherein they have set up a global captive shared services center along with a local finance team. This model often sees a division of work portfolio, with the shared services team performing pieces of work for the local operations along with global operations. A mature version of this model is observed in a few organizations that have moved on to a unified finance team, with centralization of work and distribution of resources across local and global operations. The centralization is aimed at substantial additional savings from economies of scale and standardization. There has also been an increasing tendency towards outsourcing transactional activities. Some organizations follow an outsourced finance model, in which a major chunk of their transactional activities are outsourced, while full-time resources are utilized for core and strategic work.
Finance functions are trying to increase their breadth of work with respect to global operations as well as build deep expertise in certain parts of the value chain. There are a growing number of organizations establishing Finance Centres of Excellence in India. By building a niche set of capabilities, Finance Centres of Excellence provide specialist knowledge and support to the Global Organization.
The Ascent of Finance Business Partnering?
Apart from leaner back office functions, finance is being pushed to drive business performance. As a consequence, organizations are investing in finance business partnering (FBP) to drive tangible benefits. The sharp rise in the amount of data available and opportunities from digital transformation is redefining the criticality of finance business partners (FBPs) who work closely with business units and act as advisors as well as strategists to drive decision-making and business performance. Around 30% of GICs are driving agile financial planning and budgeting by working closely with business partners and building on operational intelligence from across various lines of business.
Technology – The Driver of Process Innovation
New age Finance functions are moving away from legacy systems and adopting cloud, automation, and analytics to increase efficiency. The intent is to have people focus on value -added tasks such as planning, forecasting, business decision support , and the use of analytics to improve their business partnering performance, rather than focus on repetitive and time-consuming tasks.

Currently, the tools available for finance focus on automating transactional activities and updating core systems. Zinnov's analysis of the use of technology in Finance functions of GICs showed that accounting activities such as procure to pay and general accounting are being highly automated.
A "single source of truth" is of vital importance to organizations to ensure data standardization. For most functions, the Enterprise Resource Planning (ERP) tool serves as the lifeline, with other tools and automation being built on top of it. There is also an increasing shift towards using cloud-based services.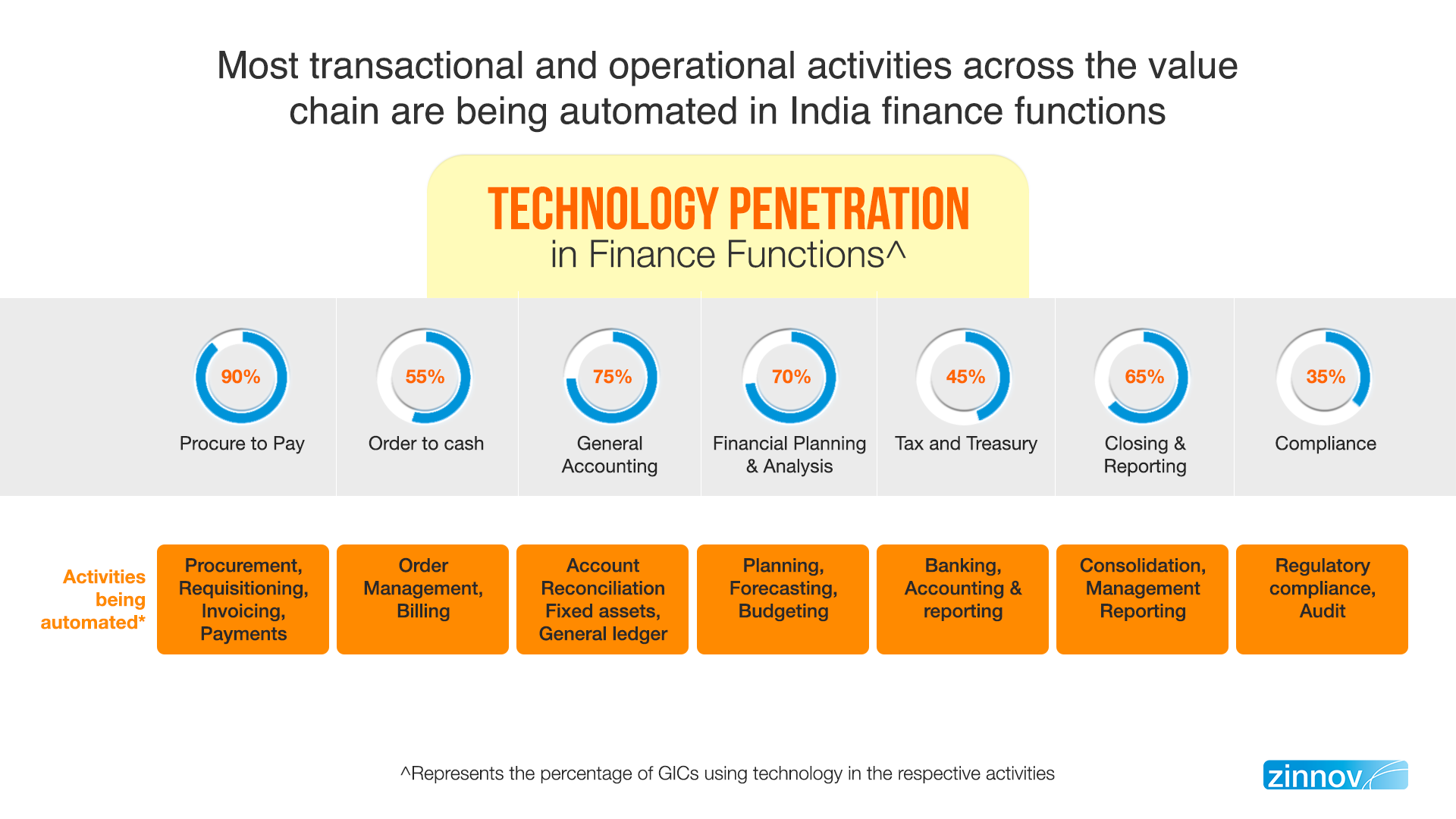 Talent, the Hero of Transformation
Upskilling of workforce is a key ingredient for the transformation of the Finance function. With finance taking an increasingly vital role in providing insights for the business, it becomes critical that Finance employees look beyond their traditional skill sets and focus on building soft skills and analytical capabilities a well.
Most GICs are concentrating on developing technical competency for their Finance employees based on the needs of the organization which often involves tool-based and industry trends training. But with the increasing importance of business capabilities, future focus is on programs that provide the right mix of business and technical competencies.
The New Rules of the Game – What it Holds
With much of the responsibility of navigating through market, business, and technology disruptions falling on the shoulders of finance, the question facing finance leaders is whether their Finance functions are equipped to brave such disruptions.
Zinnov envisages that in the future,  Finance functions will  leverage two levers – technology and people to build smart Finance teams. The current focus of Finance functions may be on automating operations, but in the future, it will have an unwavering focus on how technology's usage can change the way finance adds value to the business as a whole. Future-facing technologies such as predictive analytics, Robotic Process Automation, and blockchain will be leveraged to completely transform the Finance function to improve efficiency and extract deeper insights. New roles such as data scientist and scenario planners will start falling within the ambit of finance. Some GICs are already recruiting in-house technologists for Finance teams, dedicated towards developing tools for optimizing finance processes. There will also be an increased focus on skills such as analytics, machine learning, big data, etc., Finance professionals will need to spend more time with key internal stakeholders, and the need for softer skills like communication, stakeholder management, negotiation, etc., will become imperative.
Do share your thoughts and comments on this blog. To know more about how Finance functions in GICs are evolving and navigating through disruptions, reach out to us at
info@zinnov.com
.