About the author: Vivek Gupta is a Management Consultant at Zinnov with the Engineering Excellence team.
Abstract:
Adopting XaaS as a business model can be rewarding yet challenging for enterprises that have businesses based on providing shrink-wrapped products. The article talks about why XaaS makes for a strong business case for enterprises despite the associated challenges in implementing the model, with anecdotes on how other large enterprises are transforming their businesses through XaaS adoption. It also talks about the changes that an organization should be prepared to go through towards being a XaaS enterprise.
---
Overview
Everything-as-a-service (XaaS) is fast emerging as a popular delivery model amongst organizations globally. Incumbents and large enterprises in particular, have begun to take note as they look to explore and adopt XaaS as a business model of choice. The evolution & transition is evident from several large organizations having already adopted XaaS in some form or the other — To name a few — Microsoft, from a shrink-wrapped software provider to a SaaS player, Cisco & Dell from hardware manufacturer to IaaS and Managed Service Provider (MSP) respectively etc. With public cloud services market projected to be a $204 billion market globally in 2016 as per a Gartner report, the stage is set for XaaS to gain further ground with hardware & software providers, those that are looking at greener pastures and would like to leverage XaaS for new, repeatable & sustainable revenue streams.
Potential Drivers for enterprises to turn XaaS providers
One of the key drivers for adoption of XaaS model is its potential to positively impact revenues & bottom line for enterprises. Ability to tap in wider user base, explore newer market opportunities that couldn't be explored earlier through conventional models, improved cross-selling opportunities & ability to become nimbler in delivering newer innovations to customers can serve as major drivers in adoption of XaaS by enterprises.
Adobe for example, noticed that its publishing tools business wasn't growing despite rise in creativity demanded by its customers. When Adobe launched the subscription based offering for its publishing tools, corresponding revenues reached $2.1B as opposed to $1.6B from licensed revenues within just two-and-a-half years of launch. The new SaaS business operates at 93% gross margins driven by ability to convert Capex costs into Opex for customers. Adobe was also able to broaden its user base for publishing tools. Beginners who wanted to use only the basic features of Adobe Illustrator, for example, could subscribe to the same on a monthly basis, without having to purchase the whole suite upfront.
Intuit provider of solutions such as TurboTax and QuickBooks software, began shifting customers into the cloud and found that the move made it easier to cross-sell add-on solutions such as payroll and check processing. Adobe, on the other hand noticed that Perpetual-licensing model was limiting in terms of ability to deliver new innovations and capabilities at speed to customers, something that was solved through as agile, iterative approach as part of its SaaS adoption.
XaaS also makes for a significant business case when organizations can offer hardware that consumers can continue to use. Apple is a case in point, as it has developed a thriving ecosystem of iTunes (Apple Music), Apple Pay, other apps that consumers can buy from Apple iStore. The model has enabled Apple Inc. to make significant revenues from people actually using the iPhone, the hardware, for various services on a recurring basis.
XaaS: An Incumbent's Dilemma!
Although beneficial, moving to XaaS as a business model can be tricky for large enterprises, presenting tactical & strategic challenges for traditional shrink-wrapped software providers as opposed to XaaS organizations that have been built from scratch. A prominent question that most of the organizations may have to confront with is whether to go all-in with the XaaS model, or to keep its options open and allow customers a choice between perpetual licenses and online services. Salesforce.com, a $2 billion XaaS Company that was built grounds-up with a service oriented, and customer-focused mindset might not have faced the same challenge. While there may not be a single, cookie-cutter approach to this dilemma, taking a more conservative, middling approach where organizations continue to offer both the choices to customers for a certain period of time can be the likely first step.
Adobe, one of the few software enterprises to have successfully transitioned to SaaS model is a case in point. In 2011, When Adobe decided to offer its publishing and online tools as-a-service, it continued to offer Creative Cloud, the SaaS offering and Creative Suite 6 (CS6), the traditional perpetual-licensing offering in parallel for a year. In 2013, organization felt ready to move everything to the cloud and decided to no longer add new capabilities to the CS line, although they would continue to sell and support CS6. Centive (Provider of sales compensation solutions) is another example. When the company decided to adopt SaaS model for its solution offering, it was divided into two separate business units so that the SaaS unit could have total focus on the new business model, running in parallel to the existing BU operating on perpetual licensing model. The company moved to being a full-fledged SaaS player only after business model proved to be a success at the BU level, garnering confidence & support of key stakeholders including customers, prospects, employees & industry influencers.
Impact on organizational structure & culture: XaaS adoption by enterprises
An enterprise looking to delve into a XaaS offering has to ensure that the organizational structure is optimally aligned for adoption of XaaS model. Having the right talent on-board that can complement such a structure with requisite skills becomes imperative in such a scenario. For example, when Centive decided to come up with a SaaS offering, it hired a new VP of engineering with experience in building scalable multi-tenant applications, VP of sales to drive sales delivery & VP of professional services to setup a dedicated team for deploying & supporting SaaS services. Being a XaaS organization also means creating a deeply entrenched customer-focused & service oriented mindset across all functions of the organization so that customer sees value being delivered in the XaaS offering, month-on-month. Salesforce.com's customer & support organization is called 'Customer for Life' (CFL) a mindset that organizations preaches and believes in. CFL teams aim to spend more time in providing business related prescriptive advice, rather than answering technical queries so as to ensure delivery of higher value to customers. LucidEra is another example, where its Customer Success Team engages with customers throughout the lifecycle, engaging with end users to give them an overview of LucidEra's SaaS reporting and analysis solution and to help them use it most effectively.
Providing a XaaS offering would also mean being proactive, customer-aware & customer-engaged on a daily basis. Zendesk for example, sends benchmark reports that offer offering groupings by industry, with analysis of ticket resolution times, response rates, and forum interactions. Such reports proved to be a significant value add, directly tying-in to the business goals of the customers. Efforts like these go a long way in keeping customers happy and engaged, ensuring that they see true value in XaaS offering, leading to renewed subscriptions month-on-month.
Cultural traits: Being a XaaS Enterprise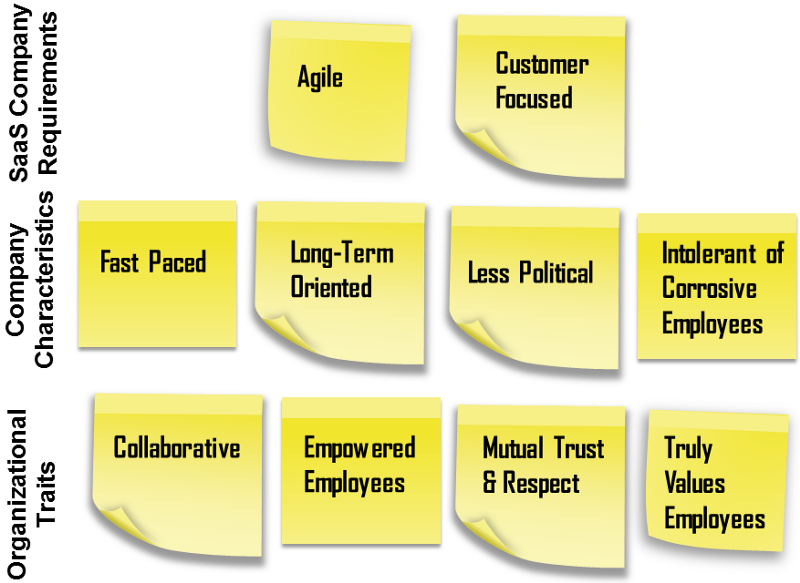 Source : Cloud Strategies
CRMFusion (Develops advanced software assisting organizations in reaching their data cleansing and data quality goals) is another example of high customer focus. The organization diligently tracks users and corresponding usage patterns, with capability to report the same up to the last minute. Capabilities also exist to see who is not using the tool. Company looks to proactively touch-base with the client in such a scenario to see if there has been a change in employees or if they don't understand the benefits of the tool and looks to ensure that clients can continue to use the tool unhindered.
Impact of XaaS on Organization's R&D teams
Customers adopting XaaS offerings expect shorter turnaround time in terms of features and innovation, albeit with no compromise in product quality. This makes it imperative for R&D teams to adopt relevant development model such as agile and use iterative approach to churn out features faster with high quality levels. For example, earlier, Adobe would take 18 to 24 months between major launches of new products. Nowadays, two years is an eternity. Adobe uses an agile development model, where a scrum team delivers service updates that are revised, tested, and released. XaaS model also makes it imperative for R&D teams to be more collaborative in nature, leading to increased adoption of models such as DevOps & use of Open source tools & techniques (Git, github etc.) amongst R&D teams.
With product enhancements and innovation being highly customer-driven in case of XaaS model, it is imperative for R&D teams to be plugged-in to customer requirements, expectations & feedback. For example, at VerticalResponse (provider of self-service email and direct mail solutions), teams are committed to adding features and upgrades driven by direct user feedback. Strategy is to roll out upgrades to all users with a single push and to run targeted follow-up communications to highlight that the features they asked for have been added.
Such a fast-paced development environment also leads to higher expectations from R&D teams in terms of requisite skill-sets and roles & responsibilities being undertaken. Organizations with XaaS offerings expect their engineers to have skillsets that are broad-based. Organizations are increasing looking at engineers with full-stack knowledge and capabilities, transcending boundaries of development, testing and Ops roles & responsibilities to work on their XaaS offerings.
Challenges associated with XaaS adoption and alleviating the concerns
For enterprises, a major challenge could be to make a smooth transition to XaaS based offering without impeding the customer business & experience. Intuit for example, suffered a series of outages during its migration to the cloud that were critical enough to interfere with customers' operations, thereby having an impact on Intuit's reputation and goodwill. The emphasis, in such a scenario, has to be on product design and modularity such that changes are incorporated in the form of small, replaceable software pieces (read microservices) separately and selectively. Changes have to be introduced bit-by-bit such that it does not risk customers becoming disoriented and avoids outages, minimizes downtime.
Enterprises may also need to be mindful of where the software has to be partitioned, only activate certain code flows for certain set of users. Facebook manages this aspect well with its Gatekeeper tool. Gatekeeper is a web release tool that Facebook uses to feature toggle: shipping new features in the off state, then switching them on for any segment of users they please. This allows them to constantly change the website without pushing. Using Gatekeeper allows them to handpick exactly which of their users will see what features at any time. It also proves to be an excellent tool for controlling different versions of an app for different segments, dividing up its users and deploying certain features to each.
Enterprises may also have to deal with, and overcome inertia that some of the customers may have in moving from licensed version to the subscription-based software model. Autodesk found that holders of 5–20 seats of product were reluctant to switch away from perpetual licenses. As a result, Autodesk had to dedicate additional resources to communicating the value of its offering to this market segment.
Inputs & References :
https://www.fxguide.com/featured/autodesk-going-subscription-only-heres-how-they-can-help-the-industry/
https://www.fticonsulting.com/~/media/Files/us-files/insights/white-papers/saas-adapt-or-lose-out.pdf
Have a query?
Reach out / Schedule a meeting with Zinnov's Engineering Practice Head directly here.