On April 26, 2022, Wipro Limited ("Wipro") announced its acquisition of Rizing Intermediate Holdings, Inc. ("Rizing"), a global SAP consulting firm, for USD 540 Mn from One Equity Partners in an all-cash deal. The deal values Rizing at 2.8x its CY21 revenues of ~ USD 194 Mn. Rizing's industry expertise and SAP consulting capabilities in enterprise asset management, consumer industries, and human experience management will be instrumental in advancing Wipro's position as a sought-after advisor for complex SAP transformations. With the acquisition, Rizing shall become a critical extension of Wipro's SAP Cloud practice and Wipro FullStride Cloud Services. We believe the Rizing deal is a step further in realising Thierry Delaporte's vision of Wipro.
Strategic Rationale
SAP Consulting powerhouse: Rizing brings Strategic Consulting capabilities in large SAP transformation engagements and will help Wipro in expanding presence with existing key accounts along with new accounts
Enhances Wipro's end-to-end capabilities: Rizing's 3 service lines

SAP for Consumer Industries (SAP Retail and Fashion Suite delivering unique solutions for retail and wholesale)
SAP Enterprise Asset Management (EAM) (End-to-end EAM solutions provider, offering fully functional systems for managing assets in asset heavy industries)
SAP SuccessFactors and SAP Human Capital Management (HCM) (SuccessFactors Cloud and on-premise HCM solutions partner in Core HR helping clients modernize HR practices, payroll, employee engagement, workforce skill analyses, and training management) will help enhance Wipro's SAP capabilities

Complementary Industries: Service offerings complements with customers in the industries where Wipro has a strong presence – such as Retail & Consumer Goods, Energy, and Utilities while strengthening its position and leadership.
Complementary Geographies: Expands local presence across key geographies such as Australia, Canada, Germany, and the US with over 1,300 consultants in 16 countries.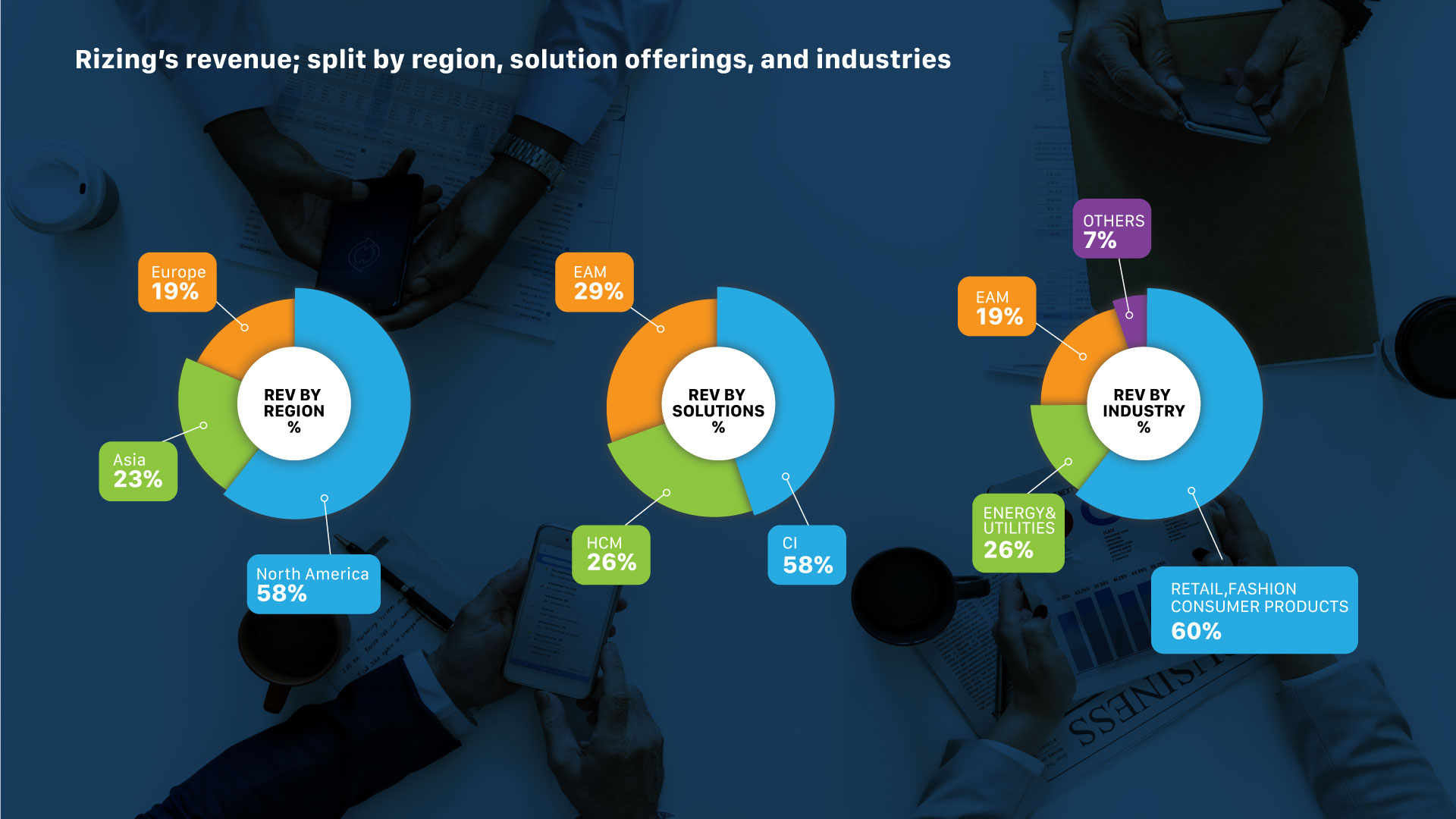 Wipro's M&A Strategy
Since the appointment of Thierry Delaporte as the CEO in June 2020, Wipro has been aggressive in making inorganic bets with 11 deals worth more than USD 2.7 Bn, including Rizing. The Rizing acquisition is in line with the strategy outlined by Wipro to focus on winning large deals in the range of USD 200-300 Mn. The aggressive inorganic growth strategy comes at the back of Wipro trailing behind the peers in recent years, and Thierry's preference to 'buy' versus 'build' in a rapidly evolving technology landscape.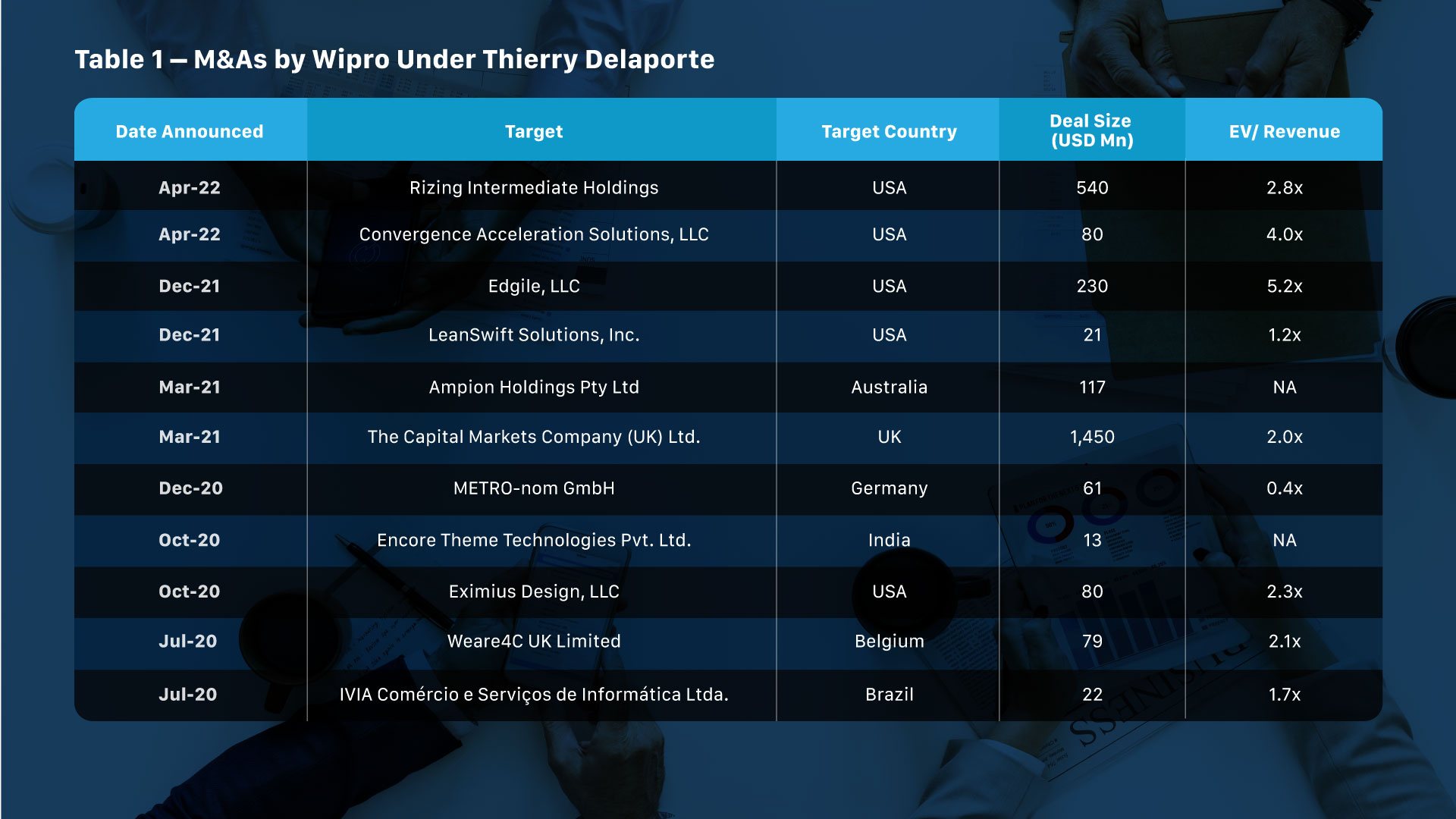 Wipro intends to continue pursuing M&As in underpenetrated areas, looking at only large targets that can be scaled up to help achieve market leadership. As a result of the recent M&As, margins are likely to be below guided range of 17-17.5% for the next 1-2 years due to transaction related expenses
The Growing SAP Ecosystem
The SAP ecosystem has seen a slew of deal activity in the last financial year, with key buyers including global consulting firms, System Integrators, and Service Providers.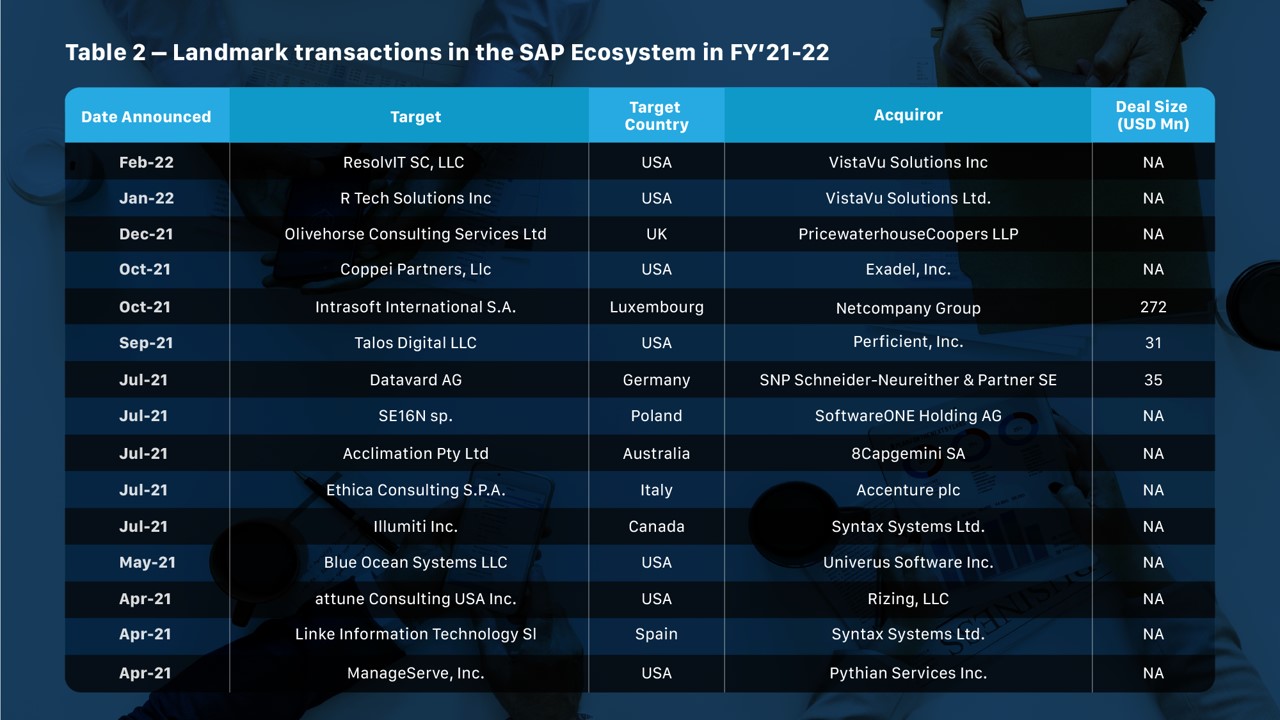 The M&A Fever Hits The Indian Sector
With the rising demand for IT solutions, Indian technology firms have also stepped up their M&A plans, announcing multiple acquisitions in 2022 already. The notable transactions include Persistent's acquisition of Data Glove and MediaAgility, Infosys' acquisition of Oddity, Cyient's acquisition of Citec and Grit Consulting, and the recently announced merger of L&T Infotech-Mindree, among others. Similar to Wipro, Tech Mahindra has been aggressive in putting its balance sheet to work since the beginning of the pandemic and has acquired 4 assets in 2022 for more than USD 400 Mn.
While smaller acquisitions (<USD 100 Mn) by Indian IT firms have been common, the number of larger deals is relatively fewer – reflecting the cautious approach towards M&A adopted by Indian IT firms.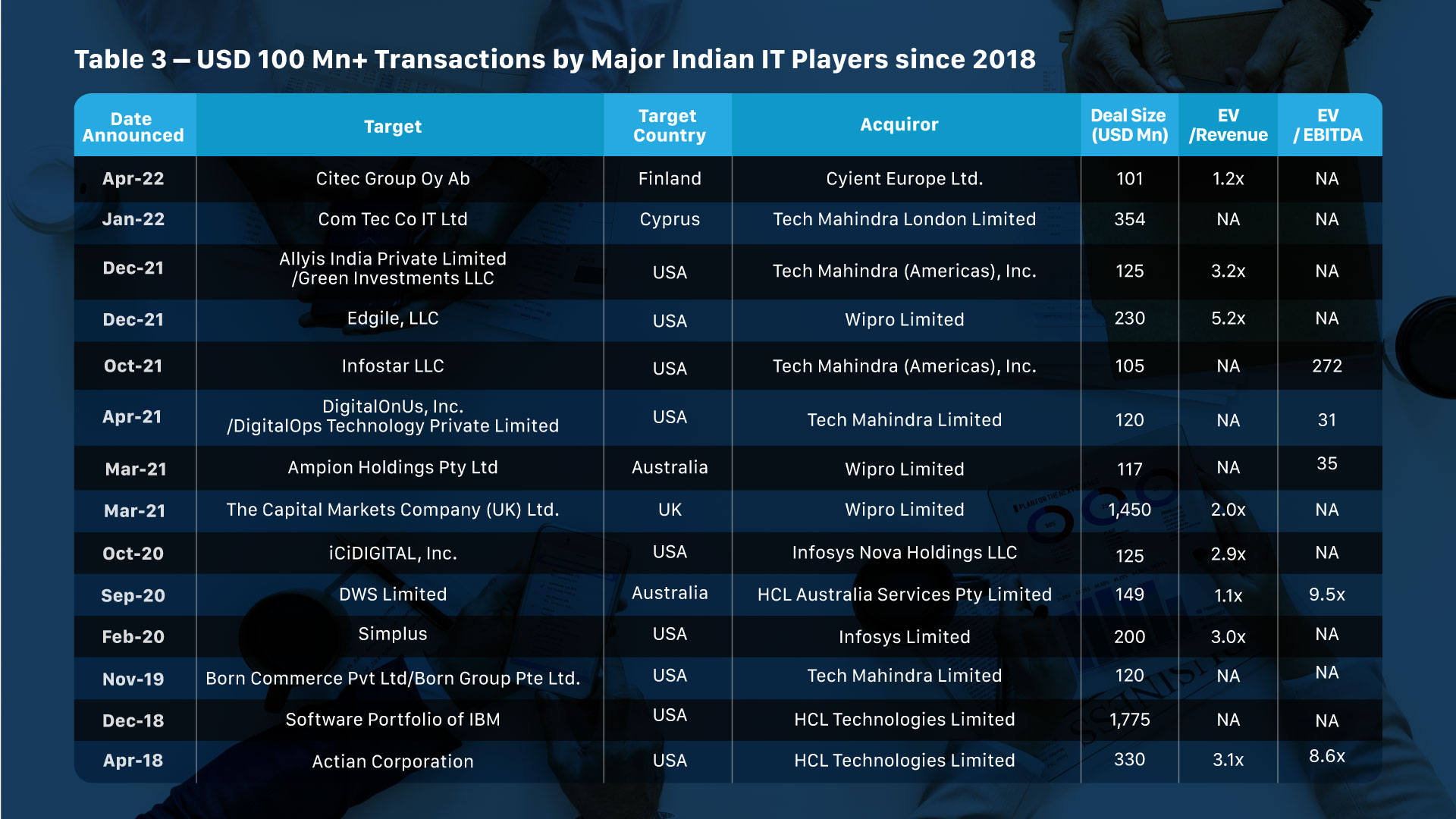 Conclusion
The Rizing deal is in line with Wipro's stated strategy of pursuing larger acquisitions. While the CapCo deal has integrated well till date, any mega deal comes with higher execution risks. The integration costs, together with supply side issues, are expected to impact operating margins in the near-term. However, we believe that deploying existing cash to grow its Cloud ERP offerings through the Rizing deal should help create significant value for its shareholders in the long-term versus any corporate actions like dividends or buybacks.
To know more about M&A Strategies, and plan your next acquisition write to us at
info@zinnov.com
and get in touch with our experts.