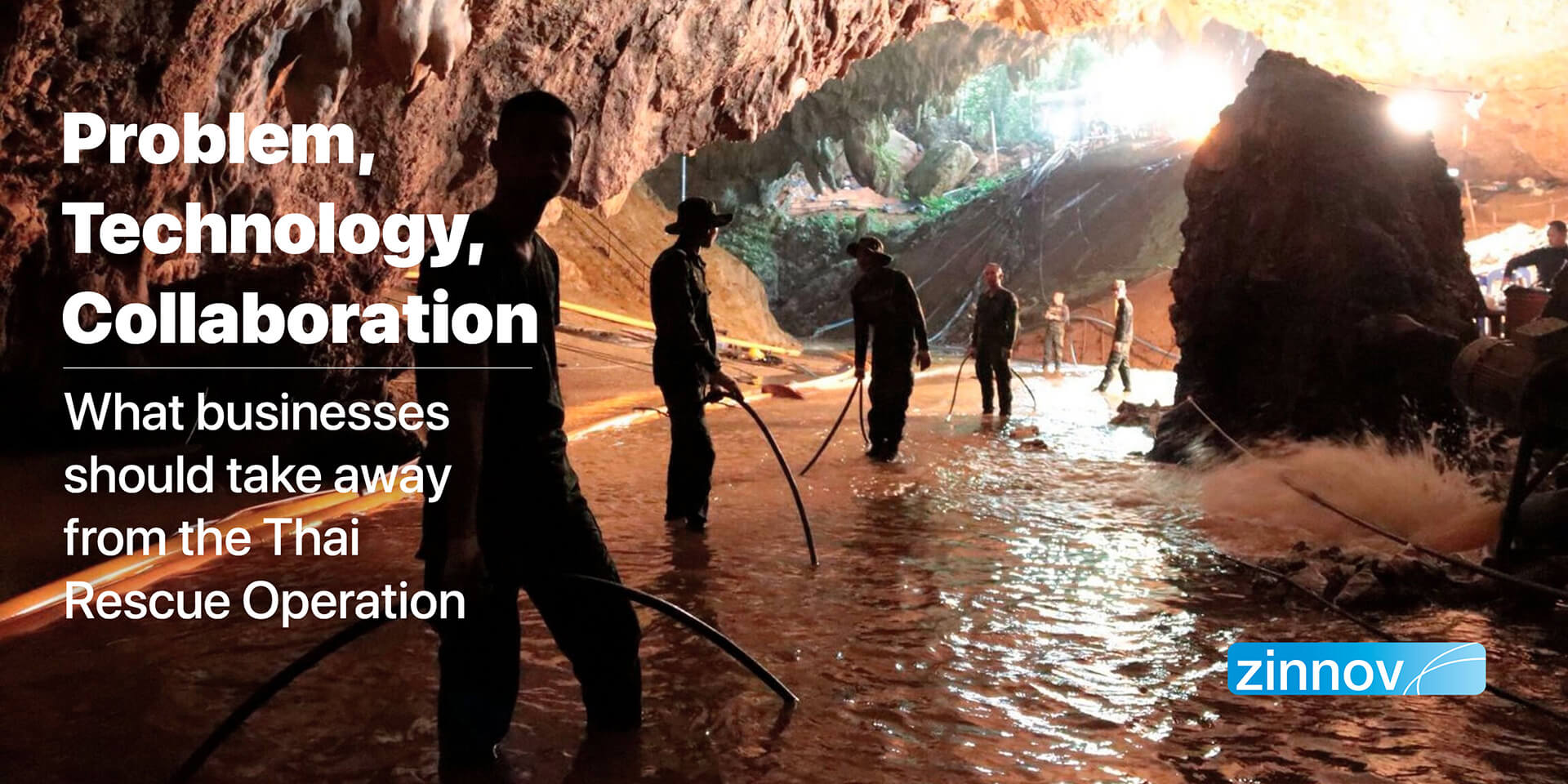 After a grueling month-long schedule, France won the FIFA World Cup and was crowned champion after an intense final battle with Croatia on the 15th of July. Only five days before the World Cup Final, in the Far East, another soccer team emerged victorious after an 18-day ordeal with nature. 'Wild Boars' is a junior soccer team comprised of boys studying across several schools in the Chiang Rai province of Northern Thailand. The entire squad, along with their coach, was stranded in a cave on 23rd June, when their adventure birthday celebrations turned into a nightmare. Arduous terrain, monsoons, flooding of the caves, and lack of oxygen made the rescue operation even more challenging. The operation grabbed the attention of international audience who were closely 'ALT+TABing' the progress of the rescue operation alongside FIFA World Cup.
After an 18-day battle, the entire squad of under-17 boys were safely rescued. There was, however, one casualty – one of the Navy SEAL divers lost his life during his valiant endeavor to rescue the kids. Nevertheless, what we saw during this rescue mission was exemplary.
Thai Navy Seals, United States Indo-Pacific Command, British Cave Diving Rescue Experts, local police, rock climbers, volunteers – all of them played a crucial role in saving these young soccer players. Help flowed in from all corners of the world, and it was not limited to human resources and expertise – technology played a crucial role in this battle of life and death.
What if we told you that as many as six companies from varied industries came forward with their state of the art technologies for the rescue operation, without which the Wild Boars couldn't have emerged victorious in this life-threatening match? Where on one hand, we see the corporate world struggling to work with their partners where the objectives are written in stone; this operation, on the other hand, was a synchronous effort from all the companies in this untested and untried rescue operation. There was no textbook solution to this grave problem that involved innocent lives, and no room for even an iota of error, for it would have resulted in death.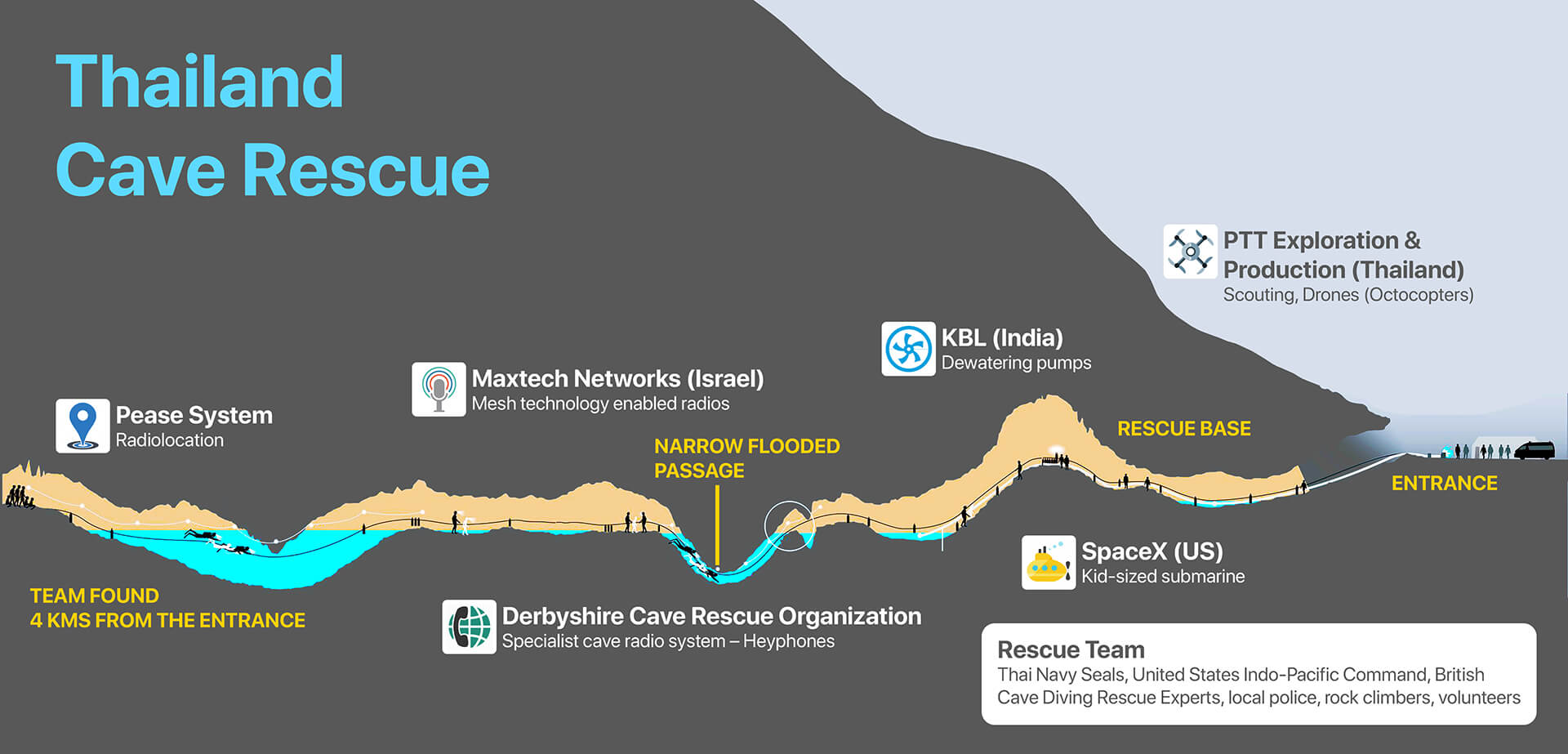 Six different technologies came together from different corners of the world and helped facilitate this mission. It was a rescue operation like none other, for it coupled new-age technology with grit and determination. Let's look at each of these technologies that helped life triumph over death:
Kirloskar Brothers' Limited (KBL) – KBL is a Pune (India)-based pump manufacturing company with expertise in engineering and manufacturing of systems for fluid management. On the Indian Embassy's recommendation to Thai authorities, Kirloskar was reached out for technical advice. The company flew in experts from India, UK, and Thailand to the site, and took charge of dewatering the caves. KBL also offered four specialized high capacity Autoprime dewatering pumps, which were ready to be airlifted if the need arose.
PTT Exploration & Production (PTTEP) – PTTEP is a Thailand-based oil & gas exploration and production company, which sent a 30-member team along with Multipurpose Plant Inspection Octocopters (MPIO), to scout the cave. The three drones were fitted with thermographic and optical cameras to create 3D maps of the cave. The maps were further improved upon by the sonar scanners that helped the divers to maneuver through dark, murky waters. Without the drones, the mapping of the terrain would have taken weeks, if not months to accomplish. PTTEP also provided an autonomous underwater drone and a vehicle that can be remotely operated by a human, though they were not put to use due to the cave's highly unsuitable terrain for autonomous vehicles.
Maxtech Networks – An Israeli communications company, Maxtech Networks, provided 19 hand-held devices that function even in the subterranean cavern where standard radio reception does not function. The radios use Mesh Technology that enable them to communicate within a 2-mile range without a direct line of sight or physical infrastructure. The hand-held devices were built by Entel (UK) and the software was built by Maxtech.
Derbyshire Cave Rescue Organization – Derbyshire provided the divers' expert advice in underwater cave diving and a specialist cave radio system – Heyphones – which are capable of transmitting through hundreds of meters of rock.
Pease System – Pease System is a homemade radio location kit that can locate the objects accurately up to 300 meters of solid rock. Though this system could be locally assembled and used, it needed a large battery to be taken inside the cave, which was not a feasible option, considering the inhospitable terrain and weather conditions.
SpaceX – For this rescue mission, Elon Musk used components of Falcon rocket such as liquid oxygen transfer tube, and built a small kid-sized submarine that was light enough to be carried by two divers. The submarine was shipped to Thailand for future use; however, it was not leveraged for this rescue operation.
The entire mission was an amalgamation of elite armed forces and experts in engineering, communications, and diving. No one knew each other prior to the operation, but they managed to work adeptly in a well-coordinated fashion throughout, eliminating and/or minimizing collateral damage.
Taking a cue from the Thai Cave rescue operation, lessons that businesses can learn include:
Common Goal: The 25-year-old coach of the Wild Boars soccer team, kept the kids' morale up, even in an untenable situation. Similarly, in an organization, keeping key stakeholders motivated in the darkest of times and the worst of situations becomes imperative, given the ever-evolving forces at play in the ecosystem. Having a common goal, along with a focused attitude towards achieving it, will come in handy when dealing with forces like a multi-generational workforce, internal stakeholders, external participants, and other such complexities.
Collaboration: One big takeaway for businesses from this rescue operation is the importance of collaboration.

Look outward – Enterprises tend to look for solutions from within, but disruptive solutions are almost always from without. An open mind and a fresh perspective are critical for a game-changing solution.
Divide and conquer – Nobody knows an enterprise's problems better than itself. Businesses need to divide problems into smaller parts and look for solutions, rather than trying to solve the entire puzzle at one go.
A Jack for each trade – Gone are the days for a one-stop-shop vendor or partner. Disruptive businesses look for the best solution in the ecosystem for each and every component required.
Amalgamation – "Out of association grows adhesion, out of adhesion amalgamation." The amalgamation brings in innovation into the company. The stitching process of all the part-solutions is what businesses are required to master in order to stay ahead in the market.

Adaptive use of technology: Even though only a handful of solutions put forth by businesses were leveraged for the cave rescue operation, there were several technologies and state of the art solutions that emerged, which will eventually find alternative uses. Similarly, businesses need to break through the shackles of operating a certain way, just because that is what has been in practice since inception. Finding newer ways to leverage the core technology should essentially be institutionalized in the organization's culture as a way forward.
Planning for all eventualities: The diverse team that came together to rescue the soccer team and their coach worked according to a plan that evolved based on the changing scenarios. Though there were multiple solutions and options that were put forth from different corners of the world, the rescue team adapted and tailored the ones that best fit the problem at hand. Similarly, businesses need to have highly nuanced scenario planning where there are multiple alternatives and diverse outcomes need to be planned for. Organizations cannot afford to go on with business as usual, with blinkers on, following a set path, which doesn't have room for alternatives and/or other options. They need to be prepared for eventualities where a 'Plan B' would have to be leveraged, in terms of an altered business model, or strategy, or even repurposing a legacy product.
A famous dialogue from the movie, The Dark Knight Rises, goes, "How can you move faster than possible, fight longer than possible, without the most powerful impulse of the spirit? The fear of death…" In this ever-changing technology landscape, where a tech start-up like Uber, with no taxis, no drivers of its own, disrupted the whole private transportation sector just by partnering with taxi drivers and fleet owners from the ecosystem, enterprises should be wary of the disruption from every direction. They need be on their toes and partner with the right entity from the ecosystem to leverage new-age technologies and pull themselves out of the cave – failing at which would lead to a slow yet inevitable death.
---
To maximize your collaboration efforts, scenario planning, or to get the most out of your technology expertise, get in touch with us at
info@zinnov.com
.