Sports impact our lives in various ways – culturally, socially, nationally, and now, more than ever, commercially and monetarily. Many regard sports as just another aspect of their daily lives. But sporting events are unlike any other business – they have always been and will continue to be governed primarily by emotion. There is no "logic" as to why someone is a sports fan or dedicated to a particular team. In sports, growth, and profitability are anchored on a single factor: human emotions.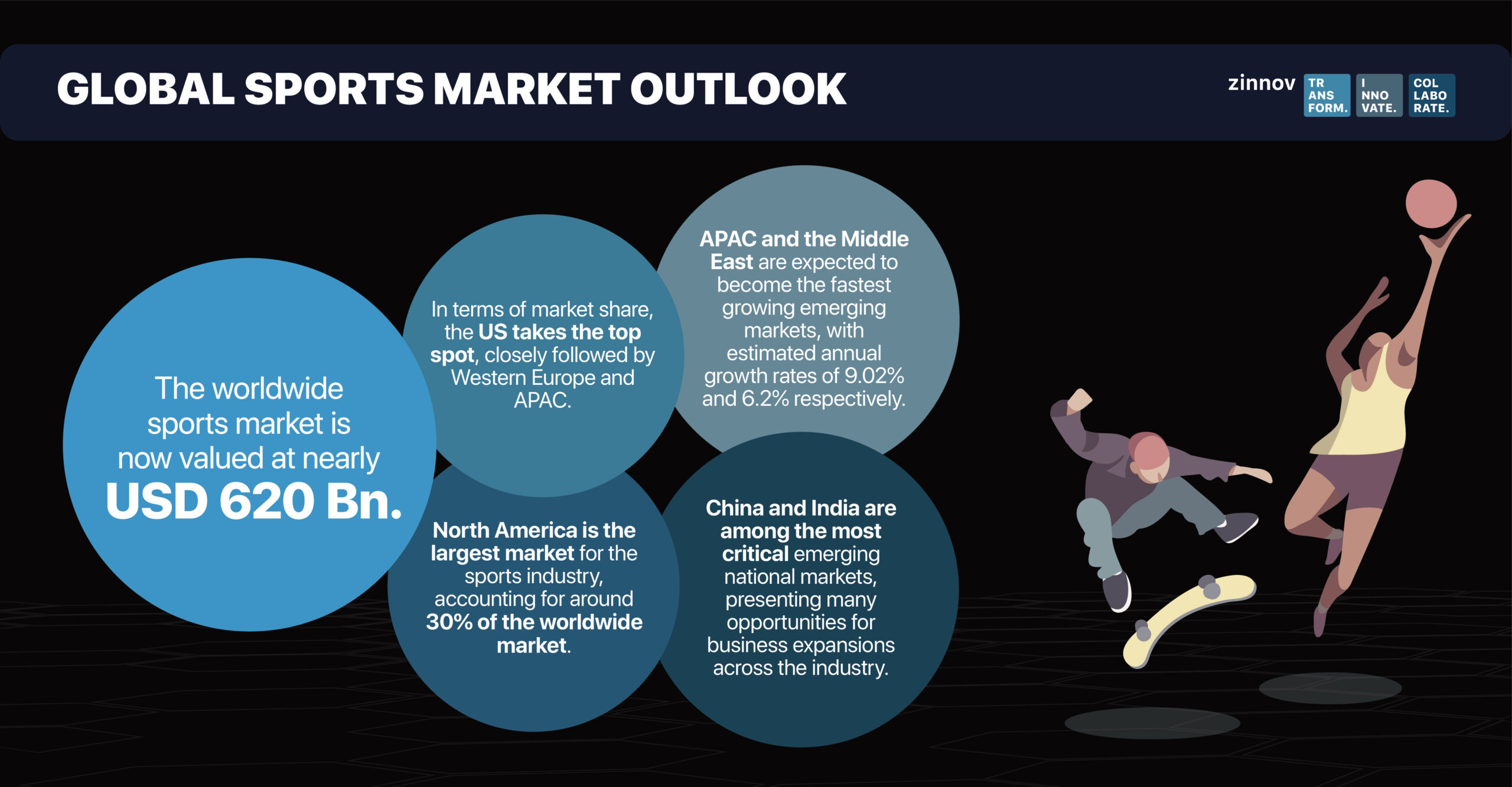 The global sports market is a highly lucrative industry that is constantly improving and rising. Earlier, the primary focus was only on the team and the players, but today, the sports industry extends beyond the playing field, from stadium food and memorabilia booths to TV rights and sponsorships that run in the millions Sports teams and events are regarded as business investments because they promote the communities that support them on an individual or group basis. These regional sporting events then promote tourism, infrastructure, and foreign investment. This results in profits for the host communities, creating a cascading effect down the value chain.
How has technology evolved and intersected with sports over time?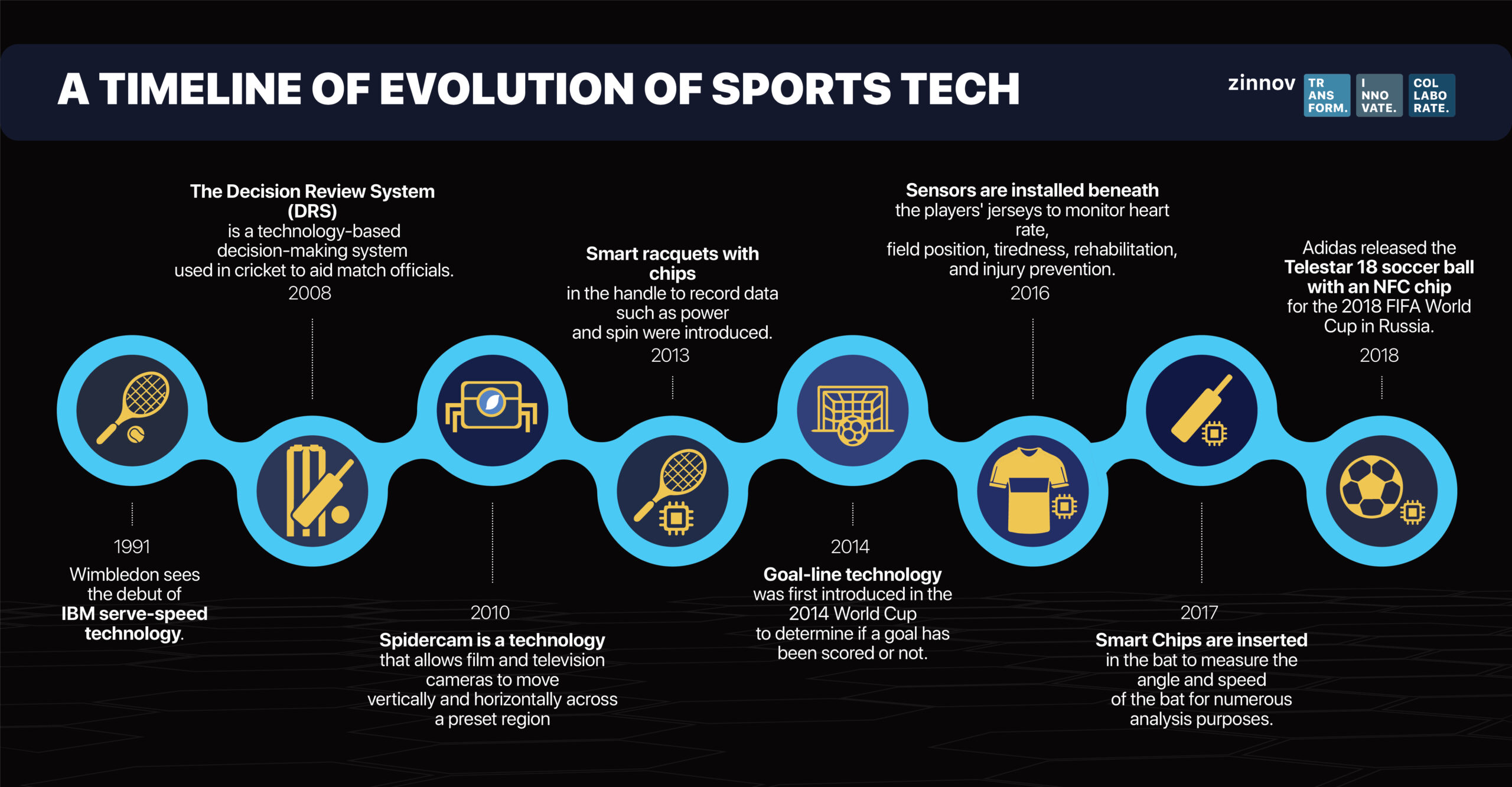 Sports have progressed from being just a popular leisure activity to encompassing an entire ecosystem comprised of different stakeholders and various degrees of participation. The Sports world is constantly evolving and expanding as other industries introduce cutting-edge technology, transforming the industry as a whole. Although still nascent, the Sports Tech sector is rapidly transforming, giving rise to a growing number of start-ups and ecosystem interest, thus propelling the industry ahead. These developments are revolutionizing the way sports are played and enjoyed in ways that were previously unimaginable. These changes, like any expanding industry, create a wealth of potential for both businesses and investors.
Stakeholders in the Sports Sector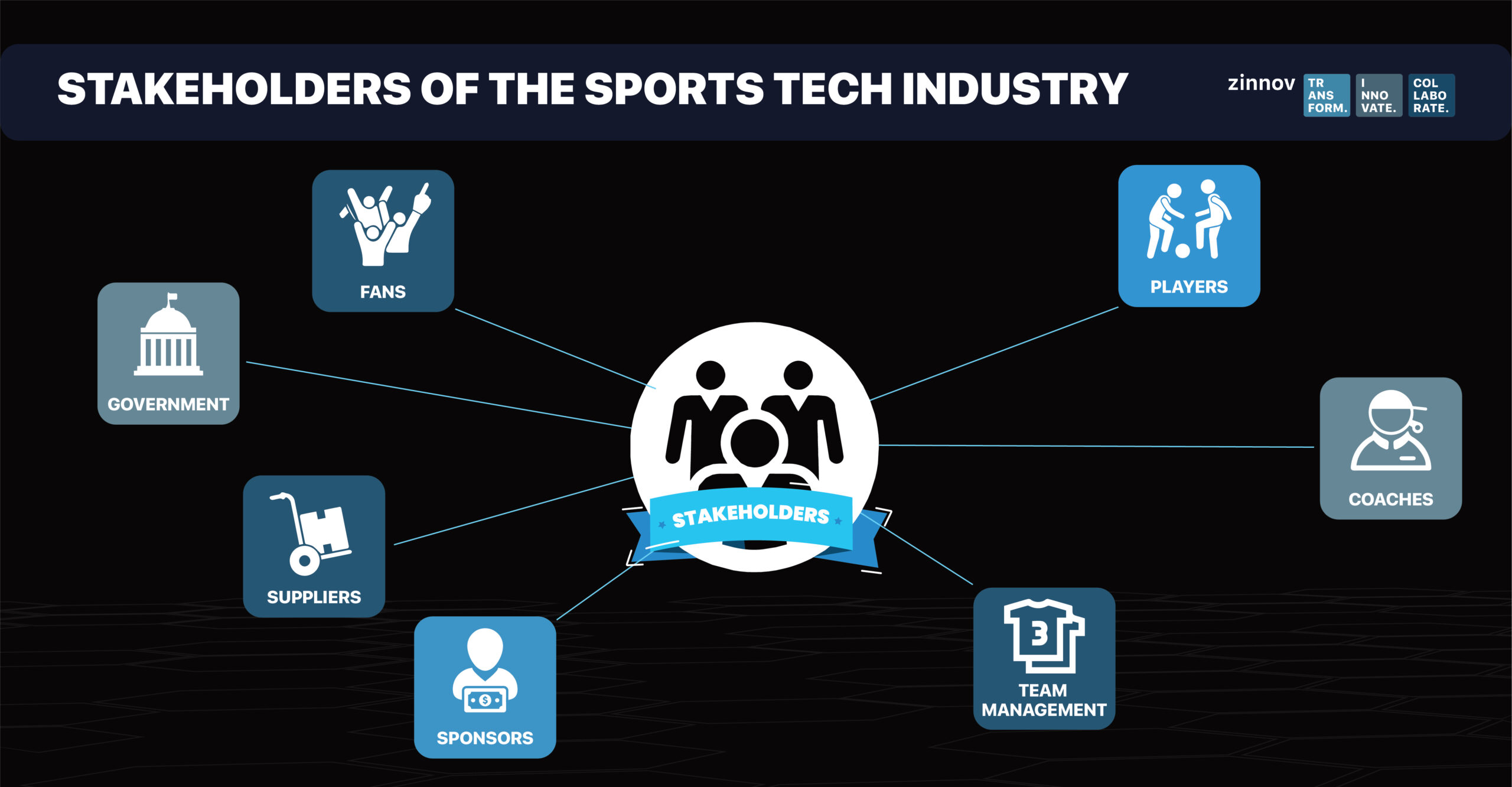 For any sporting event/activity to take place, several stakeholders must contribute as well as be satisfied. They range from the players and coaches to the event management officials and fans. The success of any event is directly proportional to the synergized contribution of these stakeholders.
Fans: Fans are at the heart of sports. Fantasy platforms such as MPL, Dream 11, and e-Sports platforms such as EA sports' FIFA are some of the technologies that cater specifically to fans. These platforms enhance the overall relationship that fans have with their respective sport of choice.
Players: From a player's perspective, Sports Tech has helped them enhance their performance by providing detailed insights into their game. Companies like Sports Mechanics have partnered with teams and players from competitions such as IPL to provide critical data-based insights. Smart wearable devices have helped them access both health-related information and specific body motion insights.

Another testament to Sports Tech scaling new heights is the top-of-the-line Pivot from Turing Sense. It is a smart wearable device designed primarily for tennis players. The device consists of about 14 sensors along with a teaching and monitoring system created in collaboration with Hall of Fame coach Nick Bollettieri.
Coaches: Coaches have leveraged the developments in the Sports Tech realm for several key activities such as player performance analysis, player contribution to the team (expected goals (XG) in football, or player field positioning analysis in both cricket and football), and player sentiment analysis, among others. Companies such as Sports KPI have made the decision-making process pertaining to player scouting, squad structuring, and on-field event tracking and analysis easier for the coaches.
Team Management: Team management has been positively affected by the advances in this sector. For example, Sports KPI offers a platform for scouting players and executing transfer-related operations. During the IPL auction or the football transfer season, player valuation becomes an important metric for a club/team to quote a suitable price for the player.
Sponsors: In recent times, the deployment of Virtual Replacement Technology has positively affected sponsors' advertising. Using these technologies, channels across the globe can selectively change the ads they wish to show a particular region of audience. For example, FIFA and UEFA have deployed technology such that the background ads on the boards would change dynamically, with respect to the geography or broadcaster, leading to better outreach. Therefore, this technology not only enables the delivery of LED perimeter advertising to fans within the stadium but also virtually overlaid content seen by viewers watching in different countries.
Suppliers: The demand for quality equipment, coupled with teams- and players-specific and personalized needs have increased suppliers' pressure. These suppliers can range from ones who deliver equipment to those who provide specific healthcare or food products. Suppliers are constantly optimizing their procurement and logistics network to meet such steep demands. The services provided by companies such as DHL enable the Formula 1 season to run smoothly. DHL, F1's primary logistics partner, is responsible for the shipment of all major race car equipment and is usually under high pressure, given the dynamic and volatile nature of the sport.
Government: For mega sports events such as the Olympics and World Cups, the government is a significant stakeholder. Government bodies use technology-enabled systems such as public management and monitoring systems to ensure that these events are carried out in a peaceful manner.
Sports Tech Start-up Landscape in India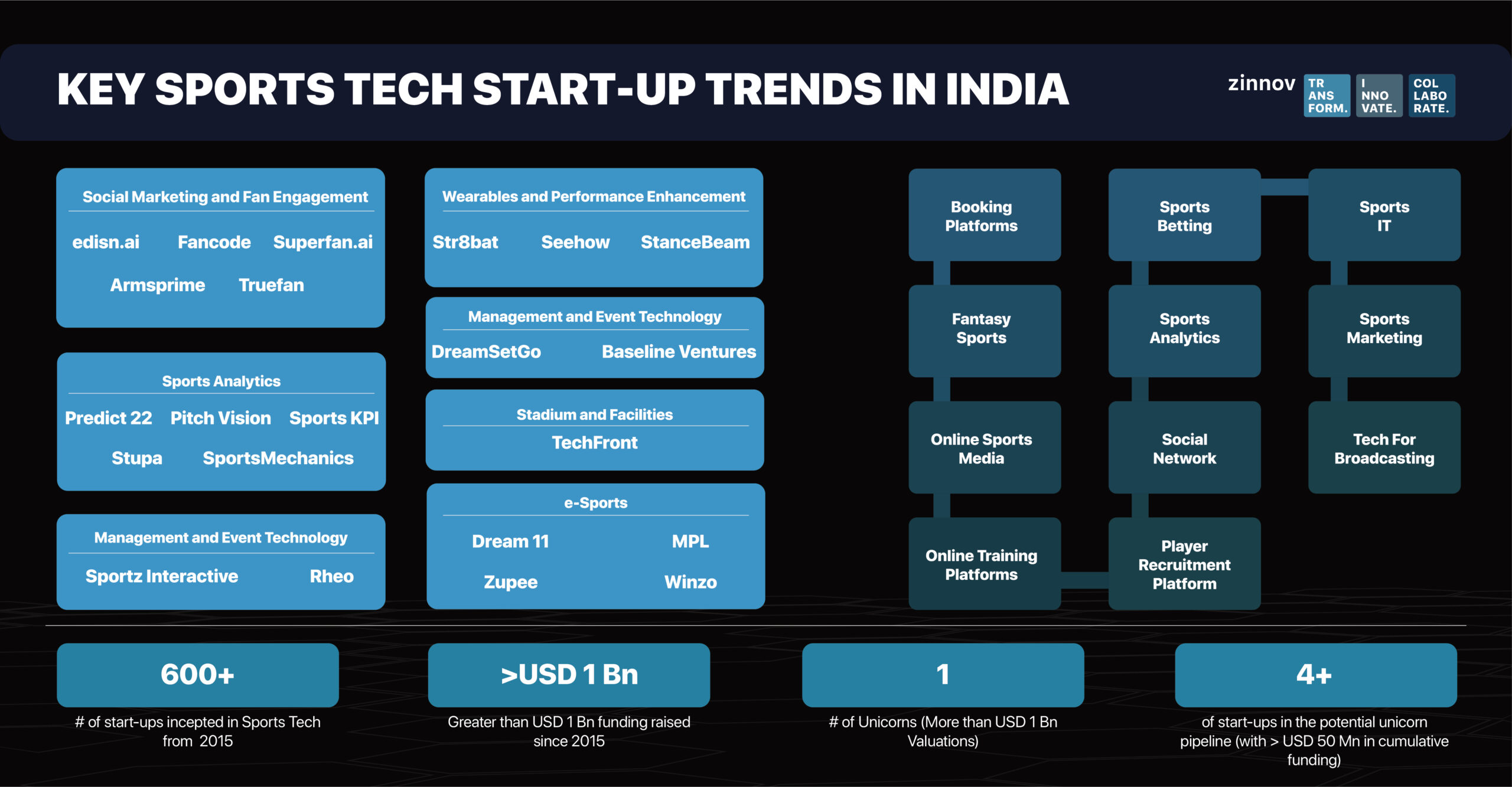 The Sports Tech sector in India is still in its infancy but is rapidly expanding. Much of this expansion can be attributed to the introduction of booking platforms (sports facilities), fan engagement platforms, e-Sports, and fantasy leagues. Sporting events such as the ISL (Football) and Pro Kabaddi League cannot yet compete with the commercial clout of the IPL (Cricket). Still, growing popularity and increased interest in other alternative sports such as marathons, cycling, and even e-Sports indicate an ever-increasing sports economy with abundant opportunities for start-ups to capitalize on.
Sports Delivery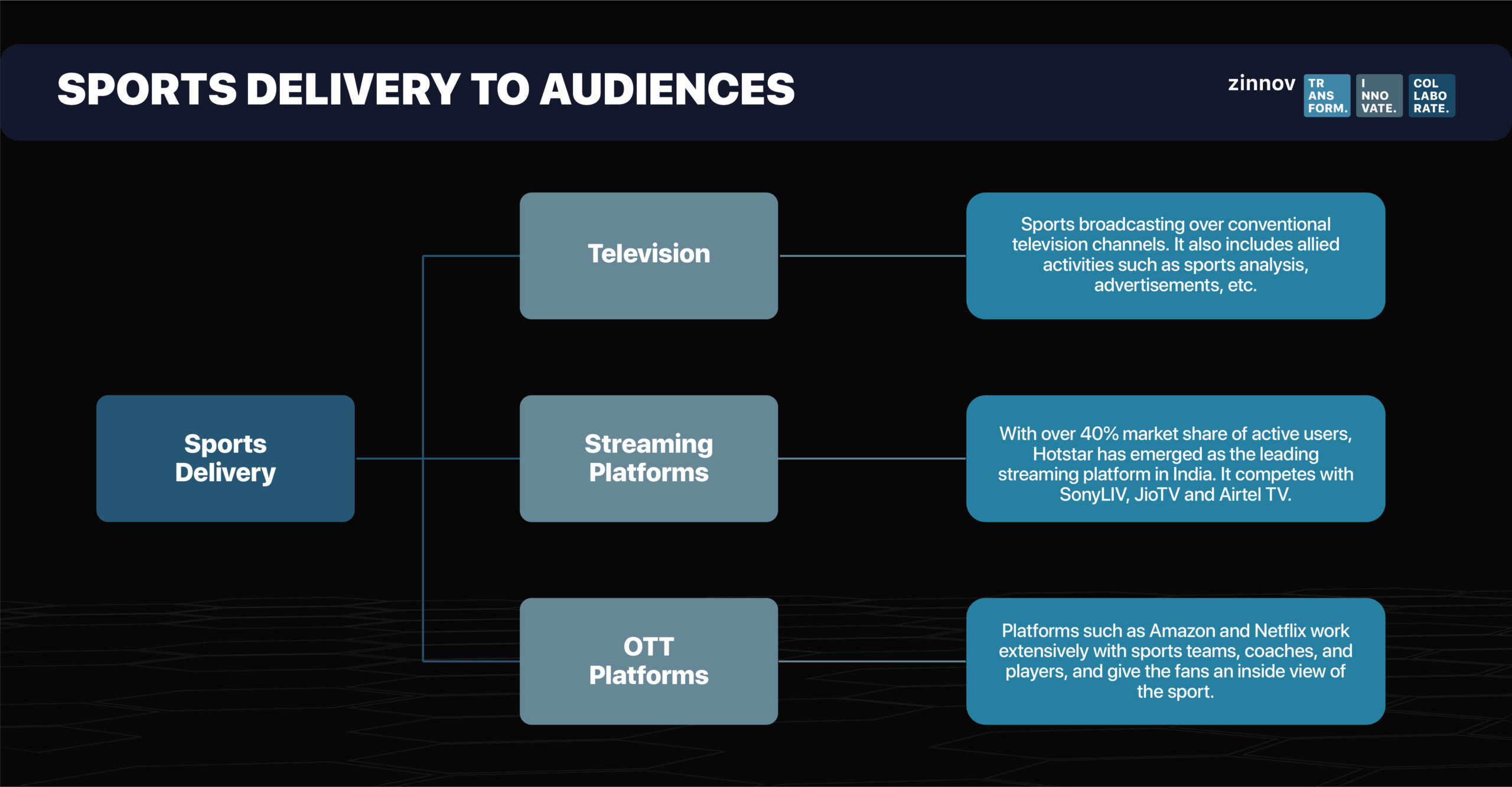 Gone are the times when radio and TV were the only media for broadcasting. The increasing access to data in both urban and rural areas, coupled with the availability of smartphones in all price ranges, has presented the sports sector with the opportunity to broadcast its content on a variety of platforms – streaming platforms, OTT platforms, Television, etc.
The OTT video consumption has seen a 13% growth in India, and sports streaming saw the highest consumption in 2020. In fact, the global market for sports-related OTT is poised to grow from USD 18 Bn in 2020 to a staggering USD 85 Bn by 2025.
What does the future hold for Sports Tech?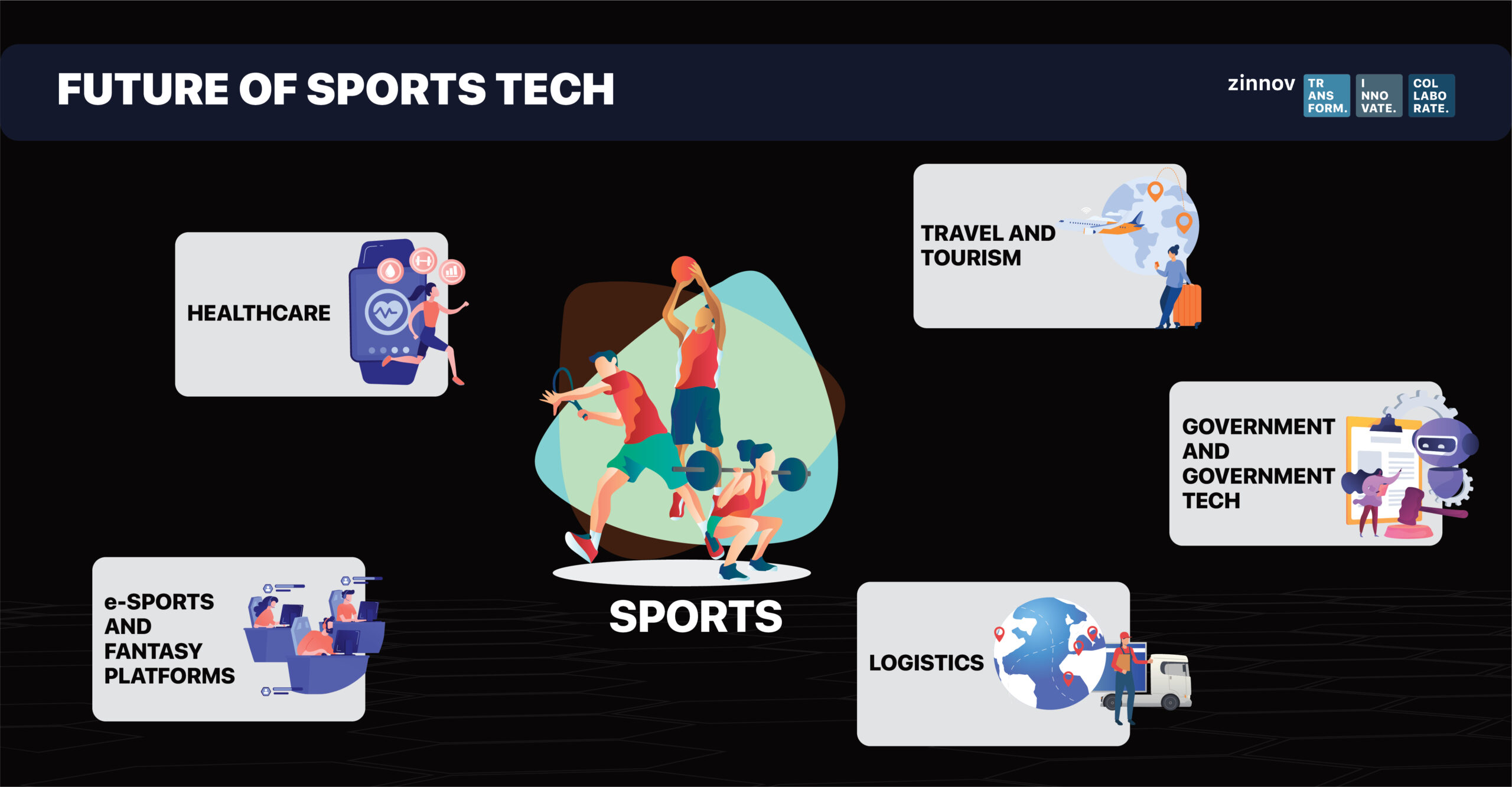 One of Sports Tech's goals is to improve human performance and user experience. Therefore, there is inevitably much overlap with other industries with the same goal. This overlap creates substantial collaborative prospects for Sports Tech, with its products potentially being applied in different ecosystems such as Healthcare, Information and Communication Technology, Retail, Logistics, and Tourism. The sports sector will also be dependent on governments for services such as public management and monitoring.
The ongoing pandemic has affected people to varying degrees. In many ways, the suspension of sporting events altered life so rapidly and extensively that many people were taken aback by the magnitude of the situation. Because professional sports serve as a source of community and connection for so many people, the resumption of play will signal to fans and players alike that the world is on its way to overcoming the pandemic and becoming accustomed to a new albeit altered reality.
Technology will be critical in reviving the sports industry and getting it back on track This creates opportunities for industry and technological collaboration, expanding market opportunities and improving a start-up's ability to scale significantly. As the world adjusts itself to the "new normal", with teams already returning to the field, it is technology that is aiding in re-establishing hope of normalcy through various channels.
If you want to know which other start-up sectors besides Sports Tech are emerging and looking to make a mark, drop us a note at
info@zinnov.com
.