Digital Engineering (DE) is a prominent subset of the overall Engineering R&D (ER&D) spend and is top-of-mind for leaders across verticals, now more than ever. Zinnov defines Digital Engineering spend as the investments made in developing new and connected products, new services such as predictive maintenance, remote diagnostics, and leveraging modern technology such as Artificial Intelligence (AI), Machine Learning (ML), etc. The adoption and acceleration of Digital Engineering is at an all-time high across companies and consumers, which is reflected in decision-making and investments. We believe that the appetite for Digital Engineering will surge relentlessly over the next 3 years across newer technologies and industry players, with changing customer, employee, and partner dynamics.
Zinnov's analysis reveals that overall Engineering and R&D spend of Global Z1000 firms cumulatively account for USD 1504 Bn, with DE accounting for a staggering USD 545 Bn. The DE spend is expected to surge to USD 911 Bn by 2023 and is set to account for 47% of global ER&D spend by 2023.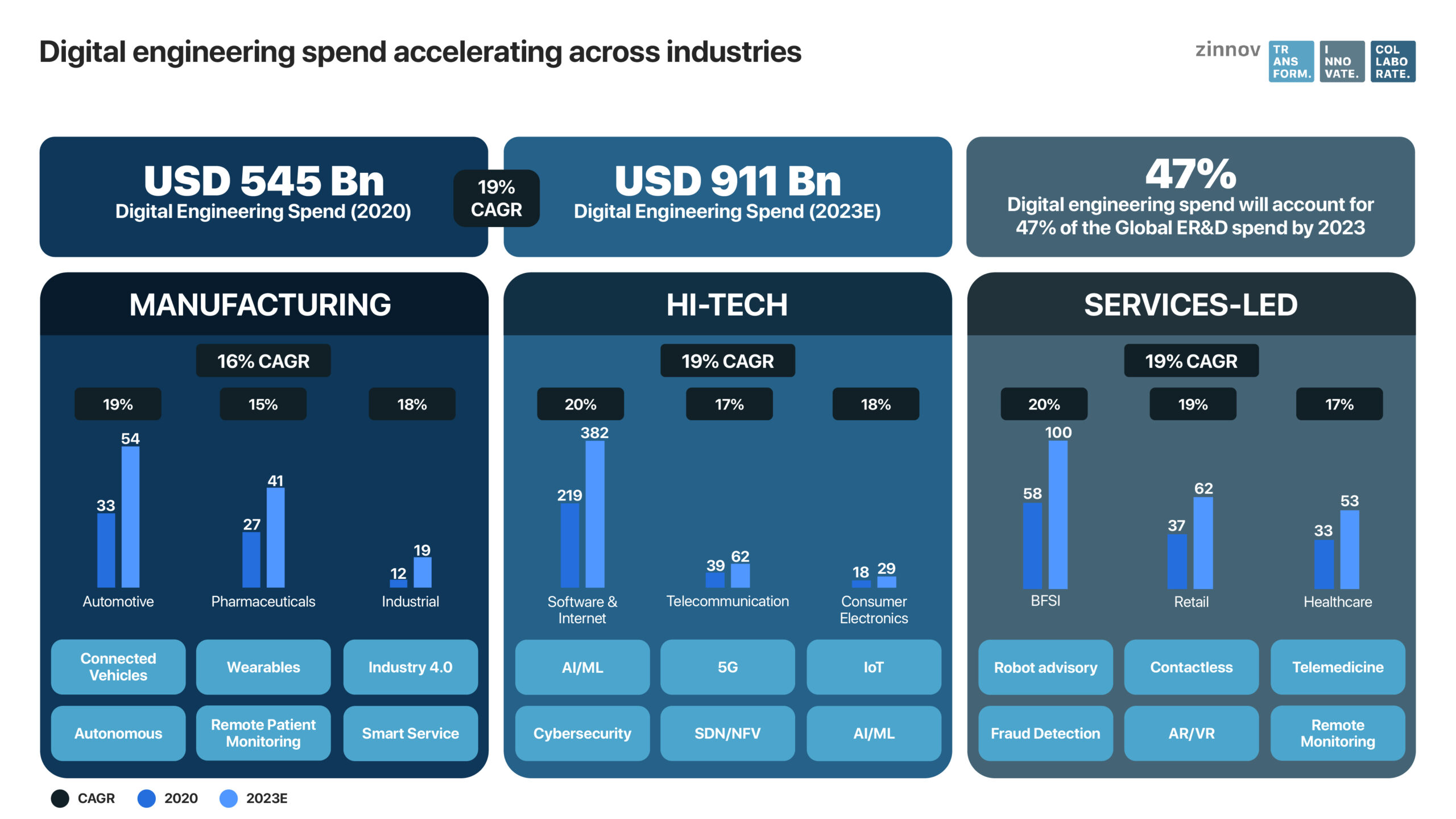 What does this heightened focus on digital translate into?
ER&D spending has remained resilient despite COVID-19. In fact, Digital Engineering will drive ER&D spend amidst headwinds with companies across verticals increasing their investments to strengthen their DE capabilities.
1. Focus on Digital Engineering spend has poised hi-tech and services-led verticals to surpass manufacturing-led verticals by 2023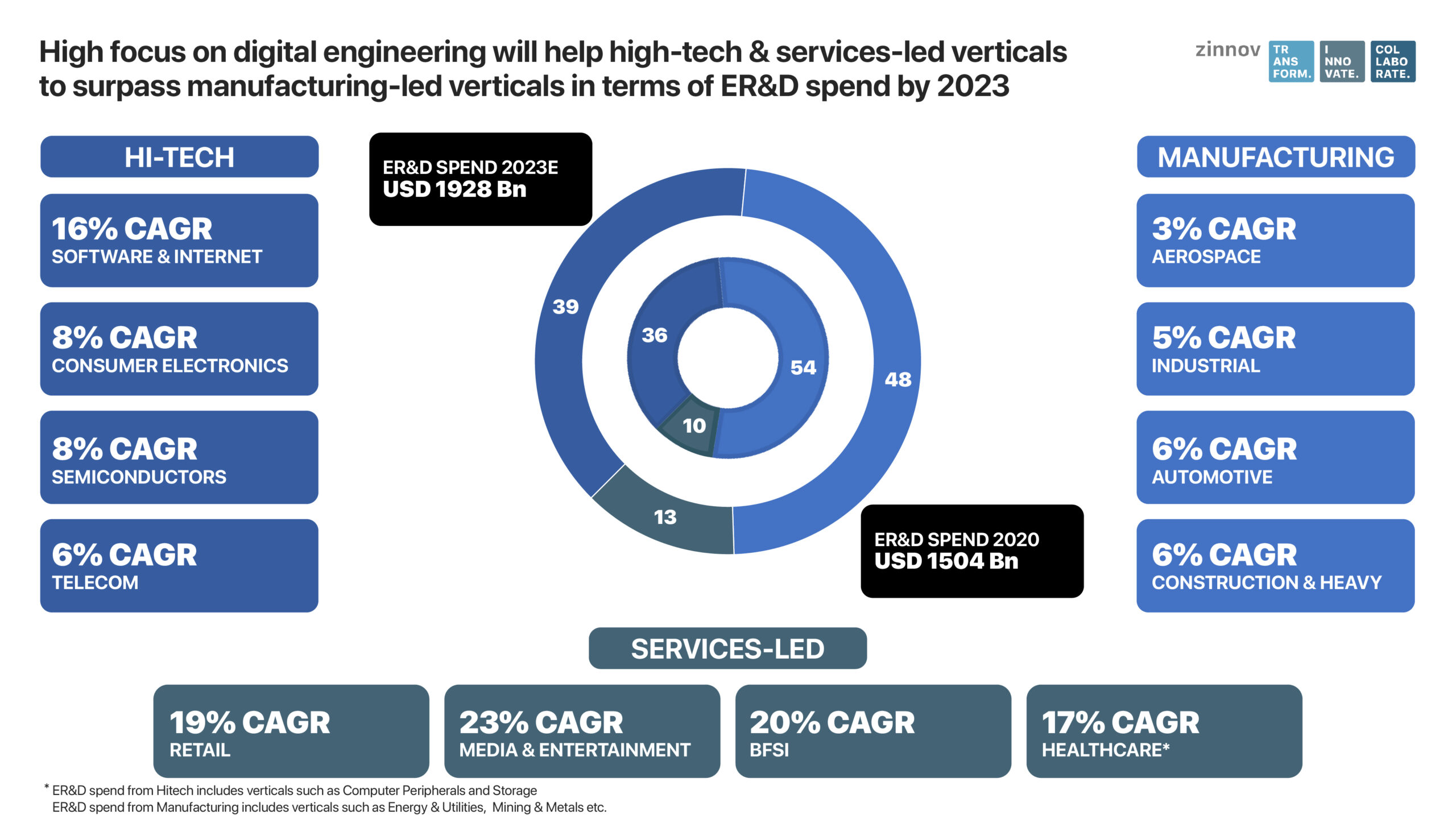 The hi-tech verticals cumulatively accounted for 36% of the global ER&D spend in 2020 alone and are growing at a steady clip of ~12%, keeping potential to exceed USD 750 Bn in the next 3 years, Zinnov's analysis shows. This spending was buoyed by demand in certain pockets such as Cloud & Collaboration, OTT (over-the-top), and software-based network architecture. Leading the pack with USD 219 Bn in Digital Engineering investments in 2020 are the Software and Internet firms. Increased spend in digital infrastructure, Automation, Cloud & Collaboration will drive software and internet segment growth in the near midterm. Software & Internet companies continue to display a strong willingness to adapt, experiment with, and implement new-age technologies compared to companies in other verticals.
2. Services-led verticals are providing impetus for future digital engineering spend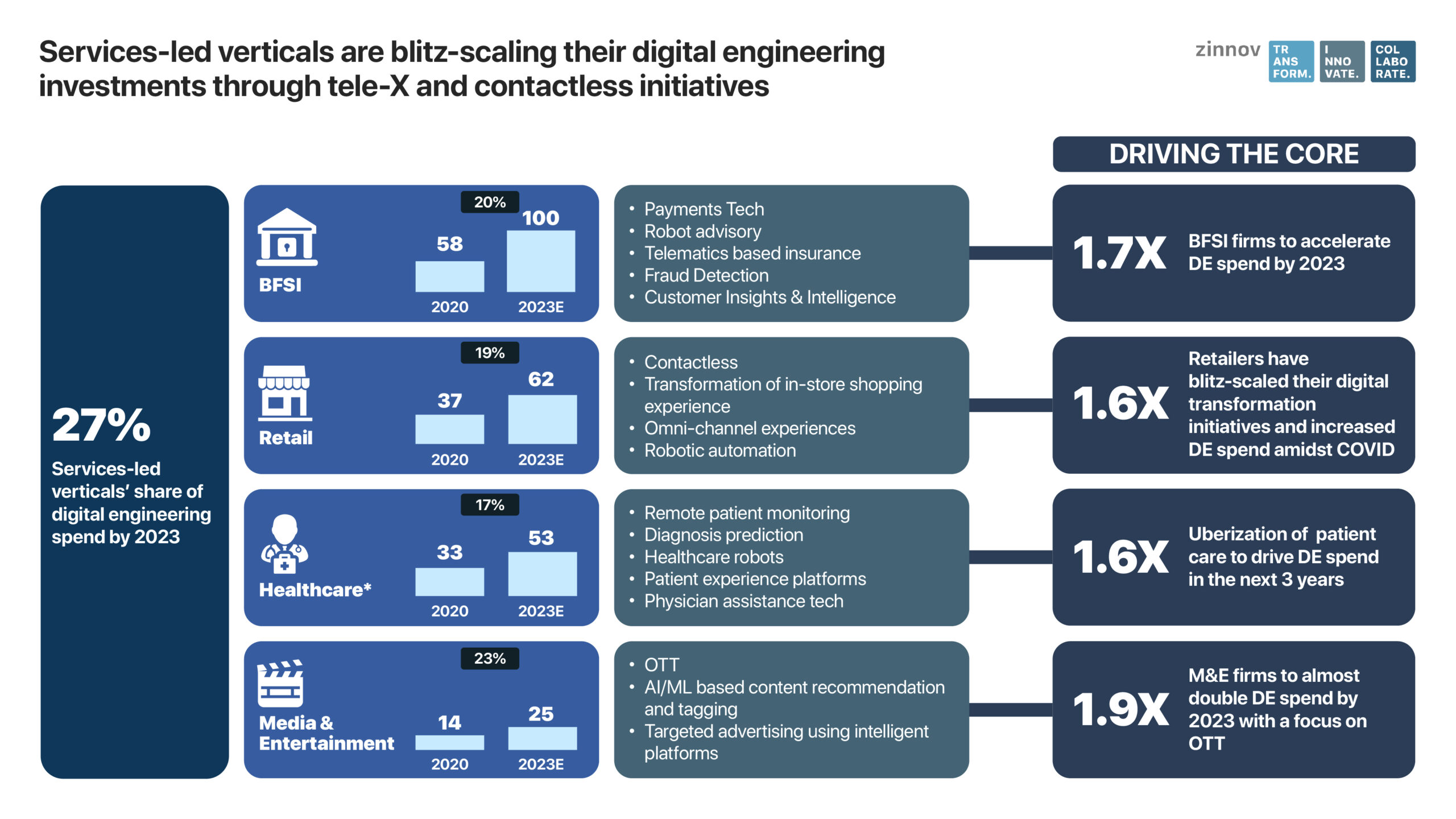 With the onset of the pandemic, the shift to digital became the predominant path to building antifragility in businesses across services-led verticals. In fact, these verticals are blitz-scaling their digital engineering investments through tele-X and contactless initiatives. For instance, in 2020 alone, Retail enterprises invested 3 years' worth of digital transformation in just 6 months. Also, BFSI enterprises are increasingly investing in modernization, data engineering, and CX (customer experience) transformation as their key transformation priorities, with their DE spending expected to touch a staggering ∼USD 100 Bn by 2023, according to an analysis by Zinnov. Additionally, the uberization of patient care is the biggest COVID-led disruption, with healthcare companies set to witness a 5X growth in the number of consumers using telehealth services over the next 3 years alone. This demonstrates the unrelenting drive of healthcare providers to transform the patient experience value chain.
3. Manufacturing-led verticals bore the brunt of the pandemic and witnessed a re-jig in ER&D priorities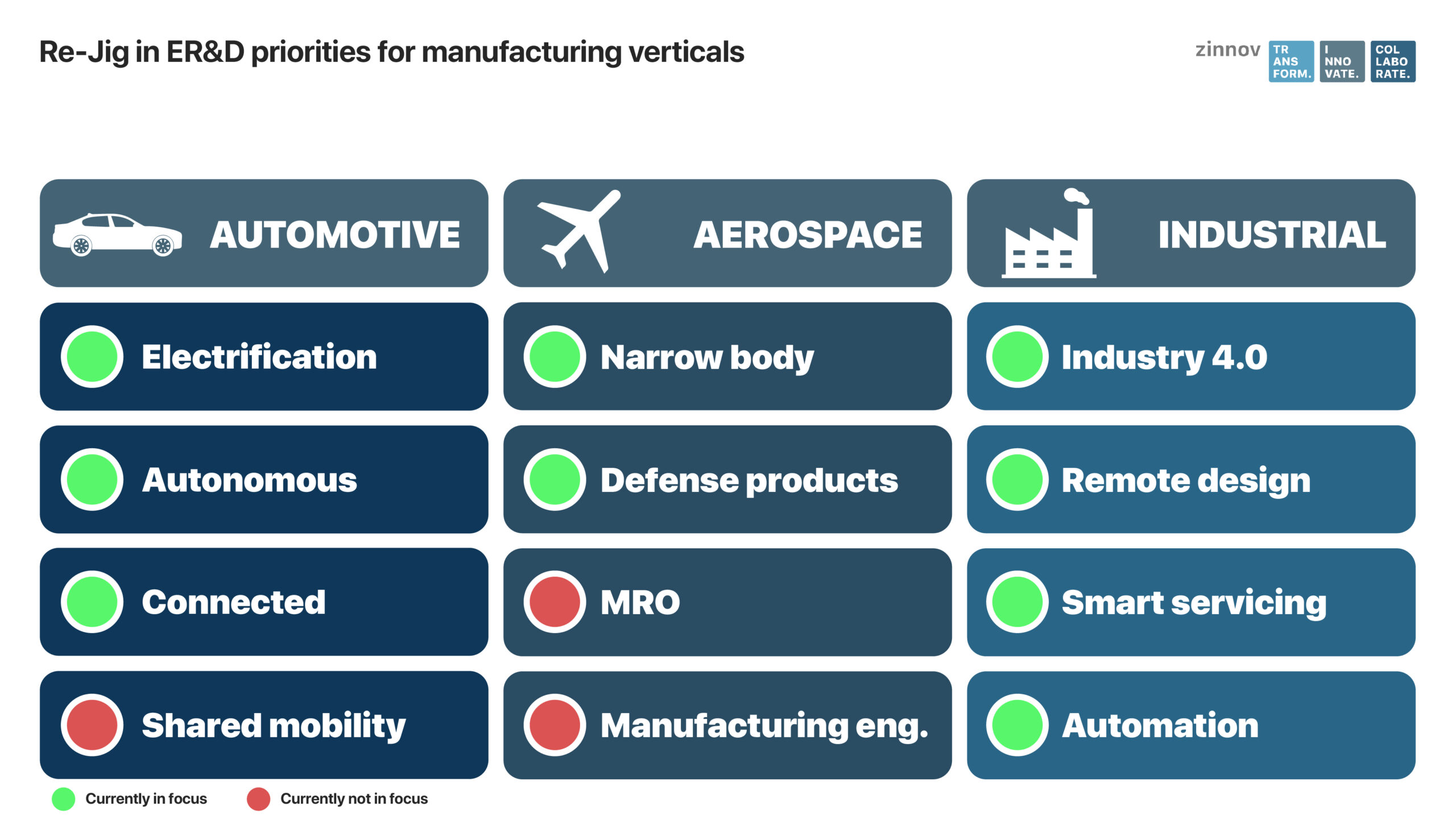 Manufacturing-led (Automotive, Aerospace, Mining, etc.) verticals have taken a hit due to the COVID-induced lockdowns and supply chain stoppages. However, this has resulted in the firms relooking their ER&D priorities and renewing their focus on their Digital Engineering investments. For instance, investments in Connected ADAS (Advanced Driver Assistance Systems), and electric mobility are set to be at the forefront of ER&D priorities of Automotive firms. On the other side, 'factory of the future' will be the norm for Industrial firms and enterprises will invest accordingly. Focus on remote monitoring and predictive maintenance will continue to drive spending on Industrial, IoT, and Edge computing initiatives.
4. Service Providers (SPs) are building and ramping up Digital Engineering capabilities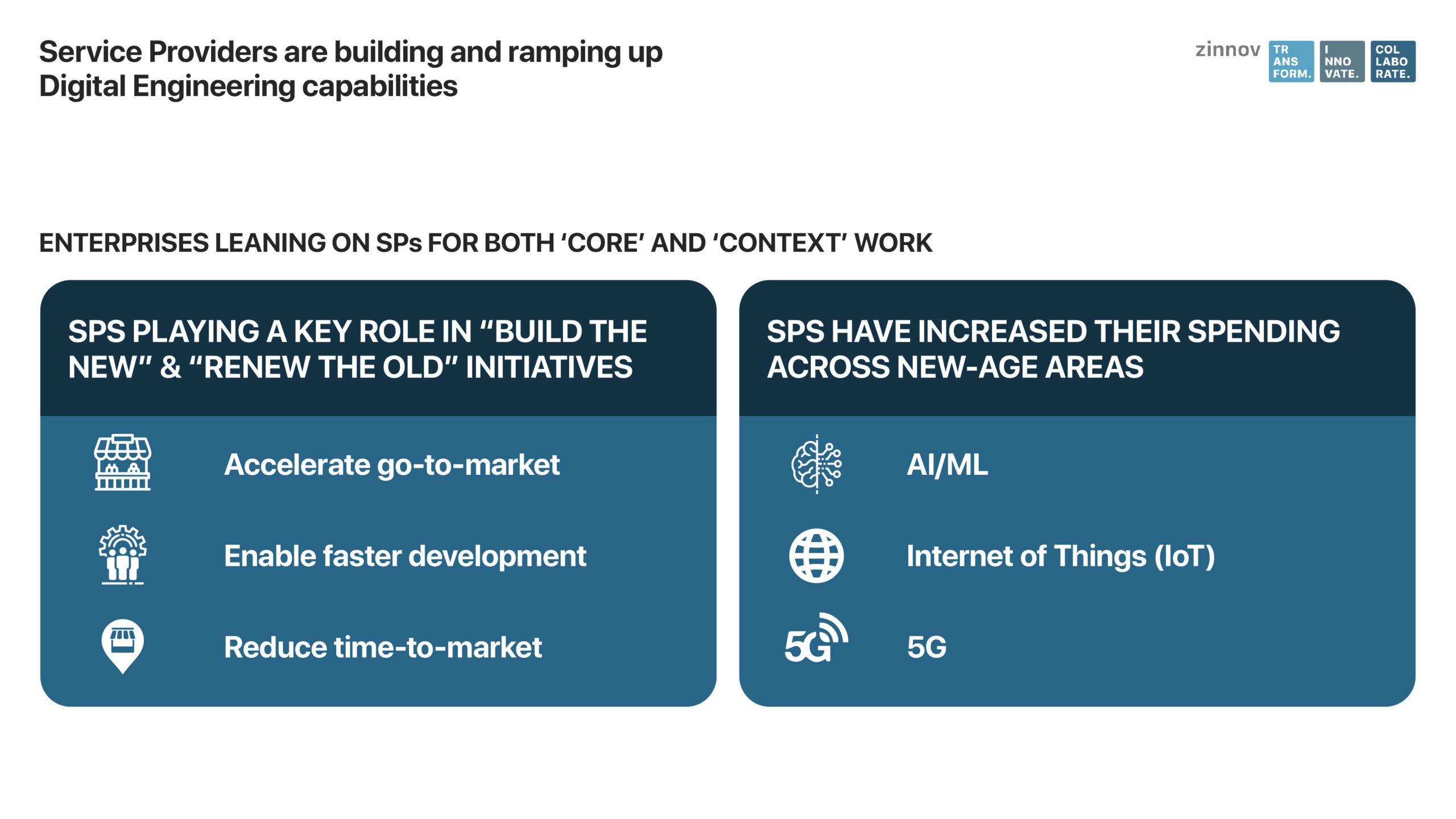 The SP community is increasingly playing a larger role in helping their enterprise counterparts by driving end-to-end digital transformation and engineering initiatives. Enterprises are leaning on SPs for both 'core' as well as 'context' work, with SPs taking accountability of DE workloads to provide a differentiated value proposition for enterprises. From leveraging SPs for both "build the new" (Digital Engineering-led initiatives) as well as "renew the old" (legacy and end of life product workstreams) initiatives, enterprises are relying on SPs to accelerate their go-to-market, enable faster development, and reduce time-to-market. In fact, SPs have also increased their spending on building capabilities across new-age areas such as AI/ML, Internet of Things (IoT), 5G, etc., to target high-growth areas and win more deals. There are investments being made in acquiring assets to tap into inorganic modes of building capabilities, accelerate sales excellence, and expand clientele. Additionally, to further expedite customer-centric and new-age solutions, advanced digital technologies are being implemented across the sales and delivery stack to increase wallet share.
With more than one-third of the overall global ER&D spend being channelized towards Digital Engineering, leaders are leaving no stone unturned in their quest to future-proof their businesses. The focus now is on best practices that are scalable, infused with modern technologies, and have a high return on innovation. We believe that leaders who first decode this new environment are likely to capture sizable benefits.
To get more for your Digital Engineering buck, speak to our consultants at
info@zinnov.com