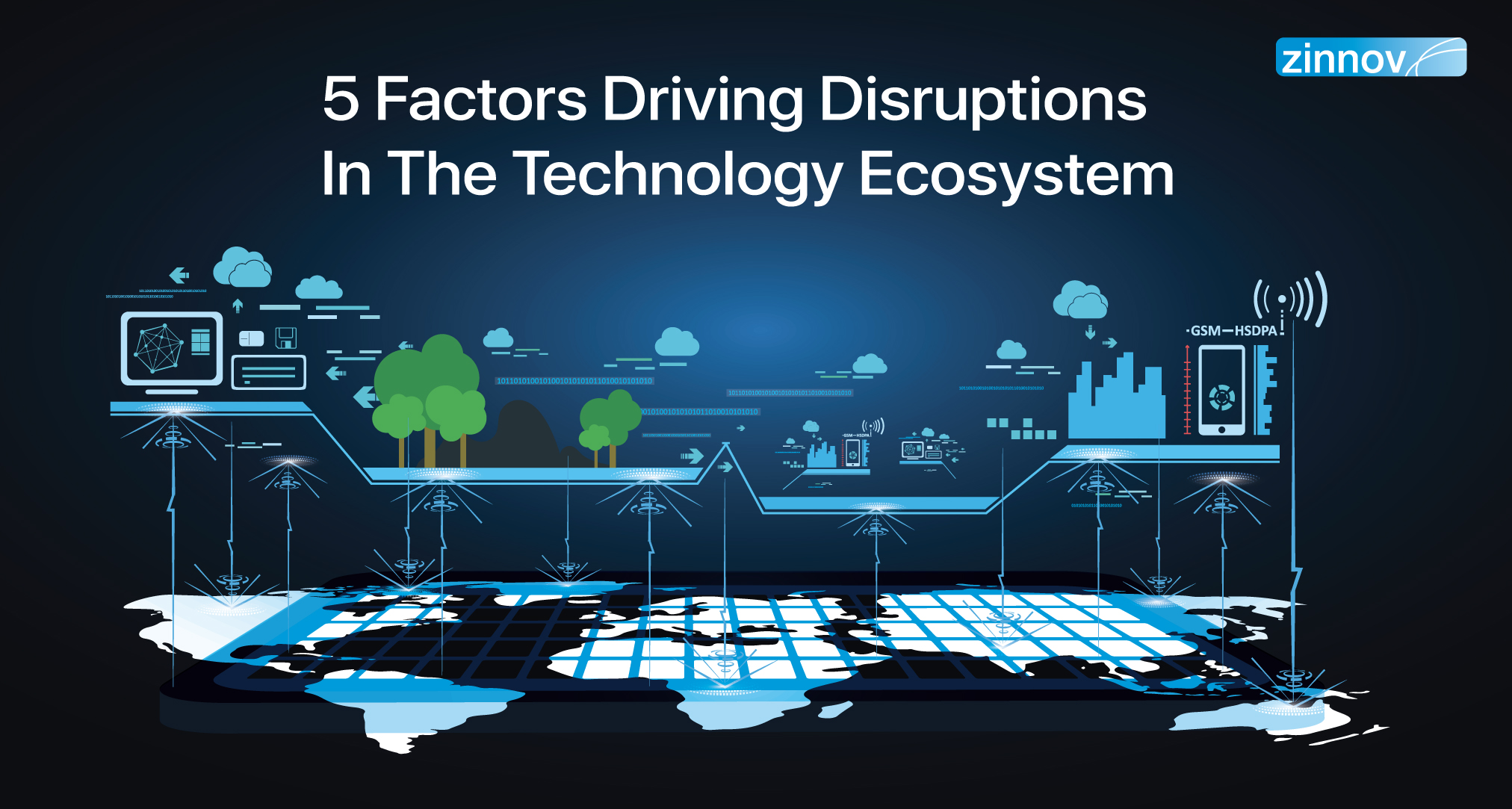 Founded in 2013, Oyo Rooms has 330,000 rooms around the world, and is adding 50,000 rooms per month globally. Marriott International, founded in 1927, is the largest hotel chain in the world, with over 1.4 million rooms. Even at an accelerated pace, Marriott or Hilton won't be able to keep pace with the unprecedented disruption that Oyo Rooms has wrought. And since mid-2018, Oyo Rooms has stepped into the property rental space with Oyo Living. This is another disruption that will put the traditional real estate broker – owner model in jeopardy.
The pace at which disruptions are happening – irrespective of the industry vertical – is unprecedented. No organization can afford to stand still and be complacent. Being proactive rather than reactive is the name of the game, when it comes to being on top of technology trends and potential disruptions. But what are some of the factors that are causing these seemingly non-stop disruptions?
1. Software-enabled EVERTHING!
Software is no longer the stronghold of just technology organizations. The emergence of newer technologies, the consequent use cases being explored, and software enabling everything around us – it's no wonder that the lines between organizations have all but vanished. These changes are making every company wary, and rightly so. Till now, all a company needed to be aware of was their peers and competitors in their vertical. However, with the lines blurring between industry verticals, and thereby organizations, leaders need to be cognizant of technology businesses out of left field, that may on first glance, have anything to do with their business. Because competition comes in all forms and sizes – start-ups, incubation pods, university research labs, to name a few.
2. Tech Mafias – the omni disruptors
Amazon, Apple, Facebook, Google, and Microsoft – at Zinnov, we call these big five the Tech Mafia. These five arguably sit at the top of the technology ecosystem, and are disrupting either every other company and vertical, or acquiring potential threats, time and again. In short, they have their hand in every pie.
Google bought Android for a paltry $50 million in 2005. This can be counted amongst the biggest successes of Google to date, for they both have become synonymous today.
Apple's acquisition of Siri, the virtual digital assistant that every iPhone user carries around in their pocket, paved the way for AI to become an inseparable part of our everyday lives.
Google's acquisition of Nest Labs, a producer of smart thermostats, paved the way for Google in the smart home market.
Facebook's acquisition of Instagram, WhatsApp, Oculus VR – which push Facebook's agenda of 'connecting' people in the virtual world.
Amazon's acquisition of Annapurna Labs made it Amazon's first step into the chip market, a key enabler for its hardware ambitions.
Microsoft's acquisition of aQuantative, an advertising agency; Skype Technologies, which has been seamlessly integrated into all MS products; and the mobile hardware division of Nokia, essentially paving the way for Windows smartphones.
All these are examples of the Tech Mafia disrupting an unrelated vertical, completely changing the dynamics in that industry.
3. Surfing the Artificial Intelligence (AI) Wave
The AI wave is not new, having been around for several years now in various stages of maturity. AI has been successful in transforming how companies and the industry at large operate. The convergence of thirty years of back-breaking algorithm development across global university labs, advances in Machine Learning capabilities, growth in Big Data, and the availability of cheap computing has made AI-based products and services a reality today. In fact, investments in AI start-ups have increased over 700% in the last few years, clearly indicating the potential that this technology has in the next few years.
From digital voice assistants and chatbots to recommendation engines, spam email filtering, and social media to facial recognition at airport check-ins, AI has become ubiquitous. Everyday appliances and experiences are increasingly making AI an indelible part of our daily lives. Though there are several use cases of AI, scientists reckon that only part of this technology's potential has been unleashed so far. Since AI has the ability to evolve over time, learn from vast sets of data and predict future trends, it definitely merits significant investment of capital, resources and talent by organizations to unlock its value further.
4. New in, Old out – Exploring Newer Revenue Streams
Gone are the days when businesses had steady, predictable revenue streams. With disruptors galore in every industry vertical, it is imperative for companies to explore newer revenue streams.
Tesla is a case in point. Tesla's Supercharger network was instituted to provide a seamless experience to Tesla drivers. Tesla owners had the habit of leaving their cars at charging stations for hours on end, even after the cars were fully charged. But with fully charged cars idling at the charging stations, it became frustrating for drivers who wanted to charge their cars, but couldn't. So, Tesla hit two birds with one stone – a global 'idle' fee was instituted to address one of the misuses of its Supercharger network. Not only did this move mean a newer revenue stream for Tesla, but also ensured that once the cars were fully charged, they weren't left idling at spots that could be better utilized by another one. Talk about turning a drawback into an opportunity!
5. Of Faster Innovation Cycles & Even Faster Time-to-market
Constantly innovate or perish is the new mantra that organizations need in today's ever-shifting technology landscape. Hence, organizations need to speed up their innovation cycles in order to make the desired impact with their innovation. Moreover, businesses only have a short window of opportunity to make the most impact with any new innovations. Faster time to market ensures that this window of opportunity is leveraged to its full potential and impact business outcomes positively. In essence, organizations need to be able to reinvent themselves through disruptive leadership driving innovation at an accelerated pace.
Pokemon Go is a case in point. It took 4 years for the Internet to reach 50 million users, and Facebook took 2 years. But the viral Pokemon Go game hit 30 million users in a matter of days! Having spent about $30 million on the game, Nintendo's market capital skyrocketed to a whopping $7 billion in the matter of a week!
What lies ahead?
Oyo Rooms clearly saw a gap in status quo, and set about bridging it, thereby completely disrupting and transforming the hospitality industry. Similarly, any disruption – seemingly small or big – can have a ripple effect across the ecosystem, not limited to a particular vertical or geography. Call it the Technological Butterfly Effect, if you will, because a start-up that had one property to its name in Gurgaon 5 years ago, is now challenging the likes of traditional players such as Marriott and Hilton.
The road ahead for organizations is clear – they need to innovate fast, fail fast, learn fast, because the way the world of business changes, has been irrevocably changed.
---
To know more about technological disruptions and how organizations are navigating these tempestuous seas, write in to us at info@zinnov.com