RPA as a technology has truly come of age and is expected to become mainstream in 2019. As per our (Zinnov research and analysis) estimates, enterprises spent more than $2.3 Bn on RPA in FY19, and we expect this to grow exponentially by 35-40%, to touch upwards of $11 Bn over the next five years. The worldwide addressable market for RPA is much higher, and stands at $50 Bn. There are currently more than 50 RPA platform providers, including 3 unicorns. Collectively, these RPA platforms have raised more than $2 Bn in venture funding till date.
There are a multitude of factors that are propelling the rise of RPA. While we see a rapid adoption of RPA across industries, it is increasingly moving beyond the usual task and process automation, to now being seen as a business transformation lever. Additionally, there is immense focus on incorporating AI/ML within RPA to result in intelligent automation. This allows software robots to mimic human behavior and handle complex use cases such as the end-to-end employee onboarding process, which was earlier not possible without human intervention. In fact, technology giants such as Microsoft, Google, and IBM are emerging as major players in the RPA space, with tool vendors such as UiPath, Automation Anywhere and Blue Prism collaborating with them for their AI and ML capabilities to make their RPA platforms more intelligent.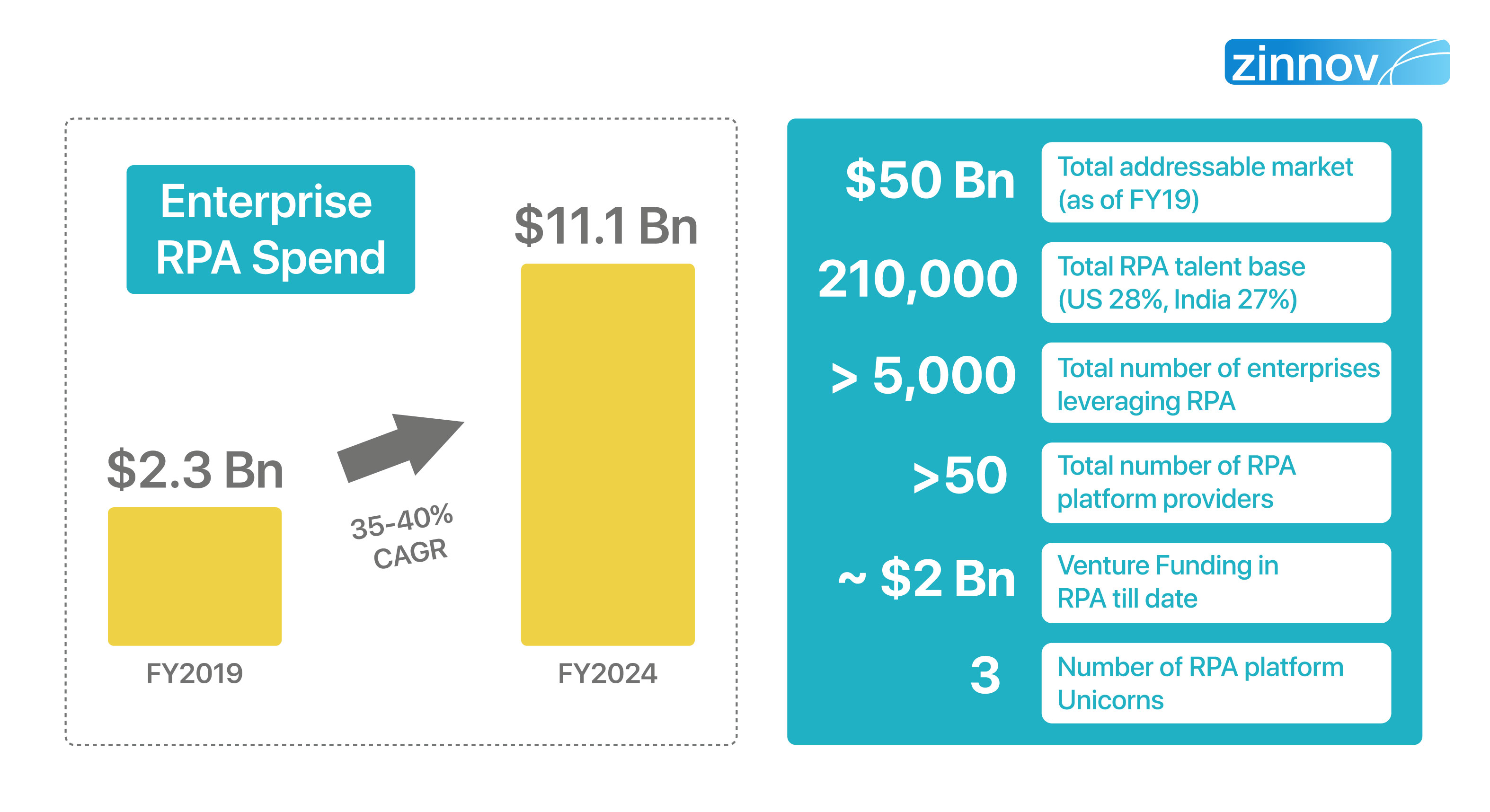 Several horizontal and industry-specific ISVs are also building strong capabilities by embedding cognitive RPA in their enterprise software workflows. For instance, Athenahealth, which provides cloud-based services for physician practices, recently embedded RPA and NLP within its solutions to digitize almost four million physical pages of patient data every week. And there are enough and more such examples.
Another interesting trend we have observed is the augmented role of enterprise global in-house centers (or GICs) such as in India and their leaders who are playing a critical role today in driving global decision-making and RPA charters for the enterprise. These GICs often also act as RPA test beds before the RPA initiatives are rolled out globally within the enterprise. We believe that GICs would continue to play an important role in capability and capacity extension in RPA.
RPA deployment is increasingly becoming effortless with a plethora of bot marketplaces coming in to play and enabling plug-and-play bots to automate a number of use cases. The big three tool vendors – Automation Anywhere, UiPath, and Blue Prism – all launched their bot marketplaces in 2018 and collectively have more than 800 bots available for download. Another interesting trend is that the RPA trained talent is gaining prominence and stands at ~210,000 currently, with India and the US emerging as major hotspots. RPA talent growth has also been triggered due to focus on a lot of developer ecosystem initiatives which are enabling tool vendors to accelerate their use cases repository and market access.
The convergence of the above factors is shaping up the RPA space to make it mainstream.