Webinar: Driving Digital Transformation: Building a High Performance Digital Team
According to a research report by Gartner, over 75% of CIOs will rethink their IT outsourcing relationships in the next 3 years as the digital agenda is set in their organization. This re-imagination of relationship in the context of digital is putting tremendous pressure on existing IT outsourcing vendors and also creating opportunities for incumbents with specific digital skills. Service providers who are able to use new digital technologies, and bring in process efficiency & customer engagement approaches are the one who are likely to get favored in the digital world. A number of existing large service providers such as Accenture, Wipro etc. have created dedicated Digital practices to address the emerging needs of the customers. However, product engineering vendors such as Persistent Systems are coming in with a product centric approach to address the digital needs of customers.
It is likely that the vendor sourcing in the context of digital transformation will go through fundamental changes in its approach. While a number of companies went through a vendor consolidation journey in the last several years, Digital needs may force them to (once again) look for specialist vendors who can help these companies in the transformation. This will be a key space to watch out for in the next few quarters.
KEY TOPICS OF DISCUSSION:
Key Requirements for digital transformation:
Key skills required for digital transformation initiatives.

Is the position of IT vendors under threat because of Digital Transformation

Framework to select vendor for digital initiatives

Digital Vendor Sourcing Strategies

Key Digital Services Vendors and their capabilities

Emerging Players in the Digital Services Space
SPEAKER PROFILE:
Praveen Badada, Partner and
Practice Head, Zinnov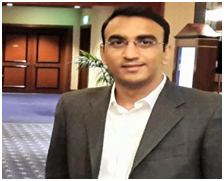 Praveen has been driving the vision and global business for Zinnov. He heads the Asia-Pacific operations of the company with the goal to expand the business in the areas of Modern IT, Cloud computing/ SaaS, Enterprise Mobility, Big Data, Small & medium business (SMBs) etc. His responsibilities included driving the P&L, developing business un-usual opportunities for customers, building strategy & execution plans, understanding technology purchase behaviors and as media spokesperson for the company